Do you ever wonder how to make a website yourself completely? how to create, run, grow, make money or doing business from your website yourself? It is easier than you think!
After reading this page, you are eligible to make a business website, Musician site, photography site, Portfolio, Hotel, event, institution, social network, selling goods, services, or digital products online, or any general-purpose websites..!
Most of people think hard work is the key to success because they use difficult tutorials or WRONG methods for their personality. If you already read a few tutorials, then I am damn sure that your status is now "confused". Because most of the website creation courses or guides explain only one way & they slightly different from each other with no clues at the end. But we know all methods & divided into 3 main categories. In this tutorial, We explained 3 completely different methods of building your own website Yourself. So That You Can Grab The Best Method Fit For You..! You Can Build Almost All Types Of Websites Even You Are a Duck..!
Keep Calm. Read all methods slowly. Because once you know, it will help you forever in your life. Creating websites is very important in these days. You will face many situations to build a website. So, I don't think you are wasting your time.
Read twice all 3 method's pros & cons. So that you will know Which one is the best method for you. Know which one is easy for your level of skill & knowledge or which method suit your goal or concept.
Once you read this page completely, you will able to make the decision on when to use which method & when NOT to use this or that method?
Most of the webmasters teach the method suited for him & not for you.
Those ways may not suit your level of skill. Few ways may not able to fulfill all your requirements.
In some ways, You can't make a website according to Your dreams and imaginations
But here you will get everything. You will get the total sense & taste of website creation.
Take a deep breath & Let's start to know one by one method with its pros & cons. The First Method is the most popular in the world.
The 3 Methods To Make Your Own Website Yourself
(Choose The One Method You Liked)
Content Management Systems (CMS)(Most Popular & Recommended) – Just 3 days needed to learn. You can do almost anything. No coding Skill Required. E.g. WordPress (Not WordPress.com)
Website Builders – The easiest one, 30 minutes is enough to build a website. You can create all common types of sites. E.g. Wix
Coding – 2-3 years to learn. E.g. PHP
Let's see a quick intro of those 3 methods, There is no difference in the outcome or end website. They all existed for different specific purposes. So choose the one method you liked.
The first method is so advanced You can do almost anything you imagine..! No coding skill required. You can learn, create, publish, run, manage & promote your website within 2-3 days.
The 2nd method is too easy. You can make a website within 50 minutes. It is Quick & Easy. No Skill required. Easier than photoshop. But it is not as advanced as the first one.
The last method is coding..! You need to learn web programs & it takes at least 1 year. or you need to hire a web developer (Oh..! wait, even web developers use the 1st & the 2nd method. Because those methods automatically generate the code on the backend & 99% of the time, the above 1st & 2nd methods SATISFY ALL YOUR NEEDS.)
Why This Post Special For You?
These 3 ways are the best methods in the world. So you no need to worry about the end-website & technical aspects.
From Easiest to tough methods are explained. So any one of the methods will fit your level of skill. So No Hard Work.
–

World's Total % Of Websites Created Using 1 & 2 Methods - 98%

that is more than 2 Billion Websites Already Created Using the 1st & 2nd Methods..! So you no need to worry about Reputation or Trustworthiness.
I explained step by step with no step skipped. So No Confusion.
If you got any problem, you can comment below & get a response within 24 hours directly from the Author or send your problem to the contact page. If you want to contact me, you can send it to my personal email jack@websitebuilderly.com? So No Fear.
Content Management System or CMSs are the most popular as well as the best website creation method. CMS can be a software or web application or a small tool. There are 100's of CMS's available..!
The most popular CMSs are WordPress, Joomla, Drupal, etc. But don't try all of them & waste your time.
WordPress (Not WordPress.com) is the only CMS that can fulfill all your needs.
It is NOT WordPress.com. Never Ever Go For It. Because WordPress.com included only 100+ themes & 50+ plugins. But the Open Source Self Hosted WordPress (Bluehost-WordPress) included 70,000+ Plugins..! For FREE!, 60,000+ Themes..! For FREE! + Uncountable Millions of premium plugin/templates/themes/apps from third-party marketplace + Growing..!
How Windows operating system outperformed all 100's of operating systems & How Google is the only King in search engines, in the same way, WordPress is the King In the Website Creation & it holds 61% of the market share. It is not IPO/ICO market share, because it is FREE..! It is an open-source website creation platform. It is growing faster than ever before..!
WordPress is more powerful than website builders like Wix. Beginners think WordPress is only for blogging. But you can turn it into an easy drag & drop website builder more than Wix for FREE..!(I explained how to & everything in this post). You need just 3 days to learn everything. But once you learned, you can create almost any type of website..! It is not a joke. Today's advanced software made it true. There is no difference between coded by hand & WordPress in the end website result. It just auto-generates codes on the back end. Front-end you just add any web elements just by clicking on the icon. Here you no need any coding or program knowledge.
You can create a WordPress website using Bluehost WordPress Hosting. Bluehost special crafted hosting particularly for WordPress. (Below Explained its step by step with screenshots, before that let's see why WordPress?)
Why WordPress?
Because
-Usage Stats For All Website Existed Or Created In The World

WordPress Alone - 39%..!!!

Usage Stats For CMS 39% of all websites created in the world is created using WordPress & 66% Of all of CMS websites in the world are created using WordPress..! Rest of the 1000's of site builder sharing the remianing part…! E.g. Wix- 3%, Squarespace 2%, Weebly – 1% & others percentage even below 1%. So WordPress is the only one King in website creation method or platform or software or industry.
It is easy to use & included a lot of functions

+ Plugins, + Themes..! + Uncountable Millions of plugin/templates/themes/apps from third party market place + Growing..!

& more functions with huge free support tutorials, forums, FAQ's.
Once you learned how to use WordPress, then you can try any other CMSs. (aah..! But you don't need)

You Can Turn WordPress Into Drag & Drop Website Builder More Powerful & Easier Than Wix In 5 Minutes..! (See "How To" In The Step 5)

Even Big Brands like Microsoft News Center, Walt Disney Entire Website, Facebook Newsroom, Star War blog Harvard Gezzet Online, & all the following entire websites created using the WordPress – Mercedes Benz, Time INC, Tech Crunch, Bata, The New Yorker, BBC America, Sony Music, & Celebrities like Katy Perry, Justin Bieber, Beyonce, Usain Bolt and almost all popular entire websites created using the same method..!
Of course, This entire site WebsitebuilderLy.com is created using WordPress.
Okay.. Let's see how to build a website using wordpress in n hour without knowing anything..! & almost free..!
How To Make a Website Using WordPress? (No Step Skipped)
Now you are in
Method – 1:- Using WordPress (NOT WordPress.com)
WordPress is an open-source free website creation tool. So only you pay hosting charges. You can make almost any type of website in 7 steps under 1 hour with no skill!
The 7 steps included purchasing a hosting plan, creating a WordPress website, putting it online, Getting On Google search, Getting more visitors, etc. Here is a complete guide to making a WordPress website From the beginning to the end step by step with no step skipped for beginners.
The 7 Step's Outline
Step 1: Sign Up For a Good WordPress Hosting (Bluehost WordPress Hosting) & Register a Domain Name. (2 minutes)
Step 2: Install WordPress. (One Click Is Enough..!) (5 Seconds)
Step 3: Fill in Your Website Details. (1 Minute)
Step 4: Create Pages and Blogs. (depends on how much you write. Just 1 minute is enough to create & publish pages or blogs)
Step 5: Get a Drag & Drop Editor. Turning The Basic Editor Into Amazing Drag & Drop Website Builder More Powerful & Easier Than Wix. (Appx. 5 Minutes)
Step 6: Install Themes from 50,000+ Collection. And Install Ready Made Web Functions (Plugins) From 60,000+ collection ..! (Within Plugins a lot of web function collection there.. Literally anything you imagine, you can do in a minute & a few clicks are enough..!) (Appx. 15 to million minutes depends on your needs.)
Step 7: Get On Google, Bing, Yahoo, etc. (In The Next Tutorial I explained how to get more visitors easily & quickly without using any illegal ways)
STEP 1: Sign Up For a Good Hosting
Time Required: 2 Minutes.
You need a hosting account with WordPress. I recommend Bluehost WordPress Hosting
(We already tried & tested. In 2022, Bluehost outperforming all other hostings in every sense like speed, support, technology, etc.)
In this example, I took the Bluehost company. Because it is the best company right now & they provide unlimited free WordPress support with rated 4.8 stars & 99% customer satisfaction.
Go to Bluehost WordPress Hosting
Don't Confuse. Just Click On The Above Link. Never Ever Go For WordPress.com. Why I am Saying Again & Again because There Is a Big Difference.
In Bluehost, You Will Get The Open Source WordPress & It included 60,000+ plugins and 50,000+ themes for different purposes…! 90% of them are FREE..! But in WordPress.com, you will get only 50 plugins and 100+ themes & its plans are too costly, not open source. So Don't Confuse. Just Click This Link – Bluehost WordPress Hosting
You will see a hosting plans page. You don't need to understand all the plan terms on this page. Just concentrate on the number of visitors & space.
Note: You don't need too much space. 50 GB space is more than enough. (Over the past 7 years I posted 100's of tutorials on this site. Still, My entire site WebsitebuilderLy.com is just 3.14 GB including all 1k+ photos & everything. ..!)
Select Plan. If you feel, your website will get more than 50,000 visits/month, then choose the Plus plan or 3rd plan. If you want your website to load faster than normal, then choose the Plus plan or the Choice Plan. Don't worry, you can upgrade or downgrade from any plan to any plan at any time without losing the remaining credit or money.
Once clicked on the Order button, you will see, enter your domain name field.
Type what name you want to give your website. This name is called the domain name or your website URL. You don't need to choose .com only for the last extension. In olden days, only .com .org & .net were available. That's why most of the website ends with .com, but Nowadays 100's of domain extensions are available like .club, .company, .agency, .photos etc. For example, you can take your website name like www.my.club instead of www.myclub.com.
Remember – Most of the time your typed domain name may not available. (Because someone already took that) Then it will show available domains similar to your searched one, You can choose the best that fits your website.
Here is an example. I want a website for my fashion store. I wanted jacksfashion.com I typed jacksfashion.com to register the domain name.
After clicking the Next button, that domain name was not available. So I got alternative suggestions.
jacksfashion.com was not available. That means someone already registered this domain name. So I can't register now. But no worries, because I see alternative similar names like jacksfashion.net, .biz, .us etc. If you need more domain names, click on .com dropdown.
I liked jacksfashiongallery.com.
After selected.
Click Next. You will see this page if the domain name is available. Fill up your details to register the domain.
Just deselect domain privacy & others extras. It is unnecessary. (If you want, you can get it at any time)
Once you fill out the form, click on submit now. Once the transaction completed, it shows this message.
Click "Create Account". Now a tab shows your chosen domain. Choose a strong password with 8 or more characters that include at least one lowercase and one uppercase letter, a number, and a special character.
Once you click "Create Account" you see the login page. Just enter your domain name and password that you set just now while you creating your account.
Now you see your hosting dashboard.
3. Set up WordPress
Time Required – 8 – 10 Minutes.
You just bought Bluehost WordPress hosting, So you don't need to set up WordPress! Bluehost made it easy for you. They automatically set up your WordPress with your domain. So just click on WordPress to access your website dashboard from your Bluehost hosting dashboard.
You see "WordPress" button at the top right corner of your dashboard. Click it.
If you can't sign in, you can take Bluehost's live chat help. Because now you are Bluehost Customer..!! & you will get all the details in your email after the purchase.
Enter the username & password. You can reset the password using the email that you provided while paying the Bluehost.
Once you log in, you will see this dashboard.
The very first thing you need to do is delete the default blog post example & unnecessary pre-installed plugins.
Click plugins. Deactivate or delete plugins. Because by default unnecessary example plugins pre-installed for demo purposes Those plugins make you confuse at the beginning and load your website slow. Don't worry. If you feel, you need deleted plugins, then anytime you can install & activate for free from the WordPress plugin repository.
Once you clicked on the delete option, browser popups & ask you "Are you sure want to delete the plugin & its data?"
Click ok
STEP 3: Filling Your Website Details
Time Required – 1 Minute.
Now Let's Start To Build Your Website.
Go To Appearance – Customize
Click Site Identity
Fill your site title & tagline. So that Google will show your website properly in its search results.
STEP 4: Create Pages & Blogs
Time Required – 3 Minutes. (Depends on how much you write).
Now I recommend post at least 2 blogs. It may be anything. Just write you created your website today or any tiny topic related to your website. In this example, I am creating a Website for a Juice delivery online company called Healthy Juice Me (healthyjuiceme.com). So I asked them to post blogs related to healthy juices. But they are not confident about their blog standard. So I hired a freelance writer & got 2 blogs with 2000+ words.
Before you post, I suggest you set post URL or web address structure as post name. So that it looks simple and easy.
Go To Setting -> Permalink
Then select Post name & Save.
Now post your first blog.
Go to Posts – Add New
Then you see this empty blog template field. Write your blog title and write the description below.
After I filled the blog content.
You can click add media button to insert photos on the blog.
I recommend you to optimize images for web before you upload. Otherwise your photos may load slowly. Usually most of the websites optimize their photos, So that the websites will load faster and it increases user satisfaction.
Next, you will see select files. Select related images from your desktop.
Here I posted healthy green juices, So I inserted its related images.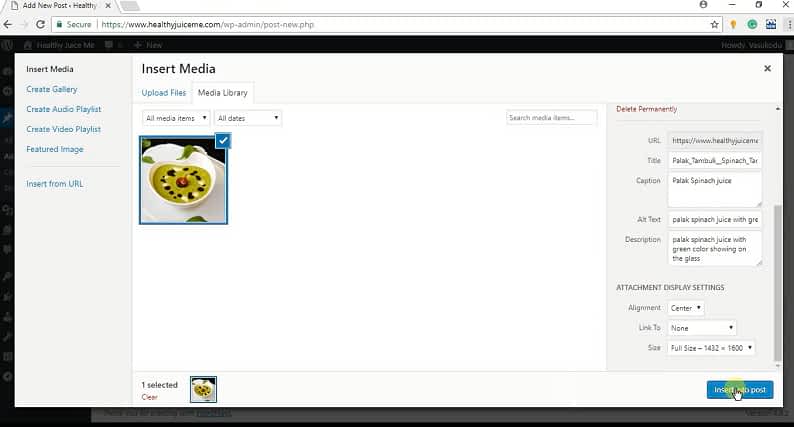 Click insert into post. After the image gets inserted on where your mouse cursor is.
You can also create pages similar way.
Go to Pages – Add new. (Create at least 2 pages)
First, create a Blank page just like the below screenshot & publish it. Then you must & should create another blank page & name it "blog".
(If you don't publish at least 2 pages, then the homepage cannot be created. So you must publish 2 pages)
Then Create another blank page, name it as "blog" & publish it. Then you can also create essential pages like contact page, about page, privacy policy etc. Just write title & publish as a blank.
Next, again you need to go to Appearance – Customize – Homepage Setting
Next, you will see your homepage displays option. Select a static page.
Next, come back to pages. You will see post page & front page labels. Because you just selected front page & post page on the homepage setting.
Now whatever you edit on the home or front page, appear on your website home.
Ok. Now Let's create a homepage.
But.. Wait..! This blog & page Editor Is Boring Right? It is Too Simple with MS-Word like the text editor with bold, italic and only a few options. Oh.. !This is a website. You need a lot of web functions
Don't worry. You Can turn This simple basic boring editor into east drag & drop website builder with lots of function in just 1 Minute…! Read Step 5 Below
STEP 5: Use Drag & Drop Website Builder
Time Required – 10 Minutes to learn, after that it depends on how you build. Generally 15 Minutes enough to create an amazing web page.
You can Install many website builders on Bluehost-WordPress.org Site Creation platform & turn it into easy drag and drop site builder more than Wix, Weebly, Squarespace etc put together..!
One of the best free site builder plugin is Elementor.
Go to Elementor
Then download the plugin. & It is FREE…!!! (Do you want more options, more drag & drop web ready-made functions? Then you should download its premium version plugin – Elementor Pro)
For more info: See Elementor 100's Of Features
Next a popup will show you to submit your email & download. BUT DON't Give your email. Just click below option "No thanks, I just want to download elementor" Once you clicked, then automatically it starts to download.
Its size is just 2 MB. It will be in Zip file. But don't extract. After the download, go to plugins – add new
next click upload plugin
Next, you will see choose file. Click Choose file, then select element zip file that you just downloaded. Then click install.
It takes some time to upload & install. Once it is installed, you will see activate button. Click Activate.
Once it is activated, go to pages & hover on the front page. Then you will see Edit option. click Edit.
Then you will see again the same boring editor, but you also see one new option – "Edit with Elementor"
Click "Edit with Elementor" to get an easy drag and drop web editor with lots of ready-made web functions & templates for FREE.
It takes some time to load.
Then click the setting icon.
Click Page layout – Elementor Canvas
After you selected Elementor Canvas Page layout, update it. A blank web page will create and default pre-loaded contents & everything will be removed. Next, you can create anything with your imaginations.
Drag & drop elements from the left menu to right page editor.
You should update whenever you made changes. If you close your browser without the update, then your work will delete.
You can install pre-designed pages by clicking add template
After you can edit the pre-designed pages as your wish. You can change or add or delete anything.
Watch this video for full
See Healthy Juice Me website's Final homepage
If you want more features, then you can buy Ultimate Addons for Elementor (bundled premium ready-made features)
STEP 6: Install Themes & Plugins
Time Required – 5 Minutes
(Oh..! How 5 minutes Enough.??!! Because You need to search on 50,000+ themes & 60,000+ plugin Collections, right? No..! We already listed Important & the most useful plugins list with category-wise. or You can Google it whatever you want. For example, if you want a photography website, just search on Google "photography themes or plugin for WordPress" or "Music themes or Plugin for WordPress"You will find a lot of related plugins.)
You can add various plugins for different purposes.
Go to plugins- Add New
type which function you want to add in your website. for example, if you are a photographer, then you need photography related web functions.
Or search in Google
Here is another example.
If you want to change your website main theme or structure or template, then you should install different themes. Don't worry. Your all previous contents, pages, blogs, work & everything will automatically set to the new theme. So you no need to worry about your website.
Go to Appearance – Add New
You will see unlimited free themes. install or preview before installing it.
STEP 7: Get On Google, Bing Yahoo etc.
Wait
Just wait…!!
Google and all other search engines are evolved so advanced, you no need to submit your website..! They will automatically crawl your website. But it takes some time.
Whenever new pages and posts published, slowly it will get index. It takes more than a week for new websites. Once your website started to receive traffic, then your small changes will also get index quickly like within a day or if your website is a news site, then you can use submit to google index button plugin. It will automatically ping Google whenever a new post/page published.
In general, You no need to do anything.
Yes. you are done…! now your website is available online. Sometimes Google takes at least 2-3 weeks to show in its search results. You can share your website link with your friends.
See all options available on the dashboard. You will understand slowly. If you don't understand, then search for tutorials. there are 100's of FREE tutorials, videos available. You can master WordPress without any previous knowledge. If you got any problem, comment below & get a response within 24 hours.
Note: If you want to make a photography website, then we made a very deep & step by step tutorial particularly for photographers. If you are a Photographer, then you must check out -> How To Make A Photography Website, Portfolio, Photo Blog & Everything In 2022 (You can also create using this page method. In this page, we explained general purpose websites. However, if you want to create really a great photography website, then check out this tutorial. Everything is similar to this page tutorial, But we added many photography features & functions tutorial with automated photo frame, canvas or any prints on things online store & much more exciting latest photography business things)
Here is some great easy tutorial, I wish you should checkout –
I recommend The Above Method 1: Bluehost-WordPress . If you liked that method, do it now, But if your goal is just a quick website and you don't have at least 1 week to learn & build it, then only Go for Method 2 Below.
Website builders are advanced applications to make websites easily without any knowledge. There are 1000's of website builders available. Using site builders, any school kid or your eldest grandmother can create their own website using easy ready-made web functions. You can add, drag & drop any web elements. It is easier than photoshop. You can connect different apps to your website & almost any type of website you can create yourself.
we created, analyzed & reviewed almost all website builders. Finally made a top 10 list. See best 10 website builder reviews
Wix is the only one website builder that has all the latest web functions with an easy interface and A.I. automated site creation for you just in front of you..! Surprisingly its prices are affordable..! Even you can try & build completely free..!
See Below Step by step to make a website yourself using Wix in 10 minutes.
How To Make a Website With Wix?
You want to build a website yourself, but you have no time, right? And also you want to make your website as your imagination and amazing. Then Wix is the best solution for you.
Wix included much-advanced drag and drop tools and software. Also, It is a standard method. Using this method already 100+ million websites are created.
STEP 1: Create An Account
Required Time:-30 → 40 Seconds
Create an account in Wix
Once you clicked the above link, It will carry you the best service, instead of hundreds of confusing services & you will see this page. See below screenshot.
Click on Start Now Button.
Sign Up box will pop up.
Enter your email and enter a strong password. You can also sign in with facebook or google plus.
Click go.
It shows again enter the same email & the password to confirm.
Type again the same email & the same password to Confirm it.
Then you will see two option. Create You Website With Wix ADI Or Editor. Click on Start with Wix Editor. (You can also click on Wix ADI, But you may get confused if you don't know the editor.)

choose a method to make your website
STEP 2: Select Which Type Of Website You Want?
Time Required:-2 → 3 Minutes
Once you clicked on Wix editor, you will is this page.
Just Select, What kind of website you want.
If you want to build a website for your hotel, then click Restaurants.
If you want a website for your business, select the business option
If you want to sell something on your website, you No need to Select online store, because you can add the online store to any website. If you want only to sell items, then only click Online store.
If you don't know, what to select, just select "Other" option. Because you can add anything or change completely at any time.
In this example, I clicked on design option. Once clicked, you will see this page.
Click Get Started. Next, you will see this page.
This is website template collection page.
Here you can select any website template or design.
You can navigate one category (E.g.-Design) to another category (E.g.-Business) at any time.
Within a category again sub-categories and Every Sub-category loaded with different templates for different purposes.
Definitely, you can find the one you want.
If you can't find any of the templates you want, Select the blank template. You can build anything you want using drag & drop functions. or just select a template randomly & you can change it.
You no need to learn anything here.
I selected the advisor consultant template. Once you hover over the template, It shows two options. click View to see its demo. Click edit to build your own website. See screenshot.

Click edit to make your own website in Wix

Once you clicked on Edit option, It will load website editor.
It takes some time. Wait Until Loading is completed.
Once Loading is completed you will see website editor.
STEP 3: Enter To The Site Editor
Time Required:- 4 → 30 Minutes (According to your needs)
This is Website Editor Platform for my template advisor consultant.
Build Your Own Website using Ready-Made Drag & Drop Functions
Click on the text ⇒ Delete the old text ⇒ Edit the text you want.
Click on the text ⇒ Right click ⇒ You will see all options like edit text, Animate, Overlapping items and more. See this screenshot.

Right Click-All Editing Options.

Click On Add Button that I rounded with red mark at the top left corner.

Add functions to your web page

You can add any functionality. Example texts, gallery, buttons, box, strip, video, Online store, Music, social, blog and hundred more. See This screenshot.

All Functions tab

Just clicking on button icon is enough to add buttons to your website.

How to build a website and creating buttons

Click on More (at the end) and see hundred more amazing functions.
You no need to learn anything.
Just click which function you want.
This will add to your webpage automatically
Then you can Drag & Drop to change its position.
Within all functions Hundreds of different types available & Every type you can make thousands of customization..!!
You no need to worry about anything. Here you will get everything, Your work will be crazy something & the surprising thing is you can make anything with nothing.
You can change or add any images.
You can change the background with stunning designs. Here hundreds of wonderful background design collections will make you excited.
You can also change the color of each design.

Changing Page Background
You can also add your own images. And you can change the color & designs of your own images. That is the really surprising function.
You Will Know The Real Taste Of Building a Website Is In the App Market..!
Click on app market icon (See just below plus icon on the top left vertical) Here You can find more than thousands of different apps made for different purposes.
You can also view these apps by category. So that you will get the right apps quickly.
The power of adding apps is just amazing. You can make the website like a professional web designer…!
Once you are done, you need to publish your website. You no need to Make everything at first. Publish first. Then you can edit & make any changes at any time. I highly recommend you to publish first, because Once you published Google will get a smell of your website. So Google will index your website quickly. No one can make everything at once. Slowly you will learn how to design beautifully.
STEP 4: Publish Your Website
Once you make something on your web page, you should either save or publish your site. Otherwise, your work will discard..!!
Don't worry. Publish means to make your site publicly accessible. No one will get your website at the beginning. Google always index slowly for newer sites.
It needs at least 1 month to make all your web pages into its index.
If your website shared by many people & linked on many sites like news channels or any trusted website, then you must have something good information on your website. So Google gives more importance to your website pages.
Remember, Website age is not the only factor to get higher ranks in Google, but Google considers website age also as one of the factors to give a higher index to your site. So, publish your website first.
Google always index slowly to avoid spam or untrustful websites.
So Publish Now Your Website, before it is too late or before your competitors take your position.
At the beginning you may make several mistakes, that doesn't matter.
Click Publish button that is in the Top Right Corner that I showed with red arrows.
Once you clicked on publish button, you will see this box.
Click Upgrade Now, That I showed with a red arrow.
Once you clicked on Upgrade Now Link, you will see this page.
I recommend you to buy the Unlimited plan.
Click on buy now. Fill out the details of your card information.
Click Submit purchase to get your hosting.
Once you submitted purchase, you will get all the information to your email (The Email that you used to create your account at the beginning)
Read twice your email. click the link that is given in the email.
STEP 5: Get a Domain Name
Next, you will see to get your domain name for completely free. (Usually, domain name costs around $12-$15/year)
Once you clicked on "Buy a New Domain" You will see a search bar like Google search.
There you just type, which name you want to give your website.
Most of the time, you may see the domain name is not available.
Because someone who already registered that domain name.
Domain name is your website home page URL or your website address. Example:- www.google.com, ducktoluck.com, websitebuilderly.com. No need to take .com only. there are many wonderful domain exstensions available other than .com. E.g www.gatesfoundation.org, www.harvard.edu, www.Google.uk, www.Dekora.fashion, www.Bse.london, www.Toureiffel.paris, abc.xyz, www.yoursite.club, etc.
See below screenshot to see an example of an unavailable domain name
In the above photo, www.bestbusiness.com is not available, but www.bestbusiness.company is available.
Today not only .com extension exists, but also, thousands of different types of extensions are available. I suggest you give first preference to .com. If .com is not available, then try to different names. Most of the times you can't get .com, then go for other domain extensions like .net, .in, .company. But .company is for particularly, if your website is related to a company, otherwise don't get the .company extension. At the beginning of the internet boom, only .com, .net & .in are available. But today you can 100's of different top level domains. Example .org, .club, .london, .co.uk,, .photo, .xyz, .agency etc..! that means you can get www.yoursitename.agency instead of www.yoursitename.com
Here I bought ducktoluck.net domain name.
Once you find the name of your website, Click "Get it" button.
If .com not available, then get any suggested domain extension you liked. In this example I selected bigboom.design
Now Your Website Complete Setup is Finished…!! 😆 🙂
Share your website with your friends & Enjoy.
You can edit, customize or delete at any time.
Now You made a website without knowing anything about it..!!! Before reading this, you are a duck about building a website. Now you got the Luck to build stunning websites as your imaginations. That is Duck To Luck.
All The Best. 🙂
If you have any doubts or problems, you can comment below or take free help.
Here is Some Great Wix related post links you should checkout
Wix Review – Top 8 Things, Pros & Cons (You May Get Surprise)
Wix Music Review – Are Musicians & Bands Really Loved It?
20 Best Band & Musician Websites Live Examples & How They Created?
Coding
Coding is tough and website builder is the easiest one, then why still teachers & companies are shouting coding are very important? Is Web designers, website developers, Software Engineers, and Programmers are using this method?
No.
Remember: Coding only needed for advanced projects those never exist before.
All methods are using different types of people for different purposes with different requirements & ideas. But if you track the user database of all web creation platforms, then you will understand which type of people are using which platform.
99.7% of the websites are created by website builders & CMS. That is without coding..!! But to create website builder itself needs codes. I think, now you understand who really needs the code.
Even software engineers use website builders & CMS. They use codes if and only if something can't create with those site builders & CMS.
In this method, you need your 2 years hard work. You need to learn web programming like HTML, CSS, Javascript, MySQL, PHP.
Take a diploma in web design or courses. If you are good at math, then try to get a seat for software engineering colleges. If your goal is only to building websites, then first learn the following programming languages
HTML-5 (2 months)
CSS (1 month)
JavaScript (Generally 4 months but Depends on how you good at mathematics)
JQERY (1 month)
BootStrap (1 month)
MySQL (1 month)
PHP (1 month)
ASP (1 month)
Node.JS (1 month)
XML (1 month)
After you learned everything, you can develop a website. But even you learned thoroughly you cannot create advanced websites alone. It takes to write & debug code to code using your biological hand & it will slow down the process. So Every category people are using CMSs & website builders.
College students, Graduates, Non-college students everybody use easy ways.
In places like Home, Work, Office everywhere easy methods are famous.
Conclusion:– No one uses the coding method to make a website unless that function is not available. 99.99% of the time the functions you want is available. Even it is not available, you can customize by inserting a small code snippet by taking help of web developers.
Overall Bluehost-WordPress is Better for creating an advanced website & If you are ready to learn a week
Wix is best for a quick & easy website.
All the best for your first website. If you got any doubts, then comment below or directly contact us. We will happy to help you for free. If this tutorial helped you, then send me your website link. I will happy to check whether you did any mistakes or not.
Good Luck.
Jack is the Co-founder of WebsitebuilderLy, a Software Engineer from Standford University, An entrepreneur with 12 years of Website Creation, Management, Marketing Automation & App Development Experience. Worked for the world's leading companies such as Roblox, HTC, etc.