The WebsiteBuilderly team has tried 100's website builders, purchased all premium plans & reviewed features, ease of use, hosting, templates, editor, support, domain setting, website ownership, and technical aspects. Then we compared & analyzed. Also, we conducted 1 Million+ customer websites automated massive speed tests to find the quality of the website builders. Finally made the list of the top website builders (Compared side by side in the 3rd section). So you don't have to waste your time, money & energy.
The Best Website Builders Are:
Wix – Best for all. Easiest drag & drop.
WordPress (On Bluehost) – Best for all experienced Users.
Squarespace – Best for portfolio, small online store & responsive websites.
Shopify – Best eCommerce website builder
Weebly – Simple website builder
Zyro – Cheapest website builder
Jimdo – Good website builder
WebFlow – Best for web developers & agencies
GoDaddy Website Builder – Basic website builder
Simbla – New website builder, still developing, easy but poor support
Some other notable website builders are Site123, Strikingly & Duda.
Let's See The Top 7 Website Builders Side By Side Comparison Chart 2022
So That You Can Easily Grasp All At Once. It Will Help You To Make a Better Decision
Press F11
So that you can see this chart on full screen
Press F11

Wix

WordPress
on Bluehost

Squarespace

Weebly

Jimdo

Simbla

GoDaddy's
Site Builder

Our Rating

4.9

Wix Review

4.8

(It is a bit difficult. So, you must read
How-To Tutorial.)

4.0

Squarespace Review

3.5

Weebly Review

3.3

Jimdo Review

3.0

Simbla Review

2.0

GoDaddy Website Builder Review

Easy
Easiest -98% (Click on the "?" to see how?)
Difficult (30%)
Medium (65%)
Easy (80%)
Easy (70%)
Easy (85%) (See How?)
Medium (45%)
It is Famous for Domain Registration & Not for Site Builder
Flexibility
100% (See How?)
Depend on how you learn.
Up to 100% (See How?)
80%
60% (See How?)
50%.
40%.
10%
Best For
General use, for almost all purposes.


(how? See Here..)
For All purposes..! Business, eCommerce, Artist, Designers, Portfolios & for every purpose, there are ready-made templates, web function, drag & drop elements.




Bloggers & Web Designers (how? See here..)
Artists
Hover here..
None
see here..
None
Speciality
100% freedom in Page Editor

.See here..
The cheapest eCommerce plan
Simple and quick
none
.see here..
none
Trust
100%
100%
100%
100%
100%
100%
100%
Websites Created
200+ Million
1+ Billion

30+ million
60+ Million
20+ million
32k
N/A
Founded Year &
Headquarters
2006
Tel Aviv, Israel
(19 offices all over the world)
2003
Decentralized. Its founder is based on San Francisco, USA
2003
New York, USA
2006
San Francisco, USA
2007
Hamburg, Germany
2013
Florida, USA
1997
Scottsdale, USA
Employees
3000
May be millions around the world
1143
350
195
24
400 (For the website builder section)
7000 - For the other services
Market Value & Revenue
(In USD)
18 Billion &
1 Billion
Open Source & Distributed Revenue
9 Billion &
621 Million
365 Million &
84 Million

N/A &
51 million
20 Million &
4 Million
N/A (From Website builders)
14 Billion &
3.32 Billion
Customer
Experience
100%
1. Fully Smooth Friction-less Drag & Drop Live Editor With All Features Visible In One Screen
2. Quick Navigations
3. Manage Everything in one dashboard
4. A.I. will build the entire site in a minute according to your goal & likes..!
5. Great Support from real people as well as a huge resources & community discussions.
6. Easy App Settings & Marketing Tools
7. Elemental level undo-redo & you can restore for your every savings with one click..!
80%
(You will know all advantages only after you learned or use it at least 2 weeks. See WordPress 10 minute Guide.)
A massive community support
75%
1. Mobile perfect websites
2. Good Website Speed
3. No element level undo-redo
90%
Not fully drag & drop.
80%
Editor work is not comfortable

65%
It is a new company & still developing its apps
55%
Templates
1000+
60,000+
96
56
45
60
50
Apps/plugins
600+
70,000+
Uncountable third party marketplace Plugins
14
200+
48
4
A few

Pricing/Month
(Affordable & Flexible)
$0
$13 (Combo)
$17 (Unlimited)
$23 (eCommerce)
$27
$39 (VIP)
$500 (Enterprise Level end to end solution)
$13 plan is enough to make a great website on Wix with almost all features as well as 100's of free apps for your website like a booking system, Automated chat support, Popup subscribe, discounts and 1000+ functions, Free domain registration & everything. Very cheap for its features compare to other website builders. See Wix Pricing
(Cheap hosting plans)
$3.95
$5.95
$11.95
$80 - $729 (Cloud Hosting)
You may need premium themes, plugins & site builders. Those prices are depend on your requirements.
(Cheapest eCommerce & Unlimited Plans)
$12
$18
$26
$40
Squarespace Pricing review – 3 Pros & 8 Cons [Choose Wisely]
(Affordable)
$5
$12
$25
$38

There are many apps on Weebly app store. If you want more features, then you can add any web apps depend on your needs. Most of the apps are completely free or give you a free version. However if you want all features, then you may need to pay more.
(Costly)
$7.50
$20
(Relatively Costly for its features)
$6
$12
$24
$48
(Affordable)
$5.99
$9.99
$14.99
Free Trial
Free Plan Forever
Money Back Guarantee
14 Days
30 Days
14 Days
30 Days
14 Days
14 Days
30 Days

Design Functionalities

Editor
Two types of editor available.
1. Wix ADI - Block editor with A.I. designer.
2. 100% smooth drag & drop live editor.
You can switch from Wix ADI to smooth editor at any time without losing your work.
Depend on which plugin you use. See more info here
blocks
blocks
blocks
blocks
blocks
Design Freedom
100%
100% (But you should know this WordPress 10 minute Guide.)
60%
75%
65%
75%
55%
Artificial Intelligence Auto Site Design

Wix ADI designs your website just infront of you..!!
Parallax Design
BackGround Effects
True Image Editor
Design Animations
Automatic Mobile Site (Responsiveness)
Mobile Editor
.See More Info.
Mobile friendly score
100% ( If you use mobile editor and made unfriendly purposefully, then it will reduce)
100% (But if you use the table like this, then the score will reduce)
100% (But no 100% design flexibility)
100% (But no 100% design flexibility)
100% (But no 100% design flexibility)
100% (But no 100% design flexibility)
100% (But no 100% design flexibility)
Logo Maker
Video Maker
Premium Stock Images for Free

You can insert 1000s of amazing professional web optimized UHD images related from dogs to business.
One Click Entire website Design Structure Change?

ON-Site Features

Essential Features
Sell Your product & Online Store
Transaction Fees?
0%
(100% profit is your..!)
It depend on what plugin you use.
3% for the cheapest plan.
0% for all plans.
2.9%+$0.30 for Every Transaction.
0%
Varies.
2.2%+$0.30 for every transaction
Worldwide Payment, Shipping & Tax

You can set customized Payment, tax and shipping rules for each destination.

Use WordPress Woocommerce plugin.
Advanced & Complete eCommerce Solution
Business Features
Restaurant Related Features
Photography
Best Photography Website builder (With Pros & cons)

Visit Wix Photography
Complete Musician Website
20 Best Musicians & Band Websites & How They Created?
1.Wix Music Review
2. How To Make a Music Website On Wix?
3. Wix music features
4. Visit Wix Music
Blogging Features
Designer
Accomodation
Portfolio Features
Forums, discussions, comments & Knowledge base features

You can Embed external forum software like Website Toolbox

You can Embed external forum software like Website Toolbox

You can Embed external forum software like Website Toolbox
Events Related Feaures

Marketing Tools

All In One Business Solution

See Wix Complete Business Automation Example
Inbuilt Email Marketing Automation
basic level
But you can integrate Mailchimp like email marketing tools

But you can integrate Mailchimp like third party services
Same as jimdo
Complete Popup Box Marketing
See 1,2,3 Features

All Features included Plus advanced features available

All Features included Plus advanced features available

Only included a few features

All Features included Plus advanced features available
Countdown Timer & One Time Discount Coupons
Complete eCommerce Corporate level Marketing
Heatmap & User Interaction

Crazy Egg, VMO Wix app

There is no inbuilt feature or app. You need to inject codes to use external heatmaps Crazyegg, VMO etc
same as Squarespace
same as Squarespace
same as Squarespace
Complete Website Analytic Report, Google Analytics, Facebook Pixels
Same as Squarespace
No analytics. You can inject codes to use Google Analytics & FB Pixel
Same as Squarespace
Latest SEO Manager
& adding rich result like snippet, reviews etc

Inbuilt SEO Manager in the Wix Dashboard as well as several SEO Wix apps

Yoast Plugin
CRM
ERP
Live Chat Automated Replies

1. See Wix live chat example
2. Wix live chat, free calls, video calls, call back, marketing automaton apps
Social Marketing

Getsocial and so many plugins
No app or inbuilt functionalities. You need to inject codes to use Getsocial

Getscocial app
POWr plugin may help a little bit
same as Squarespace
same as Squarespace
Easy Inbuilt A/B Testing tools

A/B testing A.I. Tools that automatically change which one performs well.

No A/B testing. However you may rely on Google analytics, but it is not good compare to easy inbuilt tools. Also you don't get heatmap like important features.
Monetization or Ways to make money from your website
All available online income generating ways are possible with Wix.
You cab Sell Products, Services, Sell Digital Goods like Software, Music, eBooks, Graphics, Photos, Videos, Designs, Greeting cards etc.
Subscription & Recurring Payments to anything, Online courses, Host Webinars, Job Board, Ad Manager, Google Adsense, Accepting Donation.
Same as Wix
Same as Wix
Same as Wix
Same as Wix, but not as easy as Wix
Payment system is not matured here
Same as Wix, but you may find little difficulty.

Technical Stuff

Web Hosting
1. SSD Cloud hosting & storage for all sites
2. Wix is powered by World's #1 Cloud hosting AWS
3. Wix CDN with so many locations all over the world. So Wix site loads faster in any given location
4. Quick Scalable & Unlimited bandwidth
1. SSD Storage. Cloud hosting available from $80/month plan only
2. Four servers across the continents
3. CloudFlare's Free CDN with premium Railgun for free on 108 locations
4. Auto Scalable only for higher cloud hosting plan
N/A
N/A (Weebly does not disclose its hosting specifics. But we found it is using a shared hosting for all its sites.)
N/A
N/A
HDD storage
N/A
Transfer Website

Use CMS2CMS.com to transfer your website from Wix to WordPress
or use SiteBuilders.pro to transfer Wix to squarespace or Weebly or anywhere..!

You can't transfer WordPress website to Wix, Weebly, Squarespace etc. However you can transfer one WordPress hosting to another.

You can use the same method as mentioned in Wix

You can use the same method as mentioned in Wix

You can use the same method as mentioned in Wix
Export/Import Website contents
Backup-Restore Website
Free SSL Security
Website Speed
(First Byte Time or Server Response Time In Seconds )
(Lower value is better)
0.235s
1.451s
0.472s
(But the perceiving or total rendering speed is very slow)
0.442s
0.315s
0.381s
0.789s
Can You Write Your Own Code?

HTML, CSS, JavaScript, Database builder at the same easy drag & drop page. Or you can use developers friendly Wix's open rapid web development platform Corvid Also you can use PHP, MySQL or any program you want by creating applications on Wix app market.
UL library, HTTP API, Stats Dashboard, Meetups, support and a huge community.

It is an open source software. So you write any program you want.
You can even host locally on your computer.

Only HTML, CSS & JavaScript.

Same as Wix except Corvid like platform

Same as Squarespace

HTML, CSS, JavaScript & database builder.

Same as Squarespace

OFF - Site Functionalities

Domain Name

Wix domain more info

SiteGround domain more info

Squarespace domain more info.

Weebly domain more info

View More Info..

view more info..
Business Emails

Inbuilt G-Suit powered by Google cloud.
or you can use Zoho mail.
(One click, FREE & Unlimited, but it is not good as Google's G-suit. However you can purchase G-suit & connect to your domain. or use Zoho mail

Use G-suit or Zoho

Use G-suit or Zoho
(For additional $10/10 emails from Rackspace)

Use G-suit or Zoho. But there is no inbuilt. So you may find difficulty to configure your business mail.
($9.99/month/5 Mails from GoDaddy's Own WebMail)
SEO
Advanced SEO
Analytics
Mobile App
Support
24X7 live chat, phone, ticket & email support in English. All supports are FREE & UNLIMITED..!

callback service is available in English 24X7, French (Monday-Friday from 9am-6pm GMT+2), Italian (Monday-Friday from 8am-5pm GMT+1), Portuguese (Monday-Friday from 3am-8pm EST) and Spanish (Monday-Friday from 3am-8pm EST).
FREE Unlimited 24X7 Live Chat, Phone, Email & Ticket support from experts.
(Award winning support with just 76 Seconds waiting time..!)
Email & Chat (Monday to Friday
4am to 8pm Eastern Time)
No Phone support
Email, Phone, Chat (Monday - Friday: 6AM - 6PM Pacific Time &
Saturday - Sunday: 8AM - 5PM Pacific Time)
Email only via their contact form
Ticket (Poor support, Because it is a new company, still struggling for fundrise.)
24X7 Live Chat, Phone, Ticket & Email Support
Website Builders

Wix
(Editor's Choice)

Bluehost's
WordPress

Squarespace

Weebly

Jimdo

Simbla

GoDaddy's
Website Builder
Why There is No Shopify in the Comparison Table? Because Shopify is only for eCommerce & it is too costly with unnecessary features for general websites or small online stores. It is not convenient to compare niche market builders like Shopify, Webflow, etc with general website builders like Wix or Weebly.
Now, let's see a quick overview and the pros & cons of the 10 best website builders.
---
#1. Wix – Best For All. Easiest Drag & Drop Website Builder.
Try Wix for Free
Wix is the easiest true drag and drop website builder in the world.
Wix is best for small business websites, photography, portfolio, personal, music, and most the websites.
There is no other website builder that is easier than Wix.
Here is a quick look at the Wix ADI (Artificial Design Intelligence) site editor. (Wix ADI uses Artificial Intelligence & designs your entire website just in front of you based on your interests!. Then, you can edit it if you want.)
Wix ADI 100% mobile-friendly. Your all pages & elements responsive and automatically fit on all type of devices.
Here is another view of the Wix ADI block-based editor.
You can convert Wix ADI editor into smooth drag & drop editor. But the smooth drag & drop editor elements may not appear good on small devices if you don't arrange it properly. But it give you design freedom. (However you can use mobile editor right there if your pages doesn't appear good on the phone).
You can Also use Wix Editor X. That is 100% mobile fit and your website looks like an app!
You can also convert your entire Wix website into iPhone & Android apps using MyMobile Wix market app.
You can select 100's of templates/themes & all are free.
Select any template to access the drag & drop editor. Here is a screenshot of Wix's drag & drop editor.
You can change the way you design in different ways. You can see the entire website in a single shot while you can drag and drop entire blocks & layouts. This is very useful for the final touch.
If you want a quick as well as a good website, then you should try Wix. You can create a business, eCommerce, portfolio, photography, design, hotel, hospital, and almost all common types of websites with affordable pricing. Here is a quick Wix website builder editor work example:
You can manage everything easily from a single dashboard without any skill. Wix is flexible.
You can even add eCommerce features or create an entire online store in a few clicks with no knowledge. Connecting your bank account, Marketing automation, generating revenue and everything you can do it yourself.
15 Pros & 3 Cons Of Wix
Pros:-
Three types of editors. Wix ADI (Artificial Design Intelligence) with the block-based editor, Wix Editor X, and 100% pure drag & drop smooth editor.
You can switch Wix ADI to the smooth editor or X editor at any time without losing your work & designs. Also, you can switch back. (But you can't switch from Wix original editor to Wix ADI, So I recommend you to start with ADI.)
Wix plans are affordable & flexible. See Wix Pricing & Plans Ultimate Comparison Chart (How To Save 40% Every Year).
Wix original editor may not be so mobile friendly if you drag & overlap many elements, but it has a mobile editor, You can show differently on Mobile, Tablet & Desktop
Wix introduced editor X which is fluid design. That is advanced responsiveness. 100% device friendly. Your website elements are automatically organized based on the size of the screen with speed optimized.
Wix's Artificial Intelligence Design Assistant creates a website according to your tastes right in front of your eyes!
Modify, add different functions, delete, redesign, drag & drop, undo-redo – auto backup versions – restore etc. Wix makes versions & backups automatically for all of your edits & saves. So you don't lose any of your work!
You can also add your own programs or third-party codes. Recently, Wix launched a rapid web development platform called Corvid for web developers. That means Wix is for both newbies as well as techies & it gives you 100% freedom.
Wix's app market includes 100's of third-party apps as well as its own apps like an online store, business tools, booking, music, photography, design tools, events, calendar, gallery, popup, blogs, rapid payments, subscription, marketing, social media and many more.
Wix Ascend gives you a complete business solution for small businesses as well as corporate business by giving tools like Advanced Email Marketing Automation, CMS, CRM tools with 100s of third-party apps from the Wix app store.
Monetization or Ways To Make Money – Wix offers you ways to make money online in every possible way. There is no restriction. Earn money from Google AdSense, by selling digital or physical goods, dropshipping, recurring auto-payments services or subscriptions from your visitors, running your own online store, art store, different types of apps for advertisement networking, marketing tools, and much more!
Related Post -> How To Start An Online Store With No Money & Without Inventory on Wix?
Wix offers an unlimited forever free trial ( Try Wix All Features For Free here). So, if you aren't happy with it, then you can leave without losing your money!
Wix provides you the highest security such as HTTPS secure servers, encryption, DDoS protection, spam filters, hack monitoring, etc. In addition, you can report any concerns and they will do advanced scanning and clean your website for free.
24/7 live chat, phone, ticket & email support. All tutorials are available on Wix support & Help Center
Cons:-
If you use the Wix original smooth drag & drop Editor, then your website may not be mobile-friendly. In that case, you have to edit on Wix mobile editor. That is extra work. (However, Wix ADI & Editor X is 100% mobile friendly)
Wix ADI (Artificial Design Intelligence) is still in development. Sometimes, the robot may not make you happy.
The support is poor for free trial users.
Try Wix For Free
---
2.
WordPress – Best For Bloggers & Web Designers
(Not WordPress.com, it is WordPress.org software on Bluehost.)
Unlike Wix, it may take 2-3 weeks to learn how to use it properly. But definitely, it will be worth it if you want to become a Web Designer or want to create complex sites or high-end websites.
(NOT WordPress.com)
You Must Read This 10-Minute Beginner's Guide
How To Make A Website Using WordPress
If you already know how to install and use WordPress, then directly click the blue button below & Sign Up.
Bluehost-WordPress Reviews
What Is WordPress? : It is a self-hosted open-source website-building platform.
What is Bluehost WordPress?: It is a hosting specifically crafted for WordPress.
Sign Up on Bluehost & Start to build your website using WordPress.
Note: Don't confuse it with WordPress.com. We don't recommend it. Because WordPress.com is expensive and not open source. Go for Bluehost-WordPress
WordPress includes 70,000+ plugins – for FREE! 60,000+ themes and uncountable numbers of plugins/templates/themes/apps from the third-party marketplace + and it is growing!
Plugins mean ready-made web functions or apps and themes are ready-made website structures or templates. Imagine anything, & probably you can find that plugin on WordPress! You can make any type of website without any knowledge using different plugins & themes.
Examples: You can turn WordPress into a drag-and-drop website builder by installing Elementor WordPress Plugin or you can make a booking website using a booking plugin. or Create social media website using Kleo Theme.
But the learning curve to have great results from it is 2-3 weeks. Do you want to know how to? Click the following link: How To Use WordPress As An Amazing Drag & Drop Website Builder Here is a screenshot of its editor. (There are many types of editors; this is just one site builder plugin example).
During the hosting signup, Bluehost will provide a domain name or you can connect any domain later. Here are a few WordPress website examples.
Your website automatically fits all devices. That's the perfect responsive website. Here is an example.
Pros:-
You can create almost any type of website in a day as per your needs and dreams.

31% of all websites in the world are created using WordPress. The other 1000's site builders are sharing the remaining part! But it is difficult to create and manage for beginners. Thus, it is best for web designers. Also, Bloggers use it a lot.
It includes a lot of functions, more than any other website builder in the world!
70k+ plugins, 60k+ themes! + Uncountable numbers of plugins & themes from third-party marketplaces with huge free support tutorials, community, forums, etc.
You can change the template without losing your work. The template sets & fits your content and everything automatically.
The Elementor Plugin turns your WordPress Website into a drag-and-drop editor.
Even Big Brands like Microsoft News Center, Walt Disney Entire Website, Facebook Newsroom, Star War blog, Harvard Gezzet Online & all the following entire websites have been created using WordPress – Mercedes Benz, Time INC, Tech Crunch, Bata, The New Yorker, BBC America, Sony Music, & Celebrities like Katy Perry, Justin Bieber, Beyonce, and Usain Bolt. Almost all popular websites have been created using the same method! Of course, this entire site, WebsitebuilderLy.com, was created using WordPress.
You will get cPanel & business emails on Bluehost.
Bluehost provides you with free WordPress Assistant with unlimited FREE support 24/7. Live chat, ticket systems, support guides, phone, email. Bluehost live chat has an average wait time of only 7 seconds & its toll-free number has an average wait time of only 5 seconds
There are millions of pros on the deep level that I can't list here.
Cons:
In the beginning, you may feel it's difficult to use if you don't read the tutorial.
There are a lot of plugins and themes. So, you may get confused as to which one to choose (Tip: For every plugin, you can see all stats. Choose the one that is more downloaded, Recent good reviews, Recently updated & support)
In very rare cases, different plugins do not match each other. This cause many issues. (Solution is here:– In that case, deactivate all plugins and reactivate plugins one by one. So you will know which plugin is creating the issues. Just deactivate that plugin and find the alternative to that plugin)
How To Make A Website? 3 Different Ways Showed With Step By Step For Beginners. Choose The One You Like!
I highly recommend the above guide (12 Minute Easy Tutorial) before clicking the button below
Visit Bluehost-WordPress
---
3.
See Detailed Squarespace Review
See Detailed Squarespace Review
Squarespace is one of the best website builders. It offers you unlimited storage & bandwidth from its starting plan of $12/month!. Also, It offers a fully-fledged eCommerce or online store for just $18/month. It is one of the cheapest eCommerce solutions. Many people recommend Squarespace, because of its attractive themes & features. They give shadow effects and parallax nicely. So, the user feels cool while scrolling down the page.
14-day trial, and no free site (if you don't buy their plans within 14 days, then your website will get deleted automatically!)
Pros:
You can change templates without losing your old content (see Squarespace Templates | These 7 Things You Should Know)
All templates are mobile-friendly
Fastest server speed
Mobile editors like information bar, call, mobile styles, etc give you the advantage to display your website on small devices effectively.
It offers you unlimited eCommerce features just for $12 per month. For more info – Squarespace pricing – Cost comparison chart (Save 40%).
Cons:
Squarespace is a block-based a drag and drop builder. It means, you can't drag & drop wherever you want, You have to put elements within the blocks.
Sometimes for very small tasks, you may need to open a lot of sub-settings.
Sometimes, you can't understand where you are editing.
Squarespace theme customization & settings are limited.
Squarespace app store only 35 extensions while Wix has 300+
---
4.
Weebly – Good Website Builder
See Detailed Weebly Review By WebMasters
Visit Weebly
& Try For Free
(If you are a beginner, then see how to build a website using Weebly) Weebly is not a 100% drag and drop website builder, but it is still one of the best companies in this industry. Here is a look at the Weebly builder.
Its apps are very similar to Wix but no better than Wix. If you already tried Wix, then you probably won't like Weebly. It is getting most of its customers from b2b, not b2c. They made deals with many hosting companies to provide free site builder while disabling premium features. Most of Weebly's customers are those who already bought hosting. So, people who probably never tried Wix are probably Weebly's customers.
Pros:
Responsive website.
Analytics and the dashboard is good enough
Cons:
It is not a 100% pure drag and drop website builder. Its editor uses strict grids or blocks, so you can't drag and insert functions or apps anywhere you want.
There is no universal undo-redo option.
Lack of selling or eCommerce feature.
Many apps are paid versions.
No free business emails. You need to connect it from G-suit.
Weebly backup – restore is the worst system.
Visit Weebly & Try For Free
---
5.
See Detailed Jimdo Review
By Web-Masters
See Detailed Jimdo Review
By Web-Masters
(If you are a beginner, then see how to make a website using Jimdo. Jimdo is another popular website builder. But it depends on third-party applications like POWr plugins. This means that Jimdo's team is largely not capable of doing things of their own.
Pros:-
You can't edit your website style and elements at the same time. For example, if you want to edit & change your headings' color or any blocks or text background color, you need to go style, then activate edit elements, then you can change its color, but when you are in style, You can't add new elements or drag the blocks or edit texts or any other such normal site builders functions.
Cons:-
You can't view the templates' demo unless you choose the template. That means you need to select templates to edit. After this, it will load with your site builder, and then you can preview it. This is a really time-wasting process.
If you delete any element by mistake, you can't undo it.
If you are a beginner, you may find it difficult to add its POWr plugins.
No separate eCommerce services and it lacks many modern functions.
Only 40 templates are available
---
6.
See Detailed Simbla Review
By Web Masters
See Detailed Simbla Review By Web Masters
Simbla is an innovative new type of website builder. It allows users to build a website with two different modes. One is easy mode & the other is an advanced mode. You can make a website easily with a clear preview. Simbla started in 2013 and it is the newest company on this best website builder list. If you want a quick, easy & affordable website, then you should try it.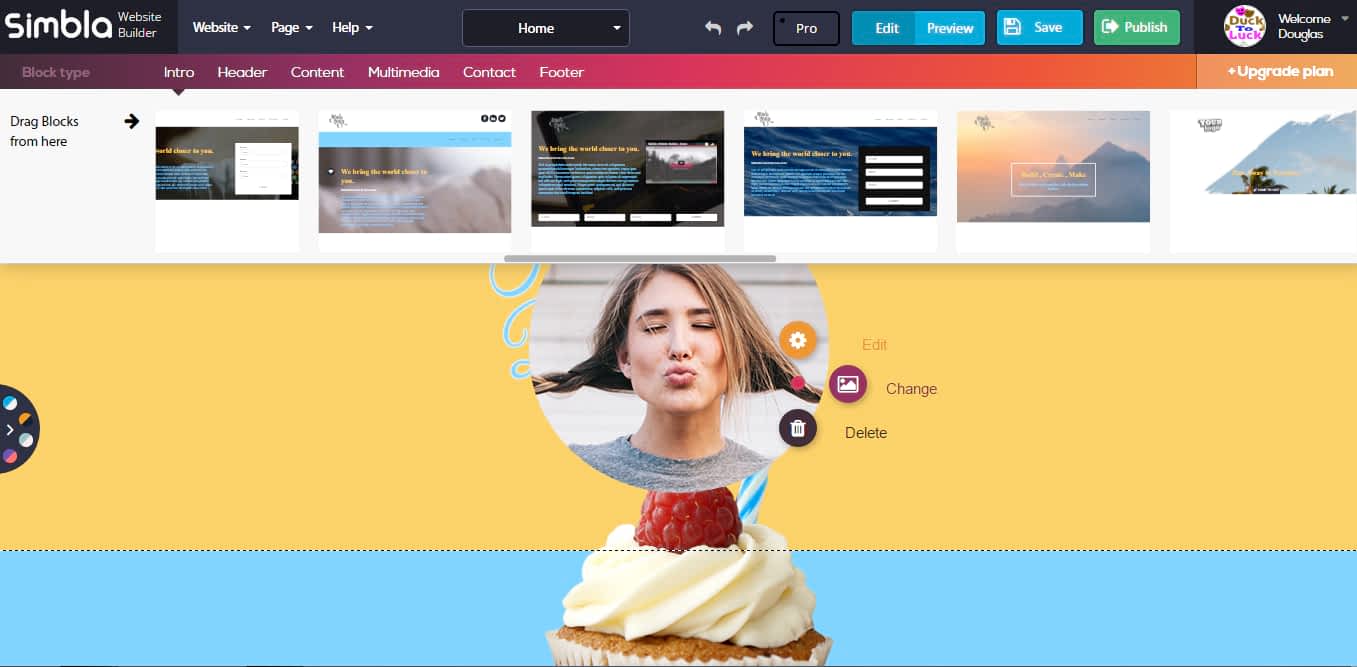 Pros:
Users can switch site builder editing behavior as two types of pro & non-pro modes. So, users can experience two types of website builder modes.
You can switch to the pro mode or non-pro mode at any time without losing your non-pro mode's or pro mode's work! Also, you can continue to edit and modify your non-pro mode's work in pro mode & vice versa..!!!
All Simbla themes are Google-friendly. Themes are developed with good structural codes
Easy drag & drop website builder
Cons:
Simbla web hosting is open (not protected) for Heartbleed Vulnerability.
No free domain name. You need to connect with third-party domain name services.
No backups. If your website is damaged by mistake, you can't take a backup.
No professional or business email name.
No import & export options.
No 24/7 customer service help-line.
No phone option to contact and talk with their support team.
This is a new company. So, its community is not active enough.
Guides & tutorials are fewer compared to other website builders.
Most of the community discussion & forum topics are not in English because Simbla is popular in Israel (but you can translate any language using Google Translate on the Chrome web browser).
To get the ads-free website, you need to have at least the $12/month plan. This is a costly plan for ads free options if you compare with other website builders.
---
7.
See Detailed GoDaddy Review
By Web Masters
See Detailed Godaddy Review
By Web Masters
Godaddy is so popular because of its domain name services, but not so much for the website builder. They provide a large number of domain extensions at a very cheap price for the first year (but in the 2nd year, you have to pay more). They are leading in the domain name market but in the website builder industry, GoDaddy is still a baby. Their site builder likely won't make you happy, because if you want a simple and quick website then Wix and Weebly are better and if you want a professional website then Bluehost-WordPress & Wix can help you much better than GoDaddy. See our GoDaddy Website Builder Review.
Pros:-
GoDaddy is a big company.
Cons:
GoDaddy is famous for domain names & not for the website builder. In fact, its builder is very poor
No pure drag and drop & no flexibility.
Very poor color combinations for email forms and other important features, and there is no option to change universal colors. (On any web page, colors play a very important role in user interactions. So, this is one of the biggest drawbacks.)
Got the worst reviews
Here are some scam companies. You need to be aware of them.
They are all the same white-labeled website builders and I investigated them. All those four are managed by the same company. In my review, its customer support was very bad. Many people reviewed it 1 star because of its bad billing practices and poor customer support. Many users reported their card was charged heavily without any reason..! & appear like a Scam Company. All the 4's site builder's features are also not good compared to Wix.
Based on our review scores,
Final Winner – The Best Overall & Easiest Website Builder is Wix
Best Website Builders Are:
Wix – Best For All Types Of Websites. Easiest Drag & Drop Website Builder
Shopify – Best eCommerce (Online Store) Website Builder
WordPress (On Bluehost) – Best For Bloggers & Web Designers
WebFlow – Best Site Building Platform For Web Developers & Agencies
Squarespace – Best for Portfolio website
Wix Stores – Easiest Online Store Website Builder
Wix Business – Best Website Builder For Small Business
Wix Photography – Best Photography Website Builder
Wix ADI – Best A.I. Website Builder
Wix Music – Best Website Builder For Musicians & Bands
Weebly – Good Website Builder
Simbla – New Website Builder, Still developing, Easy But Poor Support
Jimdo – Good website builder, but a confusing editor.
GoDaddy Website Builder – Basic Website Builder
For more info WebsiteBuilderly Tutorials
6 Frequently Asked Questions
1.When to use website builders and when not to use? When to give your project to web designers?
Almost all web programs are available as ready-made web functions in website builders like Wix. Website Builders are becoming popular in 2022. You can make a website with no codes using easy drag and drop ready-made web elements or functions. Nowadays people don't hire a website developer or web designer to create a website. If you hire one, it will cost you heavily & the surprising thing is, most web designers even web developers use website builders anyway! If you need any further support, then WebsiteBuilderly team will give you 20-minute free support!
2. What if you can't make your website according to your needs and dreams in the site builders?
If you can't do what you want, then just go to the Wix App Market. If no app satisfies your needs, then go to the Wix freelance marketplace or Wix freelance services. They will solve your issues or they can even create a new program or app for you! It costs less than hiring traditional web designers but, at the same time, you get the latest advanced technologies. Recently Wix introduced their own rapid web development platform, Corvid. It helps software engineers or Wix freelancers or any programmers to create any type of website that doesn't exist before!
3. Nowadays, what is the percentage of websites created using website builders?
Most individuals, small businesses, corporate businesses, or even 'corporate websites are created using website builders. (I gave proof with examples below). More than 98% of all websites in the world are created without code (codes automatically generated in the backend).
4. How easy is it to make a website using Website Builders?
If you use Wix, then creating & designing a website is easier than photoshop. Other website builders are also easier than most people think.
5. What type of people usually use website builders?
Website builders are becoming popular in 2022. School kids, business owners, artists, scientists & everyone else, are launching their own websites in just 1 hour using site builders without coding and no technical web development knowledge! So why not you?
6. Should I download website building software?
No, It works fine on the browser itself.
No one downloads website builder software and there is no worthwhile downloadable software available anyway. Online site builders are faster, efficient & popular. Out of 220 million live websites in the world, 200 million+ or 98.7% of website owners have created their own website online with no skill.
Note: Site builder, website creator, online website maker, or site building tools all have the same meaning.
The Best Overall, Beginner Friendly & Easiest Website Builder is Wix
Try Wix For Free