Do you ever wonder about "How To Make Awesome Heavy Websites Without Slowing The Page Load Speed" even though you have installed 100's of plugins? How is it that some websites load faster than normal websites, even though they have installed a lot of functions, UHD photos, and long content?
How can you make your WordPress website load faster than 98% of all other websites? Don't worry. Here is the easy solution that can be done yourself! The following 10 speed up tips can improve your WordPress website's performance dramatically!
I just picked random websites & tested them. Here are a few examples: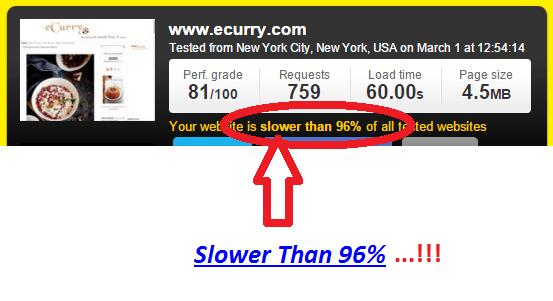 Then, I picked another random website. Here is the website speed test result:
Do you want to know what is my website speed? Now, let's check my own website's speed.
Are You Surprised?
My Website Is

Faster Than 97% Of All Tested Websites.
Here is the detailed website performance for my website (actually, my website home page is highly dynamic with 3d effects, motion effects and a lot of photos & functions like tables, auto info showoff and is loaded with javascript). I integrated analytics, non-cachable share bars, heavy applications & many more. Even still, my website got the highest grade for all tests..!!
How was it possible for me to achieve this amazing result?
I created a new website and named it WebsiteBuilderLy.com because I guide people about how to build a website, and I reviewed and finalized the 10 best website builders in the world.
Quickly I understood that just building a website is not enough. Heck, building an amazing website is also not enough! But creating an awesome website without slowing the page speed is something that will make you a great web designer. Website speed is very, very important. But my website was very slow. I researched several technics & finally made the top 11 list (actually, there are only 2 things that contribute to all 11 lists..!) that accounts or influences the majority of the website speed.
After finishing the following 11 tasks, my website speed increased from top 43% to top 97%
Read the following steps to increase your WordPress site speed up to 97%. Let's look at the different WordPress website speed-up techniques one by one:
1. Get Pre-Auto-Scaled ServerLess Cloud Function Managed WordPress Hosting
Hosting quality affects 70% of website speed and uptime. If you use common, cheap WordPress hosting companies like Godaddy, hostgator, then your website may load slower than the normal during the web traffic time. Remember, people feel good if your website renders fast after they've clicked, but people never care how much time it takes to load that page completely. Google also gives more importance to First Byte Time & First Appearance Of  The Page. If your hosting quality is good, then automatically, your website will load faster even if you have installed or uploaded a lot of plugins, Web apps, large content, marketing automation, UHD photos, etc!
Bluehost & Hostgator are good. However, if you need no downtime even in extremely variable traffic (for example, if now you have 10 visitors/hour, and then the next hour it increases to 100/hour or 10,000/hour, because your website may have gotten a link from a popular website, then next return to 3 visitors/hour), then upgrading the hosting plan will cost you more than you expected but would be useful only when your website gets high traffic.
How can you get rid of this problem? How can you get get 100% uptime and full speed, even in high traffic?
The only solution right now is Kinsta. Kinsta uses Google's Serverless Pre-Auto-Scaled Cloud Function Hosting. So, Kinsta's clients' websites are hosted on the same system that the entirety of Google runs on! If you hosted with Kinsta, you will get the same benefits that Google.com is getting! This means that your website will load faster on cloud technology that is distributed all over the world. If your website get sudden traffic, then Kinsta charges $0.1 per 1GB overage bandwidth. But Kinsta is not good for lot of database queries.
If your website requires a lot of database queries, then we recommend Hostinger Cloud Professional, For example if users search on an eCommerce store, then database queries increases. If users simply visit website and its links, then only bandwidth consumes. PHP Worker, RAM & CPU directly affects how many concurrent database queries can happen. Kinsta provide only 4 php worker and Hostinger Cloud startup plan provide 100php worker & Cloud professional plan provides 200 php worker for the same price of Kinsta's 4 php worker plan. But Hostinger doesn't scale up automatically like Kinsta if sudden traffic comes.
2. Use The Fastest Loading WordPress Theme – Astra
WordPress themes contribute to website performance by up to 20% to 50%. I highly recommend Astra theme
(this site WebsiteBuilderLy.com, was created using Astra theme).
Astra is the only theme that is downloaded more than one Million (Except WordPress's own default pre-installed basic themes.!! )
I tried most of the themes. Either they don't have the essential features and they slow down their website. Astra theme created by great developers. You get all the features as well your site will be as speedy as the blank themes!
3. CDN (Content Delivery Network)
If you hosted on Kinsta then you don't need to worry about CDN. They provide you with 50GB/month to 500GB/month Premium Cloudflare CDN for FREE. Most of the web hosting companies provide free Cloudflare cdn. But Kinsta provide Enterprise level CDN by default for all plans for free. It included enterprise-level firewall and DDoS protection, high-performance HTTP/3 CDN powered by Cloudflare's 9,800 global networks.
One-click is enough to integrate & everything. If your FREE quote goes over (in very rare cases), then you still don't need to worry! They will never disable and slow down your website! For post usage, they charge you just $0.1/ 1GB, which is one of the Cheapest CDN prices! (Usually, you don't need more than the FREE quota anyway, but this is good to know.)
If you don't host your website on Kinsta, though, then continue to read.
If you hosted with Bluehost, their main data center is in Chicago. So, your website may be hosted in Chicago. If so, then your website would load slightly faster near to Chicago – but it will load very slowly in Europe, Australia & India.
If you host your website with Siteground, you can able to choose your data center.
If your website is hosted on a CDN, then your website speed remains the same in all locations.
What is a CDN? It means that your website will be cached all over the world and it loads your website faster everywhere, irrespective of where your hosting provider's data center is located. This system is called CDN (Content Delivery System).
If your website is hosted with other companies, you need to do it manually. All companies are good, but SiteGround customer services are vastly superior to any other and now I am enjoying their customer service. You should try SiteGround if you are still trying to choose the right service provider for your website.
First, create a free account with CloudFlare. Then, come back. If you transfer your website to Siteground, you don't need to make CloudFlare account – you will get free Cloudflare included as part of the SiteGround package. Cloudflare is inbuilt with cPanel. Once you host your website, just search for cloud hosting in your cPanel.
Click on that icon, and you will see the activate button. Just activate it. It really is easier than creating an account on Facebook!
If your website does not speed up, you need to upgrade Cloudflare. If you don't want to pay, I recommend trying Amazon CloudFront. Amazon CDN offers 1-year free service with all premium plans so you can use 1-year unlimited package for free.
4. Multiple Pointed Premium DNS
Host your domain name on a Premium DNS with at least 4 points. If you are thinking to host with Kinsta then you don't need to worry about this, though, because they provide Amazon Premium DNS with 4 different points for FREE!
5. Image Lossless Web Optimization
I took 3 days to find the best ways to capture and resize entire page screenshots, record, edit & everything. I tried Photoshop, Pixlr and many online tools. Finally, I found the Nimbus chrome app.
Resize using Nimbus chrome extension or download the "Resize" app from the Windows apps store. Don't upload photos without optimization. I tried more than 100 image compression and web optimization tools. Finally, only ONE works fine & it is completely FREE. You can use it for unlimited times.
Go to Imageoptin.com/online. It works perfectly. For more information see – Image Optimization For Web | 4 Best Free Verified Ways
6. Remove Unnecessary CSS and Scripts Requests In One click Using Perfmatters
Download Perfmatters, install it & activate the plugin to remove unnecessary CSS & scripts loading on your pages. For example, you may use contact form 7 on your contact page & you don't need that plugin on other pages or posts. But contact form 7 scripts & CSS will still load on every page. You can disable it from all pages/posts except for the contact page with just one click. That means you can install & activate more plugins without slowing down the website.
7. Server to Browser Dynamic Caching
There are many caching plugins out there. Examples include Wp-Total Cache, Wp-Fastest Cache, Wp-Super cache, etc.
Never ever try WP-Total Cache. If you install this plugin then you will mess up 1000's of unnecessary settings. Most of the time, your website will load drastically slower because of the wrong settings being activated or un-activated – and then you will need to get help from them for $150/hour!
If you try to deactivate, it will not deactivate on its own! It will not remove all its rewritten rules on wp-confing.php and many other files, even you deleted the plugin. You have to remove it manually by searching for the relevant codes, one by one. You need to delete its caching files manually. Then, after all of that, you probably need to reinstall a new WordPress website. Forget it!
Wp-Rocket is a perfect caching plugin. If your financial status is not good, then use free Wp-Fastest Cache plugin instead.
If you are hosted on Kinsta then you no do not need to worry about it. It's pre-built caching system is more advanced than WP-Rocket and everything. But still, you need WP-Rocket for minification, lazy load, and garbage removal.
8. Website Tweaking
To load even faster, you need to do a few website tweaking tasks like removing non-codes, combining codes, CSS minification, lazy load removal, asynchronous CSS & differed JavaScript, remove querystrings from static sources, DNS Prefetch… Oh, wait. Are you confused..? Don't worry. For all, the only one quick & easy solution is Wp-Rocket..!
There is no better plugin than WP-Rocket for speed boosting. It is not just a caching plugin, but it takes care of the entire website speed process. The Kinsta team made a special setting for WP-Rocket plugins, so that their caching system works seamlessly with WP-Rocket's system.
There are many caching plugins out there. Examples include WP-Total Cache, Wp- Fastest Cache, Wp- Super Cache, etc.
Never ever try WP-Total Cache, as we covered earlier! Instead, we recommend that you use WP-Rocket
Use all caching options. If you are hosted on Kinsta then you won't need caching. Their caching system is more advanced than WP-Rocket. They will automatically disable WP-Rocket caching, don't worry, while all WP-Rocket functions like lazyload, minification etc will continue to work fine.
In WP-Rocket, you can use the following features:
Check LazyLoad (so the first viewpoints appear faster and below images load when the user scrolls down).
Check Google font optimization (But I recommend use system stack instead of Google fonts or any other fonts, because it takes time to load. However, if you use system stack fonts, then there is no need to load any fonts because of all fonts are already available on your computer. It will not load faster, but it is instant, as there is simply no need to load).
Check Remove Query Strings from Static Resources
CDN Rewrite (don't tick CDN Rewrite if you are hosted on Kinsta because they already implemented this for you).
DNS Prefetching
Minification / Concatenation
Optimize database often using a one-click button
9. Update Everything
Always update your WordPress, PHP, plugins & themes. If you are hosted on Kinsta, they will do this automatically.
Forget 40 ways or 50 ways to speed up your website. What I have told you above affects 95% – 99% of websites! So, don't waste your time by reading other time-wasting guides. First, do the above 10 tasks. After that, if you feel you need even more speed, then you could consider reading other website performance tutorials.
10.HTTP/2.0 Protocol
Never host your website on old protocol. Before buying your hosting plan, research whether they use HTTP/2.0 protocol.
If your website is hosted on Kinsta, you do not need to worry about the latest protocol HTTP version 2.o. Originally, Google developed it & Kinsta hosts all of your websites on Google's server. Siteground also provides you with HTTP/2.0.
This latest protocol handles multiple script requests at the same time using parallelism techniques. So, even if you installed & activated many plugins, it will load faster than normal!
11. NGINX Server
Never host your website on an Apache server. Mowadays, most of the top hosting companies running on NGINX. Both Kinsta & Siteground are also running on the NGINX servers. Kinsta further expanded its advanced technologies and it uses LXD based container.
So, The Only 3 things You Need To Speed Up Your WordPress Website Are:
Host or Transfer Your Site To Kinsta (
Install the Astra theme
Install Perfmatters & Wp Rocket plugins
If you have any problems, you can comment below & get a response within 24 hours!
Jack is the Co-founder of WebsitebuilderLy, a Software Engineer from Standford University, An entrepreneur with 12 years of Website Creation, Management, Marketing Automation & App Development Experience. Worked for the world's leading companies such as Roblox, HTC, etc.