Is Simbla website builder fit your needs and imaginations? This review will help you to take the right decision quickly.
I think you are trying to build your dream website & now you want to know whether Simbla website builder matches all your requirements, Right? If yes. You are in the right place.
Highlights Of This Post..!
Top 8 Things You Should Know About Simbla Website Builder( You May Get Surprised..!)
For Every Section, We Inserted Its Pros & Cons
Don't Make Mistakes. This Post Will Save You..!
Separate Reviews From

Users
Web Designers & Masters
Our Step by Step Complete Simbla Review & Recommendations For you..!

Personalized Advice For You..! (When To Use & When Not To Use)
Simbla website creating software & responsive builder are developed with the latest technology & also it is easy to use. But there are many limitations just like other website builders. You should know its all pros & cons. Read it now.
We prepared this post for all those who are trying to build a website. Simbla website creating software & responsive builder are developed with the latest technology & also it is easy to use. But there are many limitations just like other website builders. You should know its all pros & cons. Otherwise, you will waste a lot of time while you are creating your site. Below we inserted clear pros & cons for every section and personalized advice for you..!
Simbla – Is It Really a Good Company?
There are thousands of scam services are floating on the internet…! You should check whether Simbla company is trustworthy for its all users. How to find it? We did everything. Read below.
How Many People Are Using Simbla Website Builder?
Simbla launched on July 2013. This is the newest successful website builder in the world. Let's check its current (April 2018) monthly active users.
Don't hurry up..! Just checking its reputation will not tell you whether Simbla will make you happy. Because it may not match your taste. To know this, scroll down & read our Quick Step by Step User Experience Review below (after user satisfaction topic).]when I was writing this post, it was 1,00,000+. It is a good number. You can trust it. (More users means, more bugs get fixed.)
Simbla Users Satisfaction – Are Its Customers Are Leaving Or Visiting Again & Again?
We analyzed how Simbla website getting its traffic. What's the logic here? very simple.
If More than 50% of the people are visiting Simbla website again & again directly or by searching on google, then we can conclude there is a high returning user. People are happy with Simbla, So they are visiting again & again
If more than 50% of Simbla website visitors are coming from its advertisement, different links like email promotion messages, then we can assume, very low returning users. This means users are not satisfied with Simbla. So users are not visiting again & again.
Let's check it.
Oh..! really impressive result.
Direct=41% + Search=49%
total = 90%
This means 90% of the Simbla website traffic coming from its returning users or without ads..!! So we can assume Simbla Company will not make disappointment to its users.
Simbla Reputation Last Punch
For reputation topic, there is no specific pros & cons like other aspects. But I just included.
Pros:
Simbla's 86% of traffic coming without any advertisements or links. This means users directly visits or search Simbla. This shows their services goodness.
Simbla is getting new users very fast and its monthly active users are increasing exponentially.
Cons:
This is a very new company.
Simbla User Experience – Can Its Website Builder Easy For You or Feels You Like – Shit?
Which type of people is visiting Simbla?
How easy are its all settings, software and everything?
How is overall user experience?
Let's Walk Through From The Beginning To Know Its Issues.
You may already be tried and knew about Simbla, but If I start with the beginning, you will get the exact grip those things may important for you in your future works.
Step 1:
In the beginning, you need to create an account. You can sign up simbla for free or paid.
Your website will not appear on Google or any search engine if you choose for free. But don't hurry up to buy. First, Read this review completely to know whether Simbla will fit your needs and imaginations
Step 2:
Once you created, you will see two option.
If you select the template option, you will get directly from site editing page. If you choose Website Wizard option, you need to finish 7 step
 First I choose the second one Website Wizard.
Once you clicked on website wizard you will see the following tabs one by one.
Naming your website
Upload your logo
Choose your website type
Adding pages
Building your homepage
Selecting the color theme
Finally, you will get your website URL
But, in the 5th step, adding your header, content & footer is not user-friendly. You may get confused and also the content blocks will not display in bigger sizes. It may irritate and difficult to recognize what the block is included. These 7 steps are good for beginners. If you already tried website builders like this, you can start with select template option, instead of the 7 steps.
If you clicked on the first one select template option, you will get all the templates. You can sort category-wise to find the right template quickly.
You can select Any templates for free. Here 100s of ready-made free templates are available. But the ready-made templates itself may not able to satisfy you. So you need to edit.
Step 3:
Once you select any template, site builder will load in your screen. There you can edit, delete, upload, rearrange, drag and drop the blocks & anything you want, you can do without knowing any skill or experience. This is The simbla Site builder editing page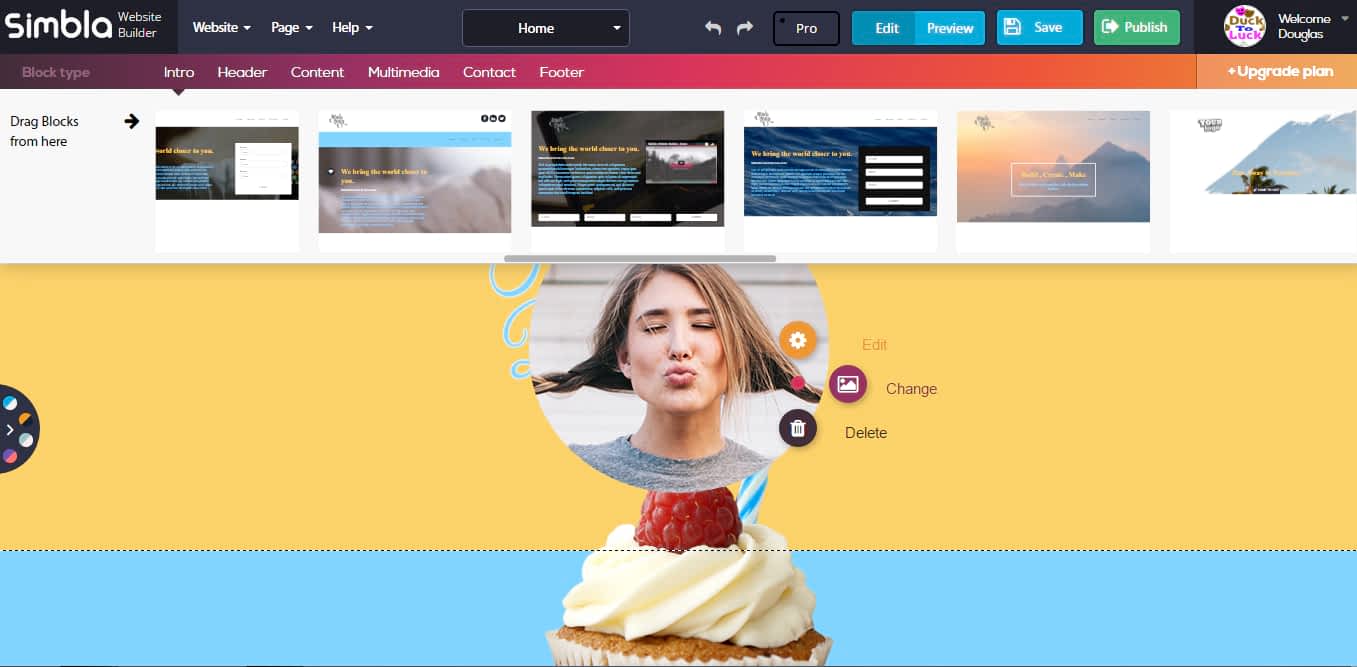 If you want to get more power to edit & modify the template, you can switch Pro site builder.
Simbla website builder pro options make more easy to edit. You can switch pro to original mode at any time without losing yours the other mode's works. It included all basic blocks for forms, multimedia, grid, text, menus, essential apps etc. This means here you will get more power to edit anything you want.
You can switch any mode and you can continue with editing where you stopped in another mode..!! This is just amazing. Simbla founders may be highly skilled people. In our User Interface review, the final result – Simbla site builder user experience is almost 100%..!
After editing, you can publish your website from website setting.
Don't leave..! At the end of this section, I inserted pros & cons. I also discussed step by step with comparisons of Simbla Site Builder features on 3rd section of this post.
How Is Simbla Dashboard?
In Simbla dashboard, you will get the total control power for your all websites. You can see your all websites statistics and every detail on one page.
You can also view single website data for more depth information. Below is the example of a single website stats, usage, demographics, users & all stat's infographic graphs.
Simbla User Experience Last Punch
Pros:
Drag & Drop editor.
Here you will get not only category wise templates but also category-wise blocks of templates. So, if you want to change Something on your website, you no need to change your template.
Users can switch site builder editing behavior as two types of Pro & non-Pro Modes. So users can experience two types of website builder mode.
Non-Pro Mode : when you enter into the builder page, you will see non-pro mode. In this mode, you will get blocks. Using this, you can make a website in minute..!!
Pro Mode :Here you will get more customizations option. It is slower than the non-pro mode. But here you can build, arrange, modify anything you want.
You can switch to pro mode or Non-Pro Mode at any time without losing your non-pro mode's or Pro Mode's work..! Also, You Can Continue to edit and modify your non-pro mode's work in Pro Mode & vice versa..!!!
You will get a powerful dashboard. You can see and access all your website pieces of information & settings from one dashboard.
If you know about programs like HTML, JavaScript & CSS, you can add anywhere.  You can create a database easily without writing a single code. But, if you don't know what is the database, to get the sense of creating databases may difficult for you.This website builder is the haven for programmers & web designers.
Cons:
For the free version, you can't access all features. Many templates are also not included.
Simbla now focused their customer niche as programmers and web designers who knows about the database creation. If you don't know anything about the database, you can't use database related services. But most of the time you don't need at all.
To get ads free website, you need to have at least $12/month plan. This is a costly plan for ads free option if you compare with other website builders.
Simbla Templates & Designs – Is It Really Good Enough For You? Or Trying Simbla Is Waste Of Time? Read It.
How Much Good Its Templates & Designs? Is It Worst or Better Than Other Website Builders?
How Is Theme Customization Settings & Flexibility
Theme Mobile View or Responsiveness To Different Devices 
Pros & Cons. So you can compare all its limitations & goodness. & Check Whether Simbla Templates Can Be Your Dream website.
How Much Good Are Simbla Templates?
Simbla loaded with more than 100s of beautifully designed templates. You can preview Any Simbla Templates. Take a look at Simbla templates samples.
See some best simbla template
Simbla personal template example
Simbla Template for cafe
Simbla template for business
Simbla art & decoration template example
In our review, Simbla passed in Design look. Simbla loaded with modern with professional looking templates. These design will really impact your visitors. As one of my friend (He is Online Marketing Expert) told me, Simbla templates are not just a design, But the Design Life..! I agree with him. If you see, simbla catches the first impression from its stunning designed templates.
Simbla templates are quite different from entire website industry.
Here you can get not only category-wise templates, but you can sort & insert category-wise fully ready-made blocks also (after selecting the template). This means you can select any template randomly & edit it whatever you want very quickly using blocks. So you will not get any situations to change your template. This is one of the major advantages of using Simbla.
Are Its Themes Are Developed With good Codes?
(Don't worry. We tested everything & the final result is Yes/No )
Just good Design look will not make you happy If you get many troubles after publishing your site (If that theme is built with very bad codes). Both your time and money will waste. So, before going to try, first, you should know its inner goodness. If a programmer is well studied, then he can create perfect themes without any errors. It is very important to know whether a theme is coded well.
Don't worry about codings. We did tests. You can easily know is it good or bad. Because the final answer is YES/NO.
0 Errors & 0 Warnings..!
In the left side, you can see the codes & in the right side how many errors & warning codes according to Google. No mistakes detected. From the data test of architectural goodness, we can conclude, Simbla themes are developed with highly skilled professionals. Because there is no error & no warnings. Your website will not get any problems even you published. Google always loves the well-structured website. Oh.. ! what are that good codings & complex f**king structure? don't know? Just use simbla templates & sleep well.
Simbla Template Customization & Settings – Will you Get Full Freedom?
Most of the website builders will not give you full freedom. Let's check how are simbla settings & customizations.
You will get all the customization options directly from your site editor. From the Website settings you can change your domain name or plan and some important things, you can take control. Webmaster tool is useful for SEO (Search Engine Optimization). In the File manager, you can access all your uploaded files like images, videos, blogs etc. Using Share website option, you can build a website with your friends or with your employees.
Simbla Websites Mobile Friendly Test – How Responsive In Different Devices With Different Browsers?
We tested all Simbla templates responsiveness. Here is a sample template's mobile-friendly test result.
You can see on the above screenshot, it got 100 out of 100 points for mobile friendliness. Also mobile speed is good enough. You no need to worry about your website mobile view.
Simbla Templates Last Punch
Pros:
All Simbla themes are Google friendly. Themes are developed with good structural codes.
All Templates are mobile friendly. In any device, your website will display perfectly to fit the device resolutions & screen size responsively. So you no need to create again for the mobile website or theme.
Templates settings & customizations are easy to use.
Cons:
Only 60 ready-made templates are available.
Simbla Website Builder Features – Do Simbla Really Give You The Power To Build Anything You Want?
We listed all Basic Functions of the Simbla site builder.
Pages styles & its flexible settings.
Picture
Gallery
Carousel slider
Video
Video background
Flash
YoutubeForm
Form
Input
Button
Captcha
Accessibility ( Button Animations)
Maps
Icons
HTML
Separator
Menus
Anchor
All test editing option like fonts, size, color, links, lists, heading in 4 different levels.
Divider,
Container
Header
You can add any HTML, JavaScript or CSS program codes.
There are so many intro blocks, header, content, footer & other blocks. but all those blocks are made up of the combinations of the above functions.
I asked about widget & apps to Simbla support team. Here is the answer.
In addition to those functions, you can add many applications like eCommerce, Analytics, Management software, Search, Bookings, Schedules, Chat, Support, Survey, Ratings, Social Networks etc .  You can upload any apps to your website for free. But these apps are not available for the free plan. You need to purchase at least starter plan ($6/month).
Above apps are not available unless you created yourself. To know more read Getting started with simbla web applications
These apps features can also fit experts like Software Engineers, Web Designers & Web Masters. Because here you can create your own databases…!  I'm damn sure programmers love it, because you can make databases using drag and drop method.
In the below screenshot, I showed how you can manage users in your databases.
Simbla widgets help you to add eCommerce, login, catalog, search, analytics & many applications easily via drag & drop. To use the applications you should install those apps on your website from the app market.
Simbla eCommerce
There is no a separate plan for eCommerce. But the number of transaction limit will increase for higher plans. I explained about eCommerce issues in the Pricing section of this post. the below screenshot is an example of Simbla shopping cart with a price tag.
Simbla Website Builder Features Last Punch
Pros:
All features are easy to use.
You will get many apps for almost all purposes.
Apps are easy to use for dummies or duck people.
If you know about databases, you can create databases using easy drag & drop function without writing a single code. If you don't know about the databases, No problem. So, this is a friendly site builder for both tech & non-tech people.
Step by step guides for Simbla Online databases & Web applications builder

Cons:
You can't try apps for free plans. (But you can take an advantage of Simbla 60 trial).
In Simbla features page, You will not get detailed information unless purchasing its plan yourself or reading this post.
Simbla Web Hosting – Is It Really Good Enough For You?
Is It Runs Your Website Smoothly? What It's Uptime? :- You no need to worry about its uptime. Because Simbla is focused their customers or users as Web Designers & programmers. Do you still think about their web hosting capacity? Even though we tested. The result is 99.99%.
Simbla Security – Will It Able To Protect Your Debit/Credit Cards & Websites From Black Hat Hackers, Viruses & Malware? :- If you forget to log out, then it will automatically log out you and If you are not using for 10 minutes, then also it logs out you. So chances of your account exposure is minimum. We also tested for one of the most important security factors The Heatbleed Vulnerability.

Simbla security tests for Heartbleed Vulnerability failed. This is open for this a serious bug.

You can see Simbla security tests for Heartbleed Vulnerability test result from the above screenshot. This is open for serious HV bug. Your information may easy to steal for hackers. If your website is not attractable to hackers or you have a confidence that no hackers will try to hack your website, you no need to worry about it.

Domain:- No domains. You can buy the domain from Google, GoDaddy or any third party services or assign the domain. You can redirect your old website address to your new website.
Do You Get Professional Emails? :-No
Backups:- No backup. This is one of the biggest disadvantages.
Import & Export :- Simbla website can you transfer export? Most of the website builder can't able to appear the original one, if you transfer your website to another hosting. That's why they are not giving import & Export option. This means, If you created a website on Simbla, Then you can only run on simbla platform & you can't transfer your website to another hosting or website builder. However, if you have a good knowledge, you can take a help from their support team to transfer your website. Just tell them, you will give 5 stars for Simbla on various review site, then definitely they will help for your free..! Even you are successfully export your website, you can't use it as your wishes. You can't upload to Wix or Weebly like website builders. You can use it on CMS's like WordPress or Joomla. But you will lose all your design and functionality. Only texts & images will transfer with the same URL. The final answer is you can't export or transfer or migrate your Simbla website 100%. Even you created on Popular site builder platform like Wix or Weebly, you can't transfer complete design & functions. Wix gives easy one click option to export your website, But Simbla not included this option.
Simbla SEO (Search Engine Optimization) – Will It Index Your Website On Google Effectively? :-Yes.
Website speed:-

Simbla website speed test showed it is 93% faster than all the tested websites.
Simbla Web Hosting Last Punch
Pros:
Simbla website speed is 93% faster than all tested websites. 93% is the highest score in our 100s of website builder reviews collections.
If you are not using Simbla for 15 minutes, Your account will logs out automatically even you marked as remember your password. So chances of getting your account to hackers is minimum.
Cons:
Simbla web hosting is open (not protected) for Heartbleed Vulnerability.
No free domain name. You need to connect with third party domain name services.
No Backups. If your website is damaged by mistake, you can't take back-up.
No professional email name.
No import & Export options.
Simbla Support – How Is Its Customers Care Total System?
Simbla support is not good enough.
You can contact simbla support team through email:- support@simbla.com.
Its customer care total system works on Zendesk help system. There is very less activity and most of the discussions are not in english.(But you can use google translator)
If you ask any questions, they may take 3-4 hours to reply.
Simbla Support Last Punch
Pros:
You can find step by step tutorials for Complete Simbla website builder. 
You can find some FAQ
You can also see Community Discussions & Forums.
Cons:
No 24X7 customer service help-line.
No phone option to contact and talk with their support team.
This is a new company. So its community is not active enough.
Guides & tutorials are very less compare to other website builders.
Most of the community discussion & forum topics are not in English. Because Simbla is popular in Israel (But you can translate any languages using google translator on chrome browser)
Simbla Website Builder Pricing & Plans
Simbla's all plans included the following features
Website builder full version
SEO tools
Responsive interface
Security Guard
Free hosting
Website Templates
Simbla offers 5 different plans.
I recommend the basic plan. That is $12/month.
To know more visit Simbla pricing]
Simbla Pricing & Plans Last Punch
Pros: 
Many plans are there. So you will get more freedom to choose the right services for your budget.
Cons:
Simbla plans start with $6/month. If you are on a tight budget, then this pricing is a little bit costlier than other website builders.
To remove Simbla ad banner, you need to get basic or higher plan. For the basic plan, you need to pay $12/month. This is relatively costly to remove ad banner. Most of the website builder display ad banner only for the free plan.
If you want to get all the features, you need to pay $48/month. This is too costly pricing.
You can't get enough details for every plan.
Simbla Review Conclusion – Personalized Advice For You..! (When To Use & When Not To Use)
Personally I really happy with Simbla website builder editor, but it is not matured to make an advanced website.
When to use? & When Not to buy Simbla?
If You are a dummy &
you are looking for easy website builders, then Simbla is one of the top considerable services.
If you don't know anything about how to build a website, and you want to build a very quick website amazingly, Then I recommend Simbla.
If you wanted to sell something through your website, then Don't buy Simbla. Because, unless you created databases, you can't sell anything here. (Don't worry. You can sell anything with nothing skill. See our top website builder for dummies.)
If you don't know anything about database web design & you wanted to build an eCommerce website, then don't buy Simbla.
If you want to add apps those needs databases, then don't try Simbla to waste your time.
If you are an advanced user
If you are a web designer or a programmer or a webmaster or you know how to create databases, then I highly recommend you to try Simbla.
My Last suggestion: If you are a dummy & you want a very quick website with amazing designs and the website is not important for you, you just want a website for personally or you have a high pressure to build a professional website  & you don't have a time to make your website for your presentation or functions or meeting or you are in very difficult situations to show your work to your boss, Then Simbla can save you.
If you got any problems or doubts, you can comment below. If you felt like Simbla website Builder for you, then Try Simbla Website Builder Now
Jack is the Co-founder of WebsitebuilderLy, a Software Engineer from Standford University, An entrepreneur with 12 years of Website Creation, Management, Marketing Automation & App Development Experience. Worked for the world's leading companies such as Roblox, HTC, etc.