Sendinblue is an email marketing platform developed to ease the digital automation of email marketing on a budget for small-to-medium businesses. This is the all-in-one solution for small-to-medium businesses where it provides Marketing automation, SMS, Transaction Emails, Email campaigns, and many more. It has a comprehensive feature set that includes CRM, Landing pages, Facebook ads at a competitive price
Sendinblue help to keep your contact engaged and increase your sales using target workflow and scoring. You can easily design your emails and Abandoned Cart Workflows. Along with that, it provides to integrate plugins such as woo-commerce, WordPress, Salesforce, Magento, etc.
Sendinblue allows you to send 9000 emails/month without any cost means you are free to send 9000 emails and up to 10,000 emails are at a very reasonable price of $25/month. This tool is trusted by 100,000 businesses across 160 countries, this platform helps in building better customer relationships through meaningful communication. It is a flexible and versatile marketing automation tool, You can track web behavior from your contact with Sendiblue Tracker script, you can create a complex automation workflow that saves time and helps to grow your work.
Sendinblue comes with a free plan without a credit card or contract, this free plan works as a featured-constrained free trial. you can just provide your company details, email, and password. once you signed in you can start creating a campaign, add contacts, and explore the feature, but you need to confirm your email. you will get an email within few minutes of your signup, that welcome mail will include links to articles and videos, which help to start up your Sendiblue journey.
Pricing
Sendinblue comes with a free plan which has already been mentioned. Along with that, They offer 3 different plans lite, premium, and Enterprise.
Free plan you can add unlimited contacts, with 300 emails/ day. unlike other tools, it won't calculate prices based on subscribers/contacts. It will calculate based on emails and features you avail.
Paid plan1: Lite (Best suited for New business/ new marketers)
| Email volume | 10000 | 20000 | 40000 | 60000 | 100000 | 100000+ |
| --- | --- | --- | --- | --- | --- | --- |
| Monthly Plan | $25 | $39 | $54 | $69 | $99 | Get A Quote |
Paid plan2: Premium (Best suited for marketing pros)
| Email volume | 20000 | 40000 | 100000 | 150000 | 250000 | 500000 | 750000 | 1000000 | 1000000+ |
| --- | --- | --- | --- | --- | --- | --- | --- | --- | --- |
| Monthly Plan | $65 | $79 | $124 | $169 | $229 | $379 | $499 | $599 | Get A Quote |
Paid plan3: Enterprise, Price is negotiable. Get A Quote
Enterprise plan is for those people who want advanced automation much more than a premium plan. where you can send emails with priority, the custom volume of emails, SSO, Priority support, Access to 10+ users.
Features
Marketing Automation
A/B testing
Templates
Email and SMS transaction
Social Media Marketing
Integration
Reports
Marketing Automation
Sendinblue's email marketing automation tool is easy to use an automation tool to build your workflow, This tool provides different workflow types that can be redesigned and edited for a particular task, those are Birthday message, Welcome message, Abandoned Carts, Website visit, Product purchase, Page visit, and activity-based templates. If your creating custom workflows which start with four entry points with the following types, basic contact file, contact who completed website activity, contact who submitted data by form, contact visited the website.
You have to choose your contacts, once you determine to start the sequence of conditions for your next communication. Sendinblue doesn't limit you to do several interactions but is restricted to some emails you can send.
Sendinblue provides an easy way to create contact filters, you can add those to workflow, like if any of your contacts turns to a particular age or he/she spent some predefined amount of time on the website then they will be added to the workflow for automation. This automation workflow has 350,000 options to automate marketing and sales, like SMS, email, and uploading contacts. To create custom automation go through this guide page
For more guideline visit this page
A/B testing
A/B testing or split testing is the way of testing your email with different versions of the email campaign for your portion of contacts. you can have different variations on the subject line and content of the email. The selected portion of your contacts will receive the predefined mails, some will get Version A next set will get Version B. you can choose the best one as per your criteria and send the rest of the list with the best version of your email campaign.
Note
You can't Do a split test on your First mail in Sendinblue. The minimum number of recipients is 20,000. This feature is not available on the free version, and in the lite version, you need to add on this with extra cost.
once your email campaign is ready, you can add your versions of the subject line, and content. you can select your design, but you can select only one template for both versions. select the recipients split the rules, schedule the campaign, and send.
In Split Rules you can split the size of test groups, and how the winning version will be selected, and test run time. the default value of Version A and version B are 25% and the winning version is 50%. you can choose the winning version by Open Rates or Click Rates. Once the testing duration completes you can identify the best version, the testing duration can be from hours to 7 days.
Templates
SendiBlue provides a predefined template to create your message or email for your campaign, you will have 3 options you can select Drag and Drop editor, Rich text Editor, and if you are very good at coding or if you have cloned any code for your template you can paste that.

Sendinblue as all marketing tools, speed ups the process of creating your campaign or newsletter, as it provides a pre-designed template library. you can select your template based on the category that category involves
Announcement
Apps
Contest
Ecommerce
Events
Followup
Gift ideas
Holiday greetings
Lead generation
Newsletter
Personal
Blogging
Retail store
Sales
Series
Shipping deadlines
special offers
Transactional
Travel or tourism
webinar and
Year in review
All the email templates look quite professional and elegant, this can be a great base for building and you can customize thereafter.

As you want to customize the predefined template you are free to do that. you will get a drag and drop editor where you can add and remove the widgets without coding knowledge. Sendinblue has a very good drag and drop builder where you can easily add images with one click. you will find all widget options on the left-hand side, moreover, you have a preview feature, you can test your design on different devices like laptops, tablets, and mobile.
you can create a beautiful newsletter or email using all the elements provided and you can load the saved version so that it will help in no loss of previous design and if something is not working properly you can load the version without re-doing it.

Email and SMS Campaign
Email Campaign
As with all Email marketing tools, Sendinblue also provides an email campaign, you can design your own email campaign, with your own design and you can do test even. Set up your email campaign with name, subject line, and sender name. You have the advanced option too where you are allowed to activate analytics, provide default header, adding tags, and many more. then you can select the template or create your own. add the recipients, send a test mail, and publish and send.
For more information about how to create an email campaign watch this video
SMS campaign
Sendinblue offers an SMS campaign as it easily reaches contacts. Messages prominently have more opens rather than emails, Mobile phones are the fastest way to deliver your messages and you have around 97% of openings which is very high comparatively emails.
The Message creation form looks like the below. you have to provide your campaign name, some code as your the sender, and your message. The best part of Sendinblue is you can send the messages in batches, and you can send text messages similar to test emails, then you can select your contacts out of your lists, and you can apply filters on selected contacts. once you have done with filling in all the details required your ready to send your message. It's easy right!!!
Social Media Marketing
As the first thing that comes to our mind when we think of social media is Facebook. This is the strong feature offered with Sendinblue to reach your customer like light. Actually, this is the new addition to Sendinblue, and it has a super excellent module for Creating Facebook ads,
But These Facebook ads are available at only premium and enterprise versions. For creating this you need to connect Facebook page, you can select the audience based on whom you want to show your ads, like Contacts, similar contacts, or both. if it's something related to sales you can schedule that. then add the content. you will have your content preview on the right side of your screen.
Integration
Sendinblue offers many integrations to add, we can connect to more different analytics, CRM tools, E-commerce with various available plugins.
Google Analytics: which monitors website traffic
Zoho CRM: This is used to add new contacts
Zapier can be used to integrate the apps or plugins to Sendinblue. you can add woo commerce, Shopify, Prestashop, etc.. you can also integrate with Zoho like intercome salesforce and pipeline which comes under CRM.
If you are not happy with third-party plugins, then you can easily go for SMTP & API integration, this feature opens the platform even better. Sendinblue allows you for API Integration this is a completely developmental activity, where your developer will build integrations that suits your business requirement and need. for more information on API integration visit this Developer Document.
Reports
Reports are the reflection of your progress. This depicts the flow of business. Sendinblue provides the feature to watch your exact growth or fall under geometrical figures. These reports will show how to open the rate of your email, click rate, and unsubscription rate. you can also have a look at total recipients, total opened, total clicked, total unsubscribed, total replied, and total hard and soft bounced data.
Info
Sendinblue report review allows you to open a list of contacts who opened, clicked, and unsubscribed. premium and enterprise version provides Domain Metrics feature.
once your contact received your campaign that is known as delivered, if your contacts did not receive your mail due to any issue and if that through error message that is known as a bounce. 2 types of bounces are hard and soft.
Softbounce are the temporary issues which can be solved and can be intimated with our future campaigns
Hardbounce is a permanent issue like non existed addresses, where you can't send any campaign in the future.
This campaign delivery will normally be updated after 36hrs.
You can even get the reports of opened and clicked based on location as well as the device you can see the below charts which show the same.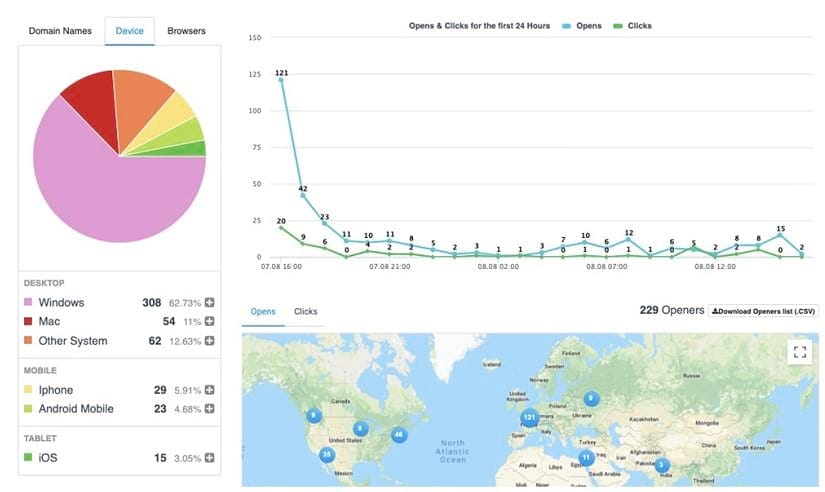 SendinBlue Pro's and Con's
Overall rate: 4/5
| Pros | Cons |
| --- | --- |
| Free Trial with a handful of features up to 300 emails/day | Limited features with Free and Lite plans |
| Cost is based on emails not on subscribers | Just 2 variations in the split test |
| SMS campaign and custom chatbot | Can't do a split test on the first mail |
| Along with third-party integration API integration is also available. | Drag and drop creation seems to be limited |
| Facebook ads create fully pledged contacts. | provides only 65 predesigned templates comparatively less with Aweber and Getresponse |
| You can personalize your email design | Workflow is a little difficult to design |
| Sendinblue website and help are available in 6 different languages. | Complete tech support is not available |
| Adding contacts with form and landing page is incorporated | But, it's available on paid plans |
| CRM integration is also available | Domain metric feature only available on highly paid plans |
| It has a bounce management system where you can get the report on the hard and soft bounce | Adding an image in HTML is a little difficult |
Jack is the Co-founder of WebsitebuilderLy, a Software Engineer from Standford University, An entrepreneur with 12 years of Website Creation, Management, Marketing Automation & App Development Experience. Worked for the world's leading companies such as Roblox, HTC, etc.