Do you want to create a school website? Are you thinking about contacting a web designer? No, you don't need a web designer to make your school website. You can build your own school website in 1 hour without any skill or web design experience. Today's advanced applications make the entire website creation process easier than drawing! You can build, run, grow & manage your website with no coding & get it up and running in very little time.
If you don't have a school website, then people will rethink about joining your school! Nowadays, most small schools', child care facilities', pre-schools', and even some high schools' websites are created by their owners or teachers without the help of web designers. So why not yours?
Do you want to create an American-style school website like this screenshot below?
Or maybe you want to build one just like New York Trinity School's website?
& you want to get your website on Google like this?
When I search for schools in Los Angeles, I get nearby school places/maps with websites. Those schools which show only on the map and which don't have a website are listed lower, and all the top results have their own school website.
Yup! You are in the right place.
Just follow the below steps, and after you have completed the 5 following steps, your school website will be ready to share!
Choose the best website builder that fulfills the school site's requirements. We reviewed 100's of website builders & made a list of the top 10 website builders here. We highly recommend Wix.com because Wix is the best website builder for school websites. Wix provides you with an easy drag-and-drop editor with lots of school & education related ready-made features. This will allow you to build your own school website in an hour. Using Wix, you can build, run, grow, market & manage your entire school website with no skill. Wix is the easiest website builder as well as the best & most affordable!
Visit Wix & Sign Up For Free
Next, you will see the sign-up form. Just fill in your email & create a password. Click the "Sign Up" Button.
Once you sign up, click here to access website templates -> then hover on the Community menu -> click on Education -> scroll down & select the template you love. (Remember – templates are just designs; you can select any template & make any type of website because Wix gives you 100% freedom & ready-made web functions thanks to its drag & drop editor. You can even start from a blank template or start from a photography template & end up with school website!.)
Visit Wix Template Gallary
Here are our top school template picks
Once you click "edit site", then wait 1 minute. Once the editor loads completely, then you should watch the intro video tutorial that pops up.
If you want a simple quick website, then try Wix ADI (Artificial Intelligence web design). The Wix A.I. will build the entire website based on your interests within a minute just in front of you on live!! If you aren't satisfied with this, you can edit or switch to Wix original drag & drop editor without losing your previous work.
3. Edit & Save
The Wix web page editor is easier than Photoshop! There are 1000's of ready-made web elements available with millions of customization options. You can easily drag and drop the element anywhere on the page. You don't need a web designer's support. Without any skill, you can build the entire school website within an hour!
Just drag and drop the elements like text, images, button to pages and edit it. Save it.
You can design using your imagination and based on your needs. There are no restrictions. Wix Editor gives you 100% freedom with all school-related features.
Hover on "text" and drag and drop the title. Write your school name.
Add school photos or add a slideshow.
Add a register button or contact form with fields such as email, phone number, etc. (Just drag and drop the ready-made contact forms & add your email to get notifications whenever someone inquires.)
Add a menu, social media buttons, a blog, designs, etc.
Drag & drop the map anywhere on your page. Make it any size. Type your school address in the setting. Your school map will start to show on your website.
Write about your teachers & school.
Create additional pages. (When you select any template, there will already be pages created. In Wix, the template means ready-made websites! What you have to do is just replace your school name & some other texts. Of course, you can change anything you want. You could even completely redesign create your own template/website). Save or publish. That's it! You created your own school website within an hour!
Here is a simple pre school ready made website on Wix.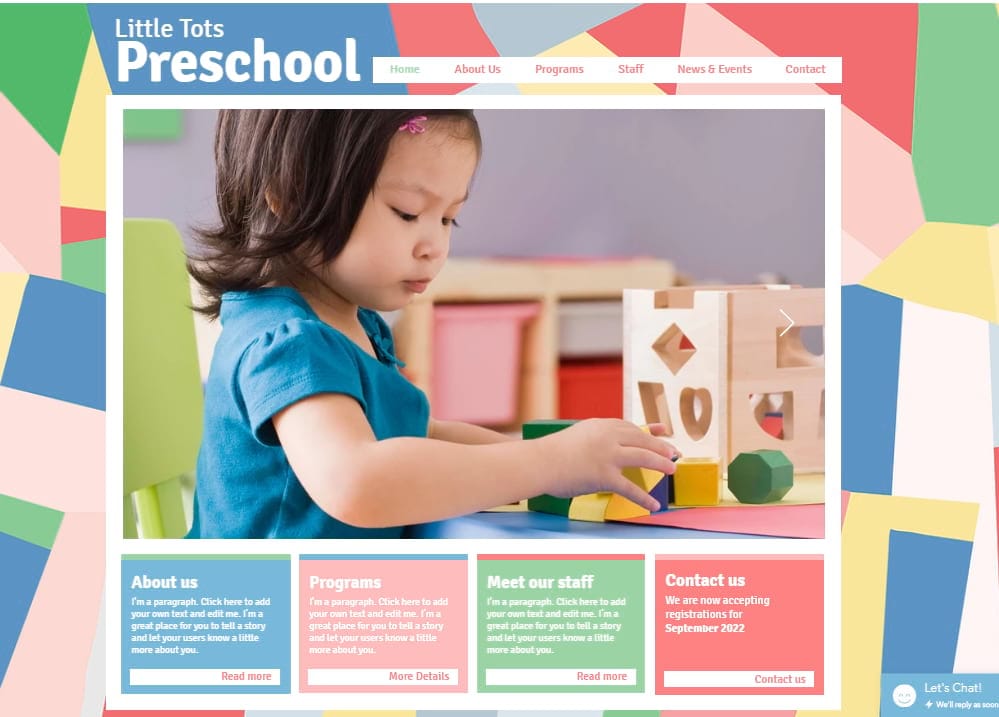 Here is a ready-made karate school website on Wix
Here is an example of a school website event & news page using the Wix templates.
The domain is your website URL or web address such as newyorkschool.com or www.jacksschool.org, etc.
Hosting is internet storage or a place to put your website. You need it so that anybody can access your website & you can get appear on Google.
You don't need to design the whole website to get domain & hosting. First, get your own domain & hosting. Run your website. Then, you understand how your website works when it's live. Otherwise, all your work may get wasted. So, click here to upgrade for domain & hosting now. Don't buy a costly plan – you can change your plan at any time without losing your credit.
Once you clicked the above link, you will see Wix pricing & plans. The prices may vary from time to time, but the concept will be the same.
If you are confused about which plan to buy, then here is a wonderful guide about it -> Wix Pricing – How To Avoid Wrong Plan & App Mix (Save 40% Every Year)
Select any plan according to your requirements. For a school website, I recommend the Combo plan. If you want to add eCommerce features such as a booking system or online classes/tuition, then I recommend the eCommerce & business plan which starts from $23/month. But for now, just start with the "from $13/month" plan. Understand how to manage the website. Then, slowly develop the website.
All yearly hosting plan includes a free domain name.
Select & proceed. You will get a payment form to fill in. Wix is a 100% trusted & publicly-traded company of USA & Israeli origin. You can give your card details with confidence, and they will give you money back if you are not satisfied with Wix within 14 days of the purchase.
If you buy an unlimited plan or any higher plan with a 1-year payment, you get a 10% discount. Just apply the code, "TAKE10", to the Discount Coupon Code box.
You can change the plan or change the website or domain or unassign.
Now, get your domain name here or go to vouchers and find your free domain coupon.
Wix provides you with a domain for free. It is very easy to do; just search -> Get It -> Connect in 3 clicks. No technical skills are needed. If you get confused, then just contact Wix's support team. Their customer care is available 24/7. You can start a free call or chat or go to the Wix support center
I wanted to name our school as trinityschool.com, but that domain name was registered by someone else & so was not available. So, I tried another option such as trinitypreschool.com, but that domain name was also not available. But below, I got a few suggestions like trinityoreschool.net, heritagepreschool.online etc. I finally selected serenitypreschool.com.
Just connect the domain name to your website. It is very easy. It takes only 3 clicks. If you don't understand just contact the support team. They are available 24/7 for free.
5. Publish & Get On Google
Once you have connected your domain, publish your website. You don't have to design everything in the beginning. Usually, all websites develop slowly. Publish the website and learn to manage the website while it is live.
Go to the "Google my business" page and add your business details, mark the map & add your website. Google always gives more priority and higher ranks for the business with websites. If you just mark your business address on Google mark, then you may not able to get the top result. However, it takes about a month to appear on top of the Google places search.
When you get good reviews and more authority links for your website than your local competitors, then your website will come to the top of the Google search results whenever someone searches for a set of keywords such as "Schools near me".
6. Share & Get More Learners
Sharing your website can help you get more conversions than you might expect! For example, Claire Binish created her school website 7movementsdance.com on Wix. Their revenue tripled within 4 months after she shared her website on social media and mentioned her website on her business card.
Share your website on WhatsApp, Facebook, Instagram etc. Add your website link on your business card. Make press releases with your website link. Ask bloggers to add your website link with dofollow as this will also increase your Google rank or SEO. Slowly, you will approach the top position in the Google search results. Whenever someone searches "Schools near me" or related keywords then your website may come first.
If you have any problems, contact me or contact Wix support.
All the best for your new school website!
Your favorite tutor,
Jack
Try Wix & Create Your Own School Website
Jack is the Co-founder of WebsitebuilderLy, a Software Engineer from Standford University, An entrepreneur with 12 years of Website Creation, Management, Marketing Automation & App Development Experience. Worked for the world's leading companies such as Roblox, HTC, etc.