Today, most photographers are creating their own website, portfolio, blog, marketing automation & everything themselves. This is thanks to the easiest photography website builders. Photographers have said that their profit increased more than 600% after creating the website. Some photographers are even selling photo prints in America and globally from their website.
Creating a website is easier than Photoshop!
There is no difference between a professional web designer's website and your own website that has been built with a website creator. Because these online software are becoming so advanced, even web designers have started to use site builders.
There are thousands of website builders for photographers. But NOT all of them are good enough.
Many site builders are scams or fraud. So, before you sign up on any photography website builder, you should check the reviews. But don't worry! Here, we did everything for photographers. Just read this post to know the best ones for you.
We reviewed Wix, Squarespace, Pixpa, WordPress, Format, Weebly, Zenfolio, 22 slides, SmugMug, Photofolio, Cargo Collective, Fotomerchant, Duncked, My Portfolio, Krop, AllYOu, Photoshelter, Viewbook, Carbomade, PortfolioBox, Redframe, IMCreator, GoDaddy,  NeonSky, Virb and 100's of different website builders. Also, we collected opinions from 1000's of photographers who have made their own website. Finally, we made our list of the top 10 website builders for photographers.
Related post – Best Website Builders With Head To Head Comparison Chart
Let's look at the best photography website builders for photographers or hobby artists for building your own website, portfolio, photo blog, art store etc.
1.
Wix Photography – Best For All Photographers – Portfolio, Galleries, Art Store & Everything
If you are a beginner, then you should see this easy tutorial – How To Make A Photography Website Portfolio, Photo Blog, Art Store & Everything
Wix integrated a separate photography section; you can click the above orange link to go there & get started to build your own website!
Wix Review
If you want to see our Wix full review, then go here -> See Detailed Wix Review By Web Masters
If you want to build a quick & easy website, then Wix photography is the only option that can satisfy you 100%.
In Wix, you can choose a lot of ready-made photography websites that are optimized for the best user experience. Wix is a true drag & drop builder & you can start to build your website from a blank template also.
You get a lot of gallery related options on the site editor. You can easily add a Wix Pro Gallery (the "Pro" name looks like it may be paid app, but it is completely free)!
Here are some image settings shown in the below screenshot.
If you need 1000's of GB storage, then don't worry. Wix offers you many options including third-party storage with seamless connection. Just create a Dropbox account; there, you will get unlimited storage in the scale of terabytes! Upload your content to Dropbox, then you can sign or show your Dropbox images on your Wix website & use it as just like the normal photo you would have uploaded! Whenever you upload to Dropbox, it will automatically be available in your Wix photo folder! You can use those photos anywhere on your website. This will reduce the burdening of your Wix web hosting storage & bandwidth.
There are many media and gallery settings that give you more control over your photos.
Layout settings make your website look better as per your needs and dreams.
You can add 3D galleries, amazing photography enhancing stuff and more.
Try Wix Photography For Free Today!
The real power of Wix photography comes from its app store.
Wix included a lot of photography-related apps. In the way in whihc you install apps on IOS or Android, you can also install apps for your website to integrate different functionalities like art stores, galleries, portfolios, slideshows, rollover image effects, 360-degree image, Zoom images, Instagram, Pinterest photo feeds and social media like buttons etc.
Millions of photographers are using Wix photography around the world.
You can use these apps without needing any experience.  While you are editing, it gives you 1-minute videos so you have no need to follow outside tutorials.
You can also see more photo-related apps
You can set up your clients' accounts too so that your clients can order their photos whenever they want. You can sell physical photo frames or any services or products.
Pros:
True this pure 100% drag & drop website builder in the world. So, you can drag & drop your photos anywhere; you can even overlap with any elements. You can put buttons on the photos or vice versa. See the live action below.

Wix website builder editor

Powerful Dashboard, analytics, galleries, easy functions etc.

Wix website builder editor flexibility

Wix grids make a responsive website and, at the same time, there is also a mobile site editor option available! So, your images will look perfect on all devices. If not, you can use the mobile editor to change it!
The Wix Artificial Intelligence Design Assistant creates a beautiful photography website according to your taste just in seconds before your eyes!
Modify, add different functions, delete, redesign, drag & drop and anything you can do with no knowledge. You can also add your own programs or third-party codes. Wix gives you 100% freedom!
Wix made a separate section for photography and it includes many templates, apps and many photography features such as gallery management, portfolio etc.
Wix provides you with tons of optimized premium stock images for free.
You can build your own art store within your website in a single click.
Image SEO included.
Monetization or Ways To Make Money as a Photographer – Wix offers you the freedom to make money online through all possible ways in the USA & worldwide legally. There are no restrictions. Earn money from Google AdSense, selling digital or physical goods, making a big online store, using different types of apps for advertisement networking, business apps, marketing tools and much more.  Unlike other site builders, Wix takes 0% commission & transaction fees! That means that with Wix, 100% profit is yours to keep!
You can create a booking system, studio business website, tour system, photography blog, portfolio or client proofing or clients' accounts with eCommerce or payment features within 30 minutes.
Wix art store is especially built for photographers & it will do amazing things at your fingertips. You can set your clients' membership level so that they can order their photos, prints or mug prints, photo frames, shirt prints or canvas prints, iPhone case prints etc at any time. You can send offers to their email & accounts.

buy photo art

If you don't have photo frame services or can't print your clients' photos on iPhone cases, canvases, shirts or any medium, then still you can offer those services & make money more & fast. Wix connects third-party orders on print companies, allowing them to automatically print & deliver to your customers not just in the USA, but also worldwide. You don't need to worry about it. You get the income without having to worry about the cost of printing! You can do it in a few clicks without any skill. Do you want to know how to do it? I highly recommend that you read this quick & easy tutorial-> How To Make A Photography Website, Blog, Portfolio & Everything

photo print types

24/7 live chat, phone, ticket & email support in English. All support is FREE & UNLIMITED..!    Call back services are available in English 24/7, French (Monday-Friday from 9am-6pm GMT+2), Italian (Monday-Friday from 8am-5pm GMT+1), Portuguese (Monday-Friday from 3am-8pm EST) and Spanish (Monday-Friday from 3am-8pm EST).
Cons:
Wix gives you a lot of features. So, you may need 2-3 days to get familiar with it.
Wix support is poor for free trial users.
Related Post –
1. 40 Best Photography Website, Portfolios & How They Created?
2. 10 Best iPad & iPhone Website Builder Apps
---
2.
Pixpa – Best For Portfolio & Client Galleries
While you sign up, Use "GoodWish10" in the discount code field to get a 10% discount for all Pixpa plans!
See our Detailed Pixpa Review By Web-Masters
Pixpa was created specifically for Photographers and artists. It is a great platform to create an online portfolio website for photographers and artists.
Pixpa includes many integrations that give you more power to create, run, promote, sell and manage your site easily. I particularly liked Pixpa's WHCC & Fotomoto apps. Using those apps, anyone can easily sell their photos or art and any print products automatically without taking any risks.
Pixpa doesn't take any commission for your earnings. The client proofing & galleries are perfect. I highly recommend Pixpa.
Here are some of the Pixpa Templates. See Pixpa Real Clients' Live Websitesto learn more!
Pixpa Site Builder Editor is easy and better than Squarespace.
The Pixpa Client Gallery and client management tools give you the power to make your photography business easy.
Pros:
Great Support. 24/7 live chat, email support, call support, and helpful tutorials
Client proofing
Sell your photos
You can add more storage at any time.
Print photos & deliver using WHCC. Your clients can order their photos to print on their mobile case, canvas, many and many more. WHCC provides Prints Proofing Cards, Wall Displays Books & Albums Boxes, Cases & Packaging Display Products Other Products Backdrops Sample Sets. You can utilize all of these benefits on Pixpa.
You can connect Shopify to Pixpa.
No commission or transaction fees for any payment or transactions.
46 Apps/integrations for different purposes like payment, promotion, email marketing, support, booking, scheduling, calendar events, stats and more.
You get a 15-day free trial with no credit card required.
You can get photography-related premium domains for free. (com, net, org, biz, art, online, pictures, photography, photos, gallery). You can select those domain names from the Pixpa Hover app. If you don't understand how to connect, then just ask Pixpa support and they will do everything for free!
The Pixpa platform was built specifically to create Online Portfolio websites for creatives such as Artists and Photographers. So, Pixpa is able to develop more superior tools for Creatives than Squarespace-like popular general site builders. You get great & quick support from portfolio experts from Pixpa. But, in general as with site builders like Squarespace & Weebly, you may not get such personalized support. See our comparison of Pixpa vs Squarespace.
Cons:-
The editor is not smooth drag & drop. So, if you want more control over your web page element arrangements, then you can't do that here. (If you want to change the look, then you can change the theme without losing your work. All your photos & text automatically arrange according to the theme's predefined structure.)
You get fewer features when compared to Wix Photography
Related Post – 40 Best Photography Websites, Portfolios & How They Created?
---
3.
WordPress– Best For Advanced Photography Website (Difficult)
Choose this if, and only if, you want advanced options or you are not satisfied with Wix & ready to learn for at least 5-10 days. If you are a slow learner, then it may take a few more days. But once you get the grip, then you can do almost anything you imagine using WordPress!
(NOT WordPress.com)
You Must Read This 10-Minute Beginner's Easiest Guide, Otherwise You May Not Able To Make Your Website Using WordPress.
How To Make a Photography Website Using WordPress
How To Make a Photography Website
Using WordPress
Bluehost WordPress Reviews
If you want to make a quick and easy website, then I recommend Wix. But, if you want to make a great and advanced photography website, then choose WordPress. It takes at least 2-3 days to learn how to use it and you may find it difficult in the beginning. But, once you are familiar with WordPress, then you will realize the power of it. You can make advanced marketing automation, awesome photo effects, beautiful themes and more.
Pros:-
You can create almost any type of website in a day as per your needs and dreams. (But you need to learn for at least 2-3 weeks)

Most of the websites in the world are created using WordPress! You can use WordPress as a CMS & site builder at the same time by installing Elementor for free! So, WordPress is the real King in the website creation method or platform.
It is easy to use & includes a lot more photography functions than any other website builder in the world.
70k plugins, 60k Themes + millions of plugins/templates/themes/apps from third party market place and growing! More functions with huge free support tutorials, forums, FAQs.
There are so many free photography themes available. You can change the template without losing your work. The template sets & fits your content and everything automatically.
Not just WordPress directory, but outside you can also find lots of photography themes & tons of photographer-related items on ThemeForest  
You can turn WordPress into a drag & drop website builder. How? – See this easy tutorial
You can use Google Drive as external storage for your images using Google Drive WP Media plugin & it is free with a 4.2/5 star rating. If you need no more than 20GB storage, then you can upload all your images directly to your website. Note: If you want to optimize images for web, then you should check out this guide -> How To Optimize Images For Web? (92%, But lossless & 4 FREE Ways)
Even big brands like Microsoft News Center, Walt Disney Entire Website, Facebook Newsroom, Star Wars blog, Harvard Gezzet Online, and all the following websites were created using WordPress – Mercedes Benz, Time INC, Tech Crunch, Bata, The New Yorker, BBC America, Sony Music, & Celebrities like Katy Perry, Justin Bieber, Beyonce, Usain Bolt and almost all popular websites created using the same method! Of course, this site, WebsitebuilderLy.com, was also created using WordPress.
You can get free unlimited subdomains & business emails using Bluehost
Bluehost provides you with free WordPress Assistant with unlimited FREE support 24X7. Live chat, ticket system, support guides, phone, email.
Image SEO included.
If you don't have photo frame services or the ability to print your clients' photos on iPhone case, Canvases, Shirts (etc) then still you can give those services & make more money, faster. Just create a free account (it is forever free) on Printful, then just connect it using the WooCommerce Zakeke plugin. Everything is free. When your customers make an order, then the order will be sent to both you & Printful. Then, Printful will print & deliver. You don't need to worry about anything! Their company name will not be revealed, either, and so your client thinks you delivered the product. You get extra, profit minus the original cost of the material & printing service.
There are millions of benefits that I simply can't list here!
Cons:
In the beginning, you may feel it is difficult to use if you don't read the tutorial (the link is given above).
There are a lot of plugins and themes, and so, you may get confused as to which one to choose (Tip: For every plugin, you can see all stats. Choose the one that is more downloaded, updated and with good reviews)
In very rare cases, different plugins will not match with each other. (Solution is here:– In that case, just deactivate all plugins and reactivate plugins one by one. This way, you will know which plugin is creating the issues. Just deactivate that plugin and find an alternative to that plugin)
---
4.
Weebly – A Good Website Builder With Photography Features
Try Weebly For Free
Weebly reviews
See Detailed Weebly Review By Web-Masters
Weebly provides you many image related web functions.
There are many photo-related apps available on the Weebly App Store.
Many Image feed apps also available.
You can showcase your photography using social billboard streamline photos.
Its apps are very similar to Wix's, but they are no better than Wix. If you already tried Wix then you probably won't like Weebly. It is getting most of its customers from b2b, not b2c. They made deals with many hosting companies to provide free site builder while disabling premium features. Most of the Weebly customers are those who already bought hosting. So, people who probably never tried Wix are Weebly's customers.
Pros:
Image editor with many options.
So many photo-related apps.
Responsive website.
Printful app is available. 47 people reviewed it with all 5 stars! & thousands of active users.
Analytics and the dashboard is good enough
Cons:
It is not a 100% pure drag and drop website builder. Its editor uses strict grids, so you can't drag and insert functions or apps or images anywhere you want.
There is no universal undo-redo option.
Many photography-related apps are paid versions.
It doesn't optimize images for the web.
Weebly backup – restore is the worst system.
See Detailed Weebly Review By Web-Masters
---
5.
Format Reviews
Format includes all basic photographic functionalities, but it is quite outdated.
Pros:
You can sign into your Adobe Lightroom with Format
Client management & access
The support team talks nicely.
Cons:
They give support which makes people continue with the Format, although it doesn't mean this is a superior tool.
Despite their support, people have started to leave Format. Format may soon close because, it is losing more customers than it gains! Here are the exact numbers, including how many new websites were created and dropped. (See at the end of this picture)

Format vs Wix

Basically, Format is not a true website builder. You get a very basic website edit function.

Format design editor

No live editor
Very little storage.
Limited features.
Many users reviewed very badly about Format's billing practices. Here are some examples:

Format reviews

For the $7.99/month plan, you can create only 15 pages, 3 store products, and 100 images. This is the only company that restricts the pages & products.
If you want to get the domain, then you need to purchase a 16.99/month plan. It is costlier than the market average.
Marketing automation is worse than most of the site builder.
You cannot able to connect third-party printing on things services. For example, if you want to use Printful, then Format is not capable to connect it. This means that you could lose the big income that you can easily generate using Printful without worrying about anything including the delivery. This is the biggest disadvantage.
No app store. They may have inserted more apps, but there is 1 app and another one is not a website app, it is a mobile app. In fact, they're considering every inbuilt function as apps!
Security is not good enough. Hackers can easily attack & hack your website. It is open for Heartbleed Vulnerability. That means, its SSL will not protect your website. Here is the test result.

Format website security test

The payment system is not good. (PayPal is available, but the overall system is not adapted with the modern techs.)
Related post – Format vs Squarespace
---
6.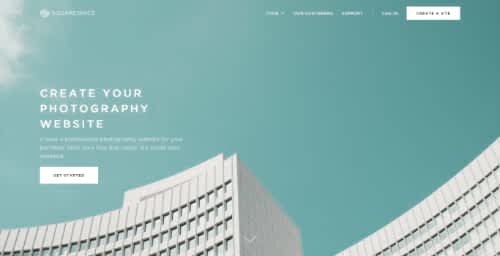 Recently, Squarespace photography has been becoming popular on the web because of its smart marketing, but it failed to hold its credibility. Squarespace failed to compete with Wix or WordPress-like amazing website builders. It got very bad reviews.
Squarespace Reviews
See Detailed Squarespace Review By Web-Masters
In the site editor, you cannot drag and drop the images. There are no user-friendly settings like other site builders.
Pros:
There are a few photography templates available
You can connect with Printful
Cons:
Squarespace website loads slower than 44% of all tested websites. This is very poor performance compared to the other website builders

squarespace website speed test

There are no photography apps/extensions. You need to make your website with their limited inbuilt features. (You can search JQuery apps on various third parties, but it needs some technical skills. There is no verification for that app that doesn't contain malicious programs because Squarespace doesn't have its own app store. But Wix, WordPress, and Weebly website builders all verify every app before the approval & it is very easy, as it doesn't need any technical skill to use it.)
Too costly for its small number of outdated features.  Monthly plans start from $16/month, while Bluehost – WordPress starts from $3.95/month & Wix starts from $4/month. For more pricing information, see Squarespace Pricing – 3 Pros & 8 Cons You Should Know
Not 100% drag & drop website builder.
You cannot place images wherever you want. Sometimes, you may get confused.
Recommended post – Squarespace vs Pixpa
---
7.
Zenfolio Reviews
Zenfolio includes all essential tools for photographers.
Pros:
We don't see any pros over other website builders, but it is a good option nonetheless.
Cons:
No live editor
Confusing settings
Slow websites.
No app store
Very limited
---
8.
Portfoliobox reviews
Pros:
Support team talks nicely.
Cons:
They give support which makes people continue with Portfolio box, but this doesn't mean this is a superior tool.
No printing services like Printful.
No app store, very limited.
Your website will load slow
Security, speed and all backends are poorly developed.
It is open for heartbleed vulnerability. Your website will not be protected properly.

Portfolio box website security test

This is a plain site builder, there is nothing to say much about it. If I start to list cons by comparing Wix, then I need to list cons about 100+
---
9.
SmugMug Reviews
SmugMug was originally not a website builder. It is famous for wallpaper or background photos. Recently, it made a deal with Flickr & nowadays it is not focusing on website creation for photographers rather selling photos, prints, protection, copyright etc. This means it is not fit for general photographers.
Usually selling a photo online is not good business for all. Only a few people made some money from it. Remember, there is a big difference between selling photos to your clients via online/offline & selling photos online for an unknown person or business. You can make a lot of money easily by selling your clients' photos because there is no competition. They want their photos. Of course, that's why they booked you to shoot their photos like weddings, pregnancy or party photos. But it is very hard to make money for your professional/business photos like wildlife photography, fashion or random professional photos as there is a lot of competition. Only the top photographers get most of the money.
Smugmug included many photography templates.
Pros:
A good platform to sell your pro photos, but photography website plans are costly compared to others.
You can upload unlimited photos and videos. (But you need to understand for whom? Most of the people use their Smugmug account to store photos just like a Google Drive. For the website, you need to pay $41.99/month. This is 10 times costlier than the average!
The original file is always available to download
Adobe Lightroom sync
Cons:
The photographer's plan is too costly.
It is mainly focused on photo storage & downloads for general people.
No third party apps
There are a lot of minor cons that are difficult to explain here.
Recommended post – SmugMug vs Squarespace
---
10.
22Slides Revies
Pros:
I was very impressed with the 22slides site editor. You don't need to pick a template. You can change layouts, designs on different pages. (But it is not a true drag & drop website builder)
Cons:
It offers you only one plan for $10/month. This undermines the different interests & needs of photographers.
No app market.
---
11.
Photofolio Reviews
Pros:
Unlimited pages & content. It will not restrict to create content within the allocated space (For example, Format restricts the number of pages evenif  you have a lot of hosting space.)
PDF creator.
Cloud hosting
Cons:
They quoted unlimited content including images, videos & galleries, however, the storage is actually quite limited.
You cannot use Google Drive or Dropbox photos directly on your website. You need to purchase or upgrade their hosting to increase the storage.
In their plan feature, you can see that the traffic is unlimited, but when you get just 40 concurrent visitors, the site will get taken down or go slow.
It is losing all gained customers monthly, just like Format.
Tools are outdated.
No third party apps
Security and a lot of technical flaws and bugs still need to be fixed. This indicates that it is not developed by experts.
You can't use Printful or any other print on demand services.
Conclusion
Here is the Best Photography Website Builder List & Summary.
Besides these 10 photography site builders, we reviewed 100+ site builders including Cargo Collective, Fotomerchant, Duncked, My Portfolio, Krop, AllYOu, Photoshelter, Viewbook, Carbomade, Redframe, IMCreator, GoDaddy, Pixpa, NeonSky, Virb etc. Also, we collected opinions from 1000's of photographers who did their own website. Finally, we made the top 10 website builders for photographers.
In my personal opinion, you shouldn't try every site builder. It is a waste of time. You don't get the pros & cons of those site builders unless you really run officially. I highly recommend Wix photography!
Try Wix Photography For Free Now!
I highly recommend reading this tutorial (orange color button below) even if you know how to build a website. In this tutorial, I explain step by step how to make photography automated systems, sales, marketing, printing & everything to get the maximum profit.
How To Make a Photography Website Using Wix
If you are not satisfied with Wix, then why not try Bluehost WordPress? But you must read this step by step easy tutorial – How To Make a Photography website using WordPress, otherwise you may struggle. WordPress is difficult, but Wix is very easy.
If you have any doubts, you can comment below & get a response within 48 hours directly from the author.
Conclusion ->Final Winner – The Best Photography Website Builder is Wix Photography
Jack is the Co-founder of WebsitebuilderLy, a Software Engineer from Standford University, An entrepreneur with 12 years of Website Creation, Management, Marketing Automation & App Development Experience. Worked for the world's leading companies such as Roblox, HTC, etc.