Is Weebly website builder a good fit to your needs & dreams? This Weebly review will make you smarter in 10 minutes. Its templates, hosting, SEO, eCommerce, examples sites, premium plans, support, costs, security,  separate users ratings, opinions, Web Masters ranks, our final thoughts & everything inserted have been compared, advised, tested, reviewed & posted on this page with easy terms & screenshots.
You will get the clear answer for whether Weebly will really help you to design your imaginations. You'll also learn about the Weebly disadvantages which may cause you issues for fulfilling your requirements.
In short, is Weebly good or do you need to search for another website builder? If yes, which one is that? If no, then how you can use Weebly functions to take maximum advantage?
Related post – See the Best Website Builder Head To Head Comparision Chart

Highlights Of This Post (What Are The Things You Will Miss If You Don't Read This Page?)
Quick Overview
Top 8 things about Weebly those you should know. (You may be surprised!)
At the end of every section, we summarized Weebly Pros & Cons so you will get a clear idea. [6th Section is important]
Separate Weebly reviews (out of 5 stars) [See 8th Section Of This Post] including:

Users
Web Designers & Master Reviews From The Point View Of Newbies
Our Final Rating.

Personalized advice for you! (When to use & when NOT to use)
We also cover doubts like:
Are Weebly Templates are out-dated? If no, how much good are they?
Is Weebly's security good enough to protect from hackers?
Is Weebly's hosting server capable of running your type of website?
All common doubts are cleared up with proof.
Quick OverviewWeebly is an easy 57% drag & drop website builder (Why 57%, you might be wondering? We've explained below how we calculated this).
It provides you with many apps to help you design your own website. It offers both free & paid versions. In the free version, you don't get your own domain name & all of your work is owned by Weebly.
There are different premium plans (I explained which plan is for whom & how to use it wisely in the 7th section below). For all paid plans, you will get a free domain name & you own your website. You will get total control over your website. You can create, publish, run & grow any website, blog or online store.
Who Uses Weebly? Which Type Of People Choose Weebly For Building Their Websites?
There is a clear ratio of Weebly users' demographics.
Weebly users are from all categories of people including men, women, school, college, graduates, non-college, work, office & home.
One doubt is cleared up here:- almost all types of people are using Weebly. But this alone doesn't mean it is ideal for you!
From the above ratio, we can assume that Weebly is easy for you & you can handle it without any knowledge, since schools and uneducated people are higher in ratio.
But don't decide just by reading this quick overview, as this alone will not give you a real taste of Weebly.
In the 8th section of this post, we inserted separate users' reviews & our final rating. We also posted web designers' & masters' reviews to the viewpoint of newbies.
Weebly Templates – Are Its Themes & Designs Good Enough? Or It Is a Waste Of Time?
Weebly is loaded with 100's of templates. Weebly themes allows web developers to design their own Weebly themes, so you will also get 1000's of third party themes. But third-party themes may costly for you if you have a tight budget. You don't need to worry, though, because Weebly has 100+ themes for free for its premium users. If you purchase any plan (for example, the highly affordable $9/year plan) with Weebly, you will get all themes for free. But the important question is, have all Weebly templates been developed with the latest technology? Read below.
Weebly Theme Responsiveness – Does Your Weebly Website Appear Properly On All Sized Devices With All Browsers? (Mobile-Friendly Test)
We tested several times. In the below screenshot, you can see an example of Weebly templates' mobile friendliness, mobile speed & desktop speed.
Weebly themes are 98% responsive, but its mobile speed is very poor. Weebly themes will not load fast on mobile devices. Even the overall desktop speed is also not so good. Website speed depends on how well coded a theme, hosting & contents. I explain more about site speed in the web hosting section. (6th section).
Are Weebly Templates Using the Latest Technology or is it Outdated?
Here, you will learn some important things about latest technology usage.
Look: – If you look at any Weebly themes, you will know how their designs are professional as well as modernized. However, Weebly templates only got an average rating for their look. If you want to make that wow! expression for your users, you may need to buy third party premium templates or you may otherwise need to take your own time to design your site yourself.
Retina Ready Template: (Note: Website retina & device retina ready are completely different. Website's retina ready depends on CSS and JavaScript program & it is independent of retina ready displays like iPhones. Retina devices or displays like iPhones show you the web page on its screen with more clarity if & only if that website is developed as retina ready..!)
Retina ready designs are not available in Weebly. You can change the pixels of text, image etc, but it will not adapt automatically to retina & non-retina screens. (Retina screen means high-resolution screen with more pixel density than traditional screens)
Are Weebly Themes Really Developed With Good Codes? Yes/No?
We tested all Weebly themes' coding quality & structure. Here is an example of a structural code test:
The above test results showed Weebly themes are structural with good codes. We also tested different criteria basis. Everything is okay. So, you can be fully confident about your website backend processes even if you don't know anything about programming, because we did all tests for you.
Theme Editor & Customization – Does It Give You Full Freedom?
Weebly is an easy website builder. I assume that you already know how to make websites on Weebly, so I've just glanced from the beginning to end to know whether it has any issues.
To build a website, you need to go to the Weebly Homepage.  In the center of the page, you will see the "Get Started" button. Click that button. Then, a sign up form will appear. When you sign up, it will ask to choose which type of website you want to create. The options include an online store, personal, business, artist, portfolio, blogs, design, event and others.
In the next step, you need to fill up your website name. You can skip this step. After, it will show you many templates based on what type of website you selected in the first step. Choose any template for free and its preview will appear. You can see the entire demo of the theme. If you like the theme, click on "start editing". Then, the website builder will load on your screen. There are 100's of different functions or elements which exist. You can use them to design your website as per your imagination. The easy drag & drop system will help you to design easily.
But you can't overlap one element with another. If you want to make some creativity, this limitation may stop you. It is not 100% drag & drop editor. You can only move and insert the things into grids.
You can access all the main setting from the editor. It's customization is really impressive. You can change any theme without disturbing your previous work. All your content & designs will adapt automatically as you change your themes.
Weebly themes Last Punch
Pros:
100's of free themes.
1000's of third party themes.
Weebly made its theme platform as an open source project, so any web programmers can develop their own themes. If you want highly professional & amazing websites, you can hire web developers.
Theme customizations are flexible.
You can change any theme without losing your old work, designs, uploads, and content.  If you switch your theme then it will automatically fit with the new one.
Cons:
There is no universal undo-redo option. If you delete by mistake any photos or elements or contents or text box then you can't reverse it. The most fundamental property is missing. (Within the text editor, it will show you an undo-redo option, but that is temporary. If you just hover outside that small text box, that's it – your history will be deleted & the whole text box itself doesn't have the undo-redo option.)
Its editor uses grids, so you can't drag and insert functions or apps anywhere you want.
Weebly theme pages load slower than the average speed of our top website builders. Templates are coded without any errors, but it may not code intelligently. So, Weebly sites load slowly, especially on smartphones and small devices (Web hosting capacity also influences a website's speed. Continue to read to know more about Web hosting in the 6th section).
Final Weebly Template Score : 64%
Weebly – Is It Really A Good Company?
Weebly was launched in 2007. The company headquartered in San Francisco and has got many awards. Time Magazine listed Weebly as one of the top 50 best websites in 2007.
Weebly is featured in many popular magazines like Entrepreneur, Forbes, Wall Street Journal and more. But remember, many dump companies also appeared in these popular magazines. We can't say this or that company is excellent just by reading on Forbes or other such magazines. I know how to know if a company is really good; so, let's crack its secrets one by one.
How Many People Are Actively Using Weebly Website Builder?
Many companies launch their service with grand functions & those companies' news will spread all over the world. So, many people visit that website. But many companies' services are not actually good and customers will leave and not visit again. If we know a company's active users count, we can make some predictions about the company. Let's check Weebly's active users in a month.
Weebly is getting a huge amount of traffic. The above number proves that Weebly.com is a popular company. But many websites are getting their traffic from ads, paid links & auto-generated bots because they want to show a huge amount of traffic to their investors & media for attracting more people. So, we should examine how many old customers are still using Weebly. Read below to know this.
Are Weebly Users Satisfied With Its Service? Or Switching To Another Superior Company?
Many companies get a huge traffic by launching advanced online marketing gimmicks. But they fail to hold their customers' attention for a long time.
What about Weebly? Did really Weebly hold people for a long time? I mean, did Weebly really made people happy? Let's check Weebly's level of interest over time on the Internet.
If you look at the above Google graph, you can conclude that Weebly's interest is highly variable over time, buut it maintained the overall average. Weebly is losing customers largely at the same rate which it is getting new customers. If you look at the graph cleavage lines, at least half of its users are leaving every year. This is one of the biggest issues you have to consider.
How Are Weebly Testimonials?
Many people are satisfied with Weebly website builder. They shared experiences with showing their live website examples. See Weebly Success stories. The above link carries you to a few Weebly customers & their live website. If you want to confirm whether a website is made with Weebly or not, here is an easy & quick solution. Just add Weebly Site Detection chrome extension.
Weebly Reputation Last Punch
Pros:
Many Celebrities & business people used Weebly to create their website.
Weebly's monthly active users count is very impressive.
Weebly has gotten many awards from recognised magazines & organizations.
Weebly is one of the most reputed companies in the world.
Cons:
Weebly interest on Google is highly variable. Many users are leaving but it still gets many new users as well.
Many people rated 1 star for Weebly & reviewed them with a very bad opinion. This means that Weebly is not right for all.
Takeaways
Weebly is used by millions of people & many top people are recommending it, but still, Weebly has also gotten many bad reviews because it is not right for all. Are you one of them? (Here you will learn this – don't worry.)
Overall, Weebly's reputation final Score: 93%
Weebly Features – Does It Make Magic?
Does It Include All Essential Features? Are Its Features Enough To Create Any Type Of Websites?
Let's check out some important features.
You can preview quickly while you are editing or start to edit without loading the page again.
When you are editing, you will see these tools to build your website easily. For example, to add or edit an image, here is how you can do it easily.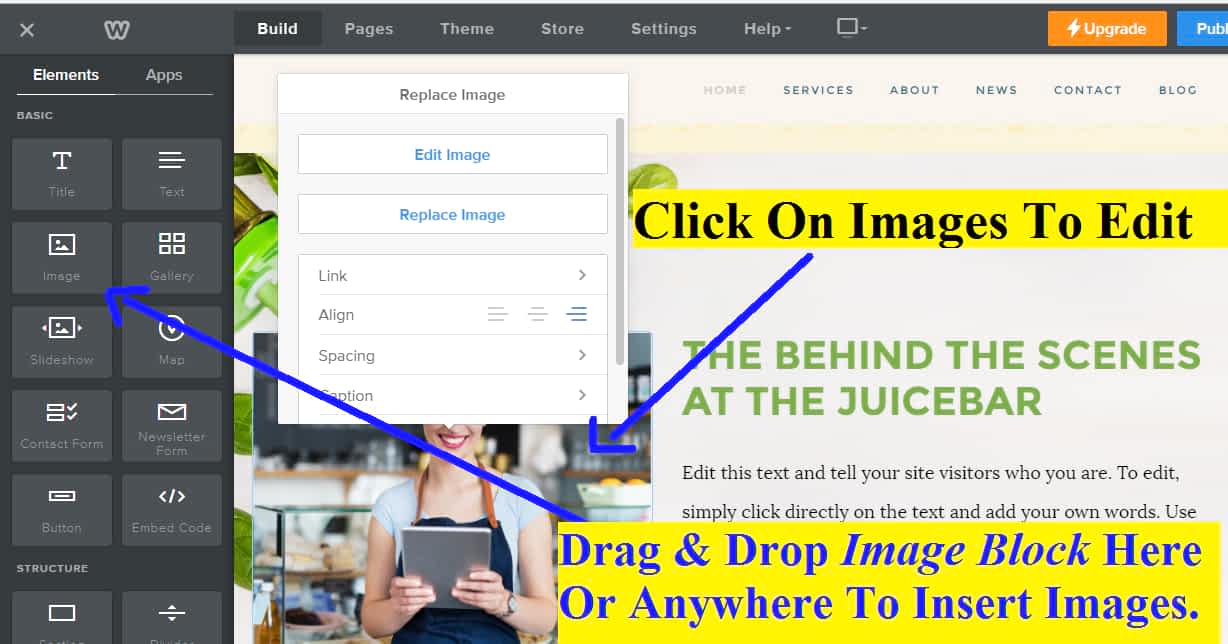 It is included all basic web elements. Here are just some examples:
Adding a new page
Weebly Features Last Punch
Pros:
Weebly included all basic web features & you can access all of them easily.
Cons:
Many apps are paid versions
No advanced marketing apps or systems
Lack of selling or eCommerce features
Overall Weebly Feature Final Score : 67%
Weebly User Experience – Will It Make You Happy Or Give You Trouble?
User experience is the most important thing you have to consider. If you are a beginner and you don't know how to build & publish a website with Weebly, Read this guide [x_icon type="hand-o-right" style="font-size:40px"] How To Create A Website Using Weebly Builder?
If you are not a beginner & you already know how to make a website with Weebly, then continue to read.
How Is Weebly Dashboard & Other Important Settings?
This is the Weebly dashboard's front page.
From the Weebly dashboard, you can manage all your website's main settings and also you will get full statistics for your website. The Weebly dashboard includes stats, adding a new website, editing your site, upgrading, promotion, Google apps, domain, your account details and more. You can learn how many people are visiting your website, how much time they are spending, and how many pages they viewed. If you inserted a store, you will get all the information in one view including how many orders, pending orders and more. If you wrote blog posts, you won't need to search for all the blogs to check any new comments needing your reply; from the dashboard, you will get recent comments, pending comments and more in-depth information.
You can change your website language.
You can copy or delete a site.
You can also delete your entire account.
For more information about the dashboard read the Weebly site dashboard. You can add Weebly dashboard chrome extension to check any Weebly website.
Weebly Template Last Punch
Pros:
The dashboard is good enough to manage any type of websites.
You will get all stats of your website on one page.
You can see your site's growth day by day.
You can manage, contact or reply to any activities (e.g. comments, pending orders, etc) on your site
Cons:
Needs some improvements & lack of modern method adaptation.
Overal Weebly Templates final Score: 83%
Weebly Web Hosting – Does It Run Your Website In A Healthy Way?
Is It Running Your Website Smoothly? What about Uptime?:-  99.88%. This means, every 100 minutes, your site will be down for about 7 seconds. It is not too good, but not bad either
Weebly Security – Will It Able To Protect Your Debit/Credit Cards & Websites From Black Hat Hackers, Viruses & Malware?:-

Weebly security & vulnerability test

Weebly security test results showed it is safe & no heartbeat vulnerabilities were found.

Domain: – You will get a free domain name for the first year. You can register with .com, .net, .org and any top-level domain name you want. There are hundreds of TLD's available.
Do You Get Professional or Business Emails: – Yes, but not for free. Weebly has Google apps. Using that app, you can create your own business emails. For example, my business email is hello@websitebuilderly.com. I don't need to use Gmail or Hotmail; I can use my own website name for my email. People trust this type of email more, because you can't recreate others' website email. Only you can create an email ending with the website that belongs to you or you have an authority to access the domain name registration setting.
Backup & Restore – Can It Allow You To Backup & Restore Your Website, In Case You Did Something Wrong With Your Site?:- You can take your site backup at any time with the zip file, but you can't upload your Weebly site. You need to copy & paste all of the content onto your website's pages. That is, the creation of the entire website. You can't take Tal.ki forums backup. Resized images are not coming with the backup. In short, the Weebly backup is not hugely useful.
Will Its Web Hosting Allow Google Bots To Crawl & Index Properly? Weebly indexes all of its Premium users' websites properly. If you made a website for free, sometimes it will index once, but after no index. It has no issues for paid user sites. In addition, it provides a separate setting for SEO. I already discussed SEO settings in the 4th section.
Website Speed – Does Your Website Load Good?

weebly website loading speed test

Faster than 58% doesn't indicate much, as this is one of the 58% fastest loading websites. But the Weebly website's loading speed is slower than 42% of all the tested sites.
Weebly Website Hosting Last Punch Pros:
Weebly uptime, security, indexing and all essential things have no issues.
Cons:
Weebly websites are very slow. Just 58% faster than the norm – that still means 42% of websites are faster than Weebly sites.
No free business emails.
Weebly backup – restore is the worst system. You can't do anything with it!
Overal Weebly hosting final Score: 53%
Weebly Support – How Good Is Their Customer Care & Help?
Weebly will help their customers through different methods like guides, video tutorials, ticket systems, phone or chat. You can go to the Weebly support center for any type of support.

Weebly Customer care phone number – 00 1 844-493-3259

There is an online Weebly community. There, you can find similar problems to yours that other Weebly customers have discussed & solved. But the support system is not quick. Sometimes, you need to wait for 2-3 days. Most of the time, your call will not get received. Only high paying customers get support faster. If you are a basic user then you need to read their documentation to solve your problem.
Weebly Pricing & Plans
You can upgrade your free Weebly site at any time.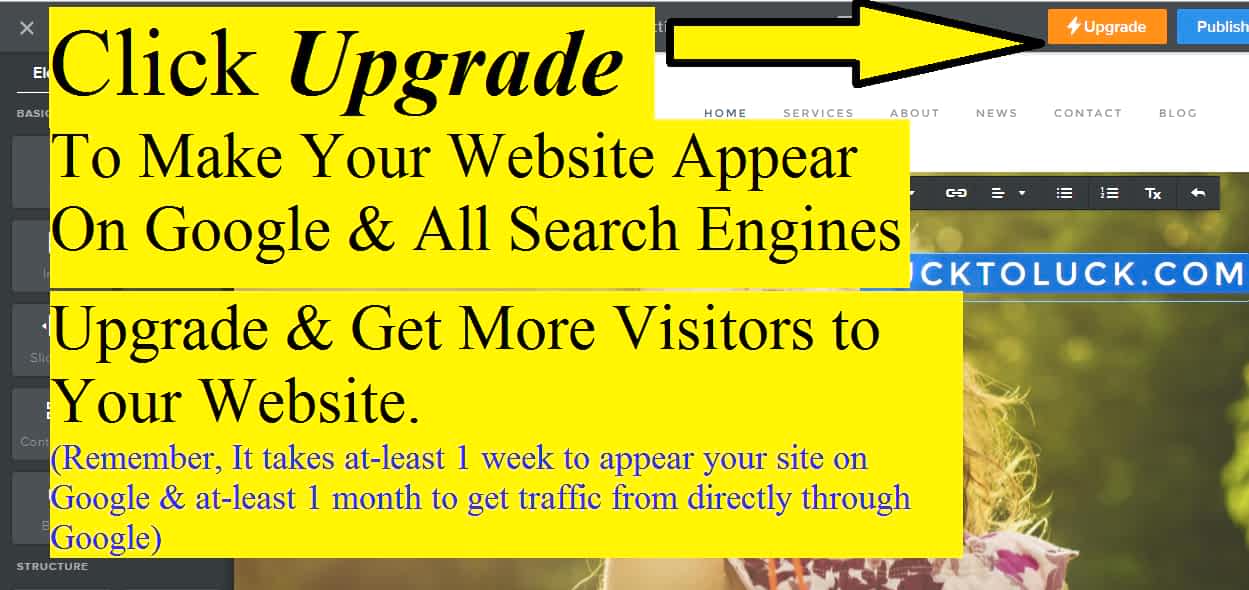 Next, you will see this page
For an online store, the price is $38/month.
For their basic connect plan – $4/month (Billed Annually. That means that you cannot pay monthly; you have to pay $48/year for the first payment.)

For starter plans, choose $8/month. You will get a free domain name worth $15 dollars – you should grab this.
Weebly starting price is very cheap, but it will not give you features like Wix.

Overal Weebly pricing final Score: 77%
Weebly Reviews By Web Designers, Masters & Me!
We invited a few web designers and masters from our entrepreneur group and various networks. Here is the average rank.

Web Designers Rank For Weebly

My Final Rating: – 3/5
Weebly Review Conclusion – Personal Advice For You (When To Use & When Not To Use)

If you want to create quick, simple and easy website, then go for Weebly; I don't recommend otherwise. However, if you want the easiest website builder, the go for Wix here & if you want the most advanced website builder experience, then go for SiteGround-WordPress instead. You can read this tutorial to learn more:  How To Use WordPress As An Amazing Drag & Drop Website Builder
Jack is the Co-founder of WebsitebuilderLy, a Software Engineer from Standford University, An entrepreneur with 12 years of Website Creation, Management, Marketing Automation & App Development Experience. Worked for the world's leading companies such as Roblox, HTC, etc.