Squarespace and Weebly are the best website builders, both are known for creating the best websites. Squarespace lets you create all kinds of websites whereas Weebly is also a general website builder& now it has merged with the Square
Quick Summary
Below are a quick summary of Squarespace and Weebly platforms.
Squarespace
Squarespace has four plans that are moderately eConomic ( $16 – $49/mo)
Squarespace has 100+ Free Themes for all kinds of business.
The level of theme customization is good
Squarespace has 25+ applications
Squarespace provides support through email and live chat
Try Squarespace
Weebly
Weebly has forever-free plan and pricing ranges from ($10 – $38)
Weebly has 40+ free themes that cover all kinds of businesses
Weebly offers a very basic level of theme customization.
Weebly has 250+ applications
Weebly provides support through email, phone, and live chat
Try Weebly
#7 Main Differences
---
1. Ecommerce Features
Both Squarespace and Weebly are similar in terms of website building, they both offer two plans for eCommerce, Weebly has partnered with Square to bring online store-building features, and they have similar features and payment gateways.
Winner: Tie
---
2. Domain and Hosting
Both Weebly and Squarespace provide inbuilt hosting. Weebly doesn't provide a custom domain, but Squarespace provides a free custom domain upon registering for the annual plan.
Winner: Squarespace
---
3. Themes
Squarespace offers over 150+ Free templates for all kinds of businesses, Whereas Weebly offers 50+ free themes, both platforms categorized themes as an online store, business, portfolio, personal, event, and blog.
Winner: Squarespace
---
4. Editor
Weebly has a basic editor with limited customization & designing options, whereas Squarespace offers advanced customizing and design settings. You can create awesome pages on Squarespace.
Winner: Squarespace
---
5. Pricing:
Weebly plans are Comparatively cheaper than Squarespace, Squarespace's price ranges from $16- $49/month, Whereas Weebly Price ranges from $0-$26/month, Weebly is free to use with their subdomain.
Winner: Weebly
---
6. Support
Weebly offers 24*7 phone, live chat, and email support and also provides priority support for business plans. Whereas Squarespace offers 24*7 Email support, and Live chat support on weekdays.
Winner: Weebly
---
7. App store
Apps help in automation and adding new features to your store, Weebly has over 400+ apps to assist in adding features, Whereas Squarespace has around 50+ apps.
Winner: Weebly
FAQ: Squarespace vs Weebly
Domain and Hosting
| | | |
| --- | --- | --- |
| | Squarespace | Weebly |
| Domain | With Squarespace you can register domains with up to 300 extensions, you can own them renew them, and also transfer them to a different register. | Weebly provides a free subdomain, you can build a free website and publish it, and you can register or connect a custom domain by choosing a $10/month plan. |
| Hosting | Squarespace has a powerful and secure hosting server, they house all your web pages and store information on the cloud. Squarespace server speed is comparatively faster than other website builders | Weebly provides free hosting, with a speedy and reliable network. it provides a cloud-based hosting infrastructure. |
| SSL | Squarespace provides Secure and powerful SSL on all its plans. | You have to manually enable SSL in the Weebly setting. |
| Professional email | Get a one-year free professional email with google workspace upon choosing an annual plan. | Weebly has also partnered with Google to provide a free google workspace email, but for that, you need to buy the domain from Weebly. |
| Storage and Bandwidth | Squarespace claims to provide unlimited storage and unmetered bandwidth on all of its plans. file upload size is 20Mb & for digital products, it's up to 300Mb | Weebly too provides unlimited storage and unmetered bandwidth on all of its plans, but the only limitation it has is file uploading size which is up to 10MB on the free plan and 250 MB on a paid plan, |
| Uptime and Speed Server | Squarespace has powerful uptime of up to 99.98% and an average server response of 190-220 ms | Weebly has an uptime of 99.99% and an average server response of 200-240ms |
Firstly, we will analyze these two websites' response times using bytecheck and find their speed response
Squarespace example website server speed test
Weebly example website server speed test
We analyzed the Top 10 Websites of both platforms to check their server response and we found that most Squarespace websites' average server response time is 190-220 ms, Whereas the Weebly website's average server response time is 200-240ms. which means websites hosted on Squarespace load slightly faster in comparison to Weebly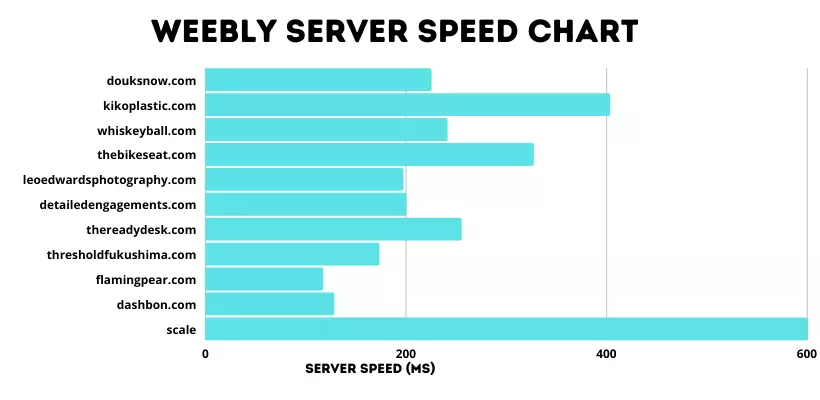 Though Squarespace has good server speed it interrupts uptime, over a few months it had seen several server downtimes of up to 2-3 hours which eventually got resolved after some time.
Winner Of Domain and Hosting: Tie
Squarespace: 1-1 : Weebly
Themes and Customization
| | | |
| --- | --- | --- |
| | Squarespace | Weebly |
| Themes | 100+ | 50+ |
| Free Themes | 100+ | 50+ |
| Mobile-Friendly | Yes | yes |
| Theme Customization level | Good | Basic |
| Prebuilt Sections | Yes | No |
Squarespace has gorgeous theme templates, it has 150+ themes for all types of websites, they have categorized themes as (online store, portfolio, blog, scheduling, etc) and subtypes as per the business requirements such as (arts&design, food, restaurants, home decor, etc).you can preview themes on desktop, mobile, tablet and start editing it.
Squarespace Themes
Squarespace is super flexible when it comes to editing themes, it has plenty of templates available that cover all kinds of websites, simply add a section and drag and drop it on the page editor, and you can further customize the design of the section, and change style, layouts, colors, and font of the section as well as the entire site at once. To add a custom design or elements you need to perform manual customization through custom CSS, HTML, etc.
Weebly has provided 50+ thems, and they have organized the themes as (online store, business, portfolio, personal, event, and blog). You can choose themes and preview them on the mobile, or desktop while customizing, all themes are mobile responsive.
Weebly Themes
Weebly has provided four options to change the basic design of the website, you can change the colors, fonts, and style of the website sections. it doesn't provide many options for customizing.
You can add custom CSS, HTML, and JS to add new features and designs to the website.
Winner Of Themes and Customization: Squarespace
Squarespace: 2-1 : Weebly
Pricing and Plans
| | | |
| --- | --- | --- |
| | Squarespace | Weebly |
| Trial period | 14 days | No |
| Starting price | $16/mo | $0/mo |
| eCommerce Price | $27/mo-$49/mo | $12/mo – $38/mo |
| enterprise price | Custom Pricing | No |
Squarespace Pricing
Squarespace has four basic plans
Personal:$23/m($16)
Business:$33/m($23)
Basic Commerce:$36/m($27)
Advanced Commerce:$65/m($49)
(Prices in the Bracket are applicable when you buy a year plan)
Weebly Pricing
Free:$0
Personal:$10($13/m)
Professional:$12($16/m)
Performance:$26($29/m)
(Prices in the bracket are applicable when you buy a monthly plan)
Weebly is free to use, you can build your store and get all the basic features to set up a website, but you will have to run the website on the Weebly subdomain extension, if you want to connect your custom domain then you need to upgrade to $10 plan.
Winner Of pricing and Plans: Weebly
Squarespace: 2-2 : Weebly
E-commerce Features
Squarespace and Weebly have dedicated plans for eCommerce. Both have similar prices and plans for e-commerce. Weebly is partnered with Squareup to facilitate eCommerce functionality.
Ecom Features
Squarespace
Weebly
Products
4.5
Squarespace lets you sell digital & physical products, you can offer services on Squarespace. products can be
added manually, or import in a CSV file.
4.5
Weebly too lets you sell digital and physical products, also services, and memberships, and import products in form of CSV files.
Inventory
4.5

Squarespace lets you add up to 100 variants on each product, and add tags to each product to organize and manage products. Squarespace lets you create notifications on stock alerts, low stock, and out-of-stock.
4.7
In Weebly, you can create multiple product options and add variations up to 120, and choose format options like radio, dropdown, and colors. Create categories do SEO, and specify the availability of it.
Weebly's item preference feature lets you specify item status like low stock, on sale, out of stock, etc
Payment gateways
4
Squarespace offers three payment options Square, PayPal, and Stripe.
4
Weebly too offers Square, PayPal, and Stripe as payment options.
Shipping Option
4.7
with Squarespace shipping service, you can display real-time carrier rates for FedEx, DHL, and UPS at customer checkouts in the US Region. to print shipping labels, you can choose a third-party extension like Easyship or ShipStation. offer free, flat rate,
weight-based shipping.

4.5
Weebly too offers similar shipping services, you can set up manual shipping rates, also display real-time carrier rates from third-party carrier rates.
Both of the marketplaces offer similar e-commerce features, hence
Winner Of Ecommerce Features: Tie
Squarespace: 3-3 : Weebly
Marketing Features
| | | |
| --- | --- | --- |
| | Squarespace | Weebly |
| Social Media | Social icons let your customers share your products, blogs, galleries, etc. you can push and pull content from websites and social media, use Unfold app to share posts, and stories on social sites, and Squarespace analytics lets you measure the sources of social traffic | With Weebly, you can share content, and email messages on social media. Schedule blog posts on Facebook, and Twitter. Weebly apps store has apps for social media like eclincher and Zotabox |
| Blogging | Squarespace has offered beautiful blogging templates with more features for blogging as they can be customized, you can add products, contacts, pricing, email newsletter, & more section to existing blogs. it has a built-in RSS Feed, comments, social sharing, multiple authors, and more features. | Weebly provided free ready-made blog templates that can be customized, and build blogs faster in less than five minutes with a drag and drop feature. it has a built-in RSS and social sharing feature. categorize blogs, assign authors, and blog archives. it has provided a powerful SEO setting for blogs |
| SEO | Squarespace's SEO setting provides the basic settings of updating titles, meta descriptions, and URL slugs of products, categories, and blogs. Squarespace provides automated sitemaps, robots.txt, 301 redirects, and AMP pages. | Weebly too offers similar SEO features as Squarespace. |
| Email marketing | Squarespace's inbuilt email marketing tool provides a free template that can be customized as per the brand requirement, Squarespace's email tool lets you run 3 campaigns, that can send up to 50000+ emails, If you like to perform more campaigns you can upgrade to a $7 marketing plan. | Weebly too has an inbuilt email marketing tool called"Weebly promote", it offers free email templates that can be customized, and with a drag-and-drop feature, you can build beautiful email campaigns. its analytics tool helps in email reporting, it's free but starts from $10/month |
| App Store | Squarespace extensions offer third-party integrations for marketing, fulfillment, etc it has 25+ extensions which are very few integrations. | Weebly app center has plenty of third-party apps for marketing,eCommerce, site tools, etc. they have over 400+ integrations |
Winner Of Marketing Features: Squarespace
Squarespace: 4-3 : Weebly
Support and Resources
| | | |
| --- | --- | --- |
| | Squarespace | Weebly |
| Email | ✔ | ✔ |
| Live chat | ✔ | ✔ |
| Phone | ❌ | ✔(depends on plan) |
Squarespace has a good support team, they offer live chat and email support, no phone support. they have a help center that has video tutorials on managing Squarespace, you can join webinars and active forums to seek advice and help from Squarespace users.
Squarespace support
Weebly has better support than Squarespace as they offer live chat and email support on all plans. phone support for pro and above plans, they also offer priority support if you are on a business or business plus plan, and they too have an active community to discuss and solve queries.
Weebly Support
Winner Of Support and Resources: Weebly
Squarespace: 4-4 : Weebly
Top Weebly websites
Top Squarespace websites
Top Stories
Pros and Cons: Squarespace vs Weebly
| | |
| --- | --- |
| Squarespace Pros | Squarespace Cons |
| 1. Lots of themes and templates, with endless customization | 1. Only 25+ apps |
| 2. Faster and secure server | 2. No free plan, 14 days free trial available, |
| | |
| --- | --- |
| Weebly Pros | Weebly Cons |
| 1. Free plan available | 1. Limited themes and templates |
| 2. Variety of apps to add additional features in the store | 2. Limitation in editing and customizing themes |
Conclusion: Squarespace vs Weebly
Use Squarespace over Weebly,
If you are looking for good design and customization options for your website then Squarespace is better than Weebly.
Use Weebly over Squarespace,
If you want to run and test a website and sell some products online, then Weebly is better as it provides a free forever plan with a subdomain for building a website
If you are looking to automate the marketing, and eCommerce functions of your store then Weebly is better than Squarespace.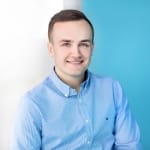 Michal Leszczynski is immersed in developing, implementing, and coordinating all manner of content marketing projects as the Head of Content Marketing and Partnerships at GetResponse. He has 9-plus years of expertise in online marketing with a Master of Science Degree in Strategic Marketing and Consulting from the University of Birmingham (UK).