Squarespace and Smugmug are the best platforms for building portfolio websites, Squarespace is one of the best as it can house any website, Whereas Smugmug is focused on creating photography websites.
Quick Summary
Below are a quick summary of Squarespace and SmugMug platforms.
Squarespace
Squarespace has 14 days free trial and pricing ranges from $16-$49.
Squarespace has 40+ well-designed portfolio themes
Squarespace has 25+ integrations
Squarespace has excellent eCommerce features.
Squarespace is flexible for all kinds of businesses.
Squarespace provides excellent support by email and live chat.
3% charge on business plan & 0% charge on Commerce plans.
Try Squarespace
SmugMug
Smugmug has 14 days free trial and pricing ranges from $10-$38.
SmugMug has 20+ well-designed themes
Smumug too has a handful of integration with portfolio apps.
Sell arts within the niche photography markets
Various features for Clients.
Quick response support through email
15% charge on sale profits
Try SmugMug
#7 Main Differences
---
1. Templates:
Squarespace offers over 50+ Free portfolio templates, Whereas Smugmug offers only 26 free themes, SmugMug's themes are built to support photography website building.
Winner: Squarespace
---
2. Portfolio Features:
Squarespace has separate a section for Artists, Photographers, and Wedding websites. You can showcase your work or portfolio beautifully as well as systematically. Even though the SmugMug website builder is specifically built for Photographers. It doesn't have a lot of page editor features to showcase your portfolio artistically.
Winner: Squarespace
---
3. Tools for Photographers & Artists:
Smugmug provides excellent tools for photographers with more photography themes, Image Protection, Client management, proofing, photo sharing services, Lightroom integrations, and more.
Winner: Smugmug
---
4. Pricing:
The Smugmug and Squarespace prices are similar but Smugmug is comparatively cheaper as its's monthly pricing ranges from $10-$38, Whereas Squarespace's first portfolio and business plans are ($16- $23) the other two plans are focused on building an eCommerce website.
Winner: Smugmug
---
5. Photo Blogging, Portfolio News & SEO:
As Squarespace is a good CMS platform, it offers better blogging with good SEO features, whereas Smugmug provides basic features for blogging and SEO.
Winner: Squarespace
---
6. Online Store
Squarespace has a fully-fledged online store with advanced eCommerce features. Users can sell unlimited products & services and take millions of orders a day. Smugmug has provided features to sell art & prints with shipping services But Smugmug takes a huge % of your profit. Squarespace doesn't take any profit from you. There are many Squarespace shipping & fulfillment extensions available. There are various print-on-demand, marketing, and bookkeeping extensions available that can be valuable for small businesses.
Winner: Squarespace
---
7. Site Speed
We analyzed the Top 10 Websites of both platforms for their server response and we found that most of the Smugmug website's average server response time is 300-350 milli-seconds, Whereas the Squarespace website's average speed response time is 190-230 milli-seconds. which means websites hosted on Squarespace load faster in comparison to Smugmug.
Winner: Squarespace
Portfolio Features
Features
Smugmug
Squarespace
Photography related domains for free
There are photography related domains, you can buy domains like .video, .photography price ranges from $30/year to $70/year on squarespace domains or get them free on purchasing any squarespace annual plan.
Photography Themes

26
15+
Client Proofing
Client gallery protection
Photography Store
Photo Blog
Water Mark

Yes, through Custom CSS. you need to also block downloading or saving option.
Disable Download
or Disable right click

adding codes will avail this feature
Privacy Control For Client Albums
Control Image Downloadable Sizes
Photo Storage
Unlimited Cloud storage for free
Squarespace provides unlimited storage, it has an image library that stores all your images and files.

High-Resolution Images
You can upload images upto 50MB and Smugmug doesn't compress them, it will be having original quality
Yes, you can add images of high resolution up to 120MP, but squarespace optimizes images for lesser size so it can loads faster.

Client Contracts
it doesn't have contracts that can be created and sent their system, However you can set up a Wufoo form to collect and give information you would like to share.
here you can create Client contract through Squarespace form

adobe Lightroom integrations
Image format
JPG,PNG,GIF
JPG,PNG,GIF
FAQ: Squarespace vs Smugmug
# In-Depth Review
Ease of Use
The Squarespace website builder is easy to use. Smugmug drag and drop feature makes it easy for building the webpage, and one of its main strengths lies in built-in features. Squarespace has made sure that the users can have a smooth experience with their website builder, In the 14-day trial period you can try out as many different themes before finalizing the best theme.
Smugmug's website builder is more into offering photography-oriented features, its builder is not easy while getting started, but it becomes easy as you start spending more time on it. SmugMug made sure that their users can create beautiful portfolios and also sell their art or prints easily in the niche marketplaces which are not available in Squarespace. In Smugmug'ss 14 days trial you can try out any one theme.
Themes and Design
| | | |
| --- | --- | --- |
| | Squarespace | Smugmug |
| Themes | 100+ | 25+ |
| Free Themes | 100+ | 25+ |
| Mobile-Friendly | Yes | Yes |
| Theme Customization level | Good | Good |
| Prebuilt Sections | Yes | No |
Squarespace has considered having gorgeous templates for all kinds of projects, it has over 100+ portfolio themes for photography, arts & design, events, weddings, etc. Squarespace's themes are easy to design and also customize, simply click on the + Icon, to add a section and you get lots of predesigned templates, drag and drop them into the webpage. further, you can customize it for different layouts, colors, styles, and more. these themes are mobile responsive and also can be edited separately for mobile for some sections, if you are good with codes you can add custom codes and alter the design.
Squarespace themes
Smugmug offered 26 portfolio themes, just click on them to customize them. SmugMug offered various design styles like adding textures, patterns, colors, background images, and abstracts, to themes. Smugmug has content blocks that can be added to the site by the drag-and-drop method, but it doesn't have enough pre-built templates as Squarespace does. all images will resize automatically when you upload them to the gallery, click on the block that you want to customize and it shows various options in a box-type editor. Smugmug offered special mobile settings and you can also add custom CSS to make some changes.
Smugmug themes
Smugmug theme styles
Pricing and Plans
| | | |
| --- | --- | --- |
| | Squarespace | Smugmug |
| Trial Period | 14 days | 14 days |
| Starting Pricing | $16/mo | $10/mo |
| Ecommerce Plans | $27/mo – $49/mo | $22/mo – $38/mo |
| Enterprise Pricing | custom pricing | No |
Squarespace has four plans
Personal:$23/m($16)
Business:$33/m($23)
Basic Commerce:$36/m($27)
Advanced Commerce:$65/m($49)
(Prices in the Bracket are applicable when you buy a year plan)
Squarespace Pricing

If you are looking to create a portfolio website then the personal plan ($14) is best, if you want a portfolio website plus eCommerce functionality then choose the second plan($23), for advanced eCommerce functions basic and advanced eCommerce plans are good.
As per the stats, Squarespace 180k+ users use personal and 300k+ users use the business plan, Squarespace eCommerce plans are used by 50k+ users
Smugmug too offers four plans
| | | |
| --- | --- | --- |
| Plan Type | Monthly billing | Annual billing |
| Power | $13 | $130 |
| Portfolio | $33 | $266 |
| Pro | $53 | $453 |
Smugmug Pricing
These plans differ in features which are been added below them, choose the plan as per your requirements, the basic plan starts from $9/month.
Ecommerce Features
Ecom Features
Squarespace
Smugmug
Products
4.5
In Squarespace, you sell physical and digital products, you can either add products manually or import them in a CSV file

4.3
Smugmug lets you sell physical, and digital prints and downloadable files on its platform

Payment gateways
4.4
Squarespace offers three payment options Square, PayPal, and Stripe all of these payment gateways accept debit/credit cards.
4
Smugmug lets you accept payment through Paypal(Visa, Amex, Discover )
Shipping Option
4.3
with Squarespace shipping service, you can display real-time carrier rates for FedEx, DHL, and UPS at customer checkouts in the US Region. to print shipping labels, you can choose a third-party extension like Easyship or ShipStation. offer free, flat rate,weight-based shipping
4.5
In Smugmug you can offer personal delivery or let SmugMug takes care of shipping for you, they deliver prints, and gifts internationally on your behalf of you which is charged extra, this feature is available on the pro plan.
Transaction Charges
4.5
Squarespace doesn't charge for commerce plans($36 & $65), They charge 3% transaction charge on business plan($33)

3.8
Smugmug Charges 15% on profit as transaction charges for every sale you make on their store.
How Does Smugmug Charge?
If you sell a 5*7 size print for 10$ then Smugmug marks it as $10.79 as it charges default price of $0.79,this default price is differnt for each item, and differs from one print lab to another, once you get a sale Smugmug keeps 1.5$ and rest of 8.5$ is yours. if you only sell stock images you still have to pay 15% of the markup price

Marketing Features
| | | |
| --- | --- | --- |
| | Squarespace | Smugmug |
| Social Media | In Squarespace insert social icons on the webpage, which lets customers share products, and galleries, on social platforms social icons. you can push and pull content from websites and social media, and use Unfold app to share posts, and stories on social sites, Squarespace analytics lets you measure the sources of social traffic | Social media is one of the key Channels to promote your art, enabling social sharing from setting and sharing your images, folders, a gallery on Facebook, Twitter, and more. connect google analytics to your site to track your social traffic |
| Blogging | In Squarespace, they have offered beautiful blogging templates with more features for blogging as they can be customized, and you can add products, contacts, pricing, email newsletter, & more section to existing blogs. it has a built-in RSS Feed, comments, social sharing, multiple authors, and more features. | In SmugMug blogging is not straightforward, but SmugMug has made it simple to build a photoblog in five steps, here you can enable sharing, commenting, do SEO of it. |
| SEO | Squarespace's SEO settings have advanced options such as updating titles, meta descriptions, and URL slugs of products, categories, and blogs. Squarespace provides automated sitemaps, robots.txt, 301 redirects & AMP pages. | Smugmug offers a minimal setting for doing the on-page SEO, you can do SEO for galleries, images, folders, blogs, etc. your title will be added as alt text in the image, you can't alter it manually. it provides sitemaps, and robots.txt but not AMP pages |
| Email marketing | Squarespace's inbuilt email marketing tool provides a free template that can be customized as per the brand requirement, Squarespace's email tool lets you run 3 campaigns, that can send up to 50000+ emails, If you like to perform more campaigns you can upgrade to a $7 plan. | In Smugmug through an email newsletter, you can collect customers' email addresses, there is no inbuilt email marketing tool but you can use third-party tools like Mailchimp, privy to manage and run email campaigns. |
| App Store | Squarespace extensions offer third-party integrations for marketing, fulfillment, etc it has 25+ extensions | Smugmug doesn't have an app store but it has integration with adobe lightroom, Dropbox, Flickr, etc. you can import and sync your existing work on Smugmug |
Domain & Hosting
| | | |
| --- | --- | --- |
| | Squarespace | Smugmug |
| Domain | With Squarespace you can register domains with up to 300 extensions, users can own them renew also transfer them to a different register. you can connect custom domains from different registers by following a set of instructions. | Smugmug has partnered with a domain registrar to provide easy domain integration, after buying from the register just enter the domain and save it in the account setting it will be connected, if you have purchased from GoDaddy, connect with the "GoDaddy connector". users can connect third-party custom domains from a different register by following a set of DNS instructions. |
| Hosting | Squarespace has a powerful and secure hosting server, they house all your web pages, and provide backups. When Squarespace's server speed is compared with other website builders, it has shown better server response with fast loading speed. | Smugmug offers truly good image hostings and a Secure server with encryption that also provides automatic backups for stored contents |
| SSL & Security | Squarespace has provided SSL, and HTTPS encryption on their sites, system& user protection, Data protection, and more. | Smugmug has provided a layer of SSL/HTTPS security to all custom domains, it offers personalized privacy control, password protection, and custom right-click protection so nobody can save your photos. |
| Storage and Bandwidth | Squarespace claims to provide Unlimited storage and unmetered bandwidth on all of its plans. | SmugMug provides unlimited image and video storage, also zero image compression so you don't lose quality. it offers a bandwidth of 16 to 25 GB in an upgraded plan |
| Uptime and Speed Server | Squarespace has powerful uptime of up to 99.98% and an average server response time of 190-220 ms | Smugmug has a good uptime speed and a server average response time of 300-350ms |
We analyzed the Top 10 Websites of both platforms to check their server response and we found that most of the Squarespace website's avg server response time is 190-220 ms, Whereas the Weebly website's avg speed response time is 300-350ms. That means websites hosted on Squarespace load slightly faster in comparison to Smugmug.
Support and Resources
| | | |
| --- | --- | --- |
| | Squarespace | Smugmug |
| Email | ✔ | ✔ |
| Live chat | ✔ | ❌ |
| Phone | ❌ | ❌ |
Squarespace offers support through a live chat system and emails. In their help center, they have provided tutorials in form of videos and articles, they conduct webinars, they have an active community that involves fellow Squarespace users and support members to help users.
Squarespace support
Smugmug's help center is considered to be the fastest, and it's true, their conversation takes place via Email. once you submit the query to the help center they will quickly reply to your mail. they have active communities of photographers who have answered most of the questions, which is really helpful for beginners to get started.
Squarespace Portfolio sites Examples
Smugmug Sites Examples
Pros and Cons: Squarespace vs Smugmug
| | |
| --- | --- |
| Squarespace Pros | Squarespace Cons |
| 1. More themes and extensions | 1. Bit expensive plans |
| 2. Excellent Ecommerce and Marketing Features | 2. Themes don't have the option of multiple styles at the same time |
| 3. Prebuilt templates and designs, and awesome page editor web features. | 3. Doesn't offer many inbuilt features for photography websites. |
| | |
| --- | --- |
| Smugmug Pros | Smugmug Cons |
| 1. Inbuilt photography editing features | 1. Basic marketing features |
| 2. Themes editor comes in various styles and colors. | 2. Few integrations and payment options |
| 3. Let's sell in the photography marketplaces and ship your prints. | 3. 15% transactional charges on sale profits. |
Conclusion: Squarespace vs Smugmug
Use Squarespace over Smugmug,
If you want to sell and extend your art working as a service then Squarespace is better than Smugmug as it has features to offer services.
If you want to build personal branding or merchandise of your art, Squarespace has better ecommerce and customizing features so it is better than Smugmug
Use Smugmug over Squarespace,
If you are just looking for portraying your best work and sharing with clients or teams then Smugmug is better than Squarespace
if you want to sell your art in the photography marketplaces and make money from them, then SmugMug is better as it has integration with marketplaces.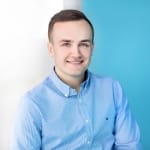 Michal Leszczynski is immersed in developing, implementing, and coordinating all manner of content marketing projects as the Head of Content Marketing and Partnerships at GetResponse. He has 9-plus years of expertise in online marketing with a Master of Science Degree in Strategic Marketing and Consulting from the University of Birmingham (UK).