Creating a YouTube-like website is very easy. You don't need any technical skills to build a video website. Today's advanced applications make it easier than you think. After reading this guide, you can make almost any type of video website just like in the screenshot below.
Or you can customize any type you want like the demos below.
At the end of the day, it doesn't matter how you created the website, but how many users you attract. The important things that lead to your success are user experience, video content and marketing. How you market your website depends on you. I am not good at marketing and don't have a feel for video management, so I haven't marketed my website even though I created a YouTube-like website. If you are good at marketing, then you may not beat YouTube, but at least you might become a millionaire if not a billionaire just like me. (Read my story – How I Created a Social Network Website & Made A Profit In 26 Days.)
After reading this guide, you will be able to create almost all YouTube-like features on your website such as a video channel, video playlists, video series, celebrity videos, multi-link videos, a floating video player, a video filter, hover multi thumbnails or add screenshots, front end video submit, watch later, live video, mobile-friendly,  premium membership subscription fees,  video ads to generate income for you.
In addition, you get Social Locker, ratings, video badges, various video players, and tons of extra bonus features.
I tried several methods & found the 2 best ways to make a YouTube-like website.
Advanced Method
Quick & Straight Method
Advanced method steps to create a YouTube-like website
Get Bluehost WordPress Hosting
Get a domain name
Set up WordPress
Install Video Pro Theme
Launch your own YouTube-like website
Get visitors & generate income
Go to Bluehost.  You will see this page. Go to WordPress hosting. (In WordPress hosting, WordPress is installed, so you don't have to install it again. That is the only difference between WordPress hosting and shared hosting).
Next, you will see WordPress hosting plans (Bluehost is very flexible, you can host not just WordPress only, but anything even you buy WordPress hosting)
Select the basic plan. Don't choose the costly plan – you can upgrade at any time without losing your credit. However, if you have a good budget, then the Choice Plus plan is best for you.
Once you select the plan, you will see a tab to create your domain name.
2. Get a Domain Name
If you want to focus only on photography videos then the name could be something like photographerstube.com or anything you want.
I typed dogtube and want to buy dogtube.com. I don't know why, but DogTube looks great to me!
Sometimes, the domain name that you typed may already be registered by someone. In that case, you need to try a different one.  Unfortunately, dogtube.com was not available.
You can also create your domain name after creating the website. I thought I would create my domain name later, but suddenly got an idea duckducktube.com.
Yes, duckducktube.com was available. Now you need to pay both for domain and hosting in a single bill here. Bluehost is a highly reputable company. We have used Bluehost for the past eight years. You can trust it and give your all details including debit/credit cards.
Fill in all the details. Uncheck all extras. You don't need domain privacy protection, sitelock etc. I own 100+ domain (because I give web support) with 10+ years of experience. I have never bought domain privacy, sitelock, codeguard or any extras. The Bluehost server itself protects you. Malware is also spread all over the Bluehost server, so its protected. Plain domain & hosting is enough even if you run eCommerce!
You can always add it later, so don't worry about it. Now just buy and understand the Bluehost dashboard.
Once you have clicked the submit button, it may take a few moments. Once the transaction is complete, you will see this purchase success. All the details will be emailed to you.
Click "Create Account". Now a tab shows your chosen domain. Choose a strong password with 8 or more characters that includes at least one lowercase and one uppercase letter, a number and a special character.
Once you click "Create Account"  you see the login page. Just enter your domain name and password that you set just now while you creating your account.
Next, the "Let's create a website" tab appears. Just enter your domain name and tagline. Click continue.
Next, you see "Tell us a bit about you" tab. Just check the things you want. It doesn't matter what you check.
Continue. then you see templates. Just go to the end of the page and click Skip.
Now you see your hosting dashboard.
3. Set-up WordPress
You just bought Bluehost WordPress hosting, so you don't need to set up WordPress! Bluehost made it easy for you. They automatically set up your WordPress with your domain. So just click on WordPress to access your website dashboard from your Bluehost hosting dashboard.
You see "WordPress" button at the top right corner of your dashboard. Click it.
Don't change anything.
Visit your site. You will see the Hello World Post with a simple basic unattractive page.
Don't worry about it. Go ahead to the next step.
Here are the main features of video pro.
Installing video pro theme is very easy.
Go to Video Pro Theme
Click buy now.
When you click the "Buy Now" button, you will be asked to create an account. Just fill in the details such as your name and email. Create an account, then pay. Go to your account menu and click downloads. There you will find the Video Pro theme downloadable file.
Come back to your website WordPress dashboard.
See left side vertical menu bar – click Appearance menu – Add new
Click upload theme.
Click "Choose File" to select the file that you just downloaded the video pro WordPress installation file only. Click install & wait until it uploads completely. Don't click back or other pages while uploading.
Once the theme has uploaded & is installed completely, you will see this page below. Click "Activate".
Once the Video Pro theme is activated, you then have to customize and make it look like YouTube or any type you want. To do this, you need to watch the video below.
and also watch these series of 2-minute videos. There you will learn important things.
After you have followed the above video tutorial, you can
Get Visitors & Generate Revenue
You have lots of monetization options.
You can allow advertisers to place ads on your website.
You can set membership fees or subscriptions for premium content using the video pro membership feature or any WordPress membership plugin you like.
Placing Google Adsense or Media ads using Video pro ad management features.  You can also install any WordPress plugins to do this.
You can sell digital goods like games, ebooks, or download video or anything by installing free Woocommerce WordPress plugin on your YouTube-like website.
You can also sell any physical goods like clothes, books, etc using free Woocommerce.
Once you set up, share it, get visitors and earn income.
WordPress is the world no. 1 web design platform. You created your YouTube-like website using WordPress take advantage of the many plugins for different features offered by WordPress. You can install popup plugins, 3D or any amazing plugin you like. YouTube was created by a small team. But WordPress is open source & its developers are millions around the world. Every day, they release new plugins (ready-made web functions), themes (ready-made website structure), so you can actually create a superior video website with better features than YouTube.
All the best for your new Video Website.
Visit Bluehost & Create Your Own Video Website
Like YouTube Today..!
Method 2: Quick & Straight Steps to create a YouTube-like website
Get a Bluehost  Hosting & Domain name
Buy PlayTube
Upload Playtube script on your cPanel & install
Customize the website design as your wish
Launch your own YouTube-like website
Get visitors & generate income
There is no difference between shared hosting & WordPress hosting. The only difference is the WordPress will be already installed in the WordPress hosting, but not in shared hosting.
1 . See step 1  & 2 that I explained step by step at the beginning of this post in the first method.
2. Go to PlayTube, and buy it.
Go to your account -> Downloads -> download the file.
3. Upload Playtube script on your cPanel & install
Next,  go to "Advanced" –  file manager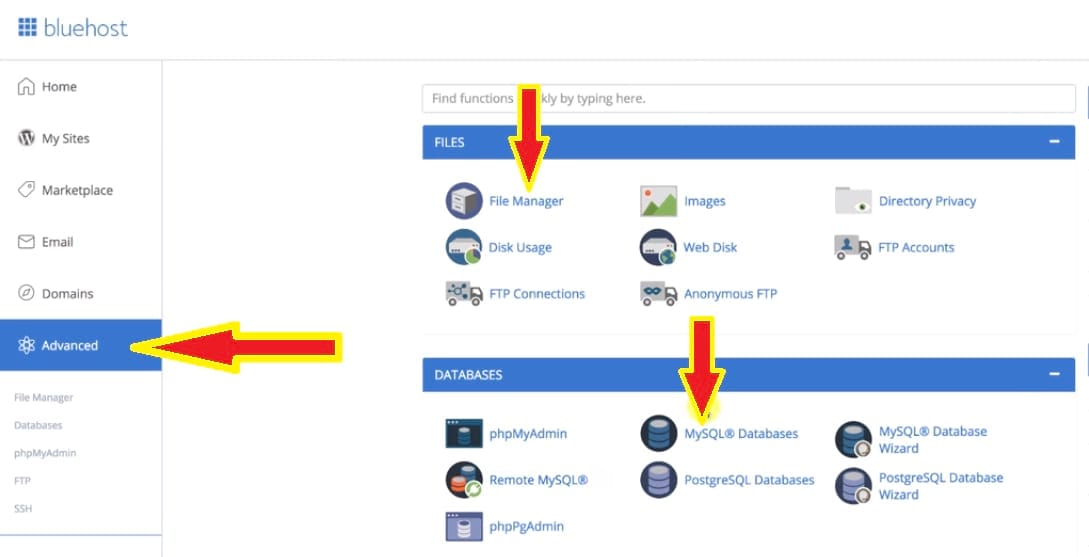 Go to public html – click your domain folder (duckducktube.com) – then upload Playtube Zip script file – right click Extract it.
Go to the database and create a database user name and password. Connect to your domain.
Visit your domain – you get a lot of information and at the end you get an option to Install PlayTube.
4. Customize the website design as your wish
Next select theme option. Don't choose the default. Select PlayTube.
5. Launch your own video website
Here is your own YouTube-like website
Here is another screenshot
You don't have to do anything once it is installed, unlike the first method. This is a ready-made video website. However, you can customize using simple settings. If you are a programmer, then you can do anything. There is no restriction. You get all the source code.
Visit Bluehost & Create Your Own Video Website
Like YouTube Today..!
6. Get visitors & generate income
I explained in the first method. Scroll up.
See Related Post
Jack is the Co-founder of WebsitebuilderLy, a Software Engineer from Standford University, An entrepreneur with 12 years of Website Creation, Management, Marketing Automation & App Development Experience. Worked for the world's leading companies such as Roblox, HTC, etc.