Do you want to make an awesome website that makes people Aww..!? Here I am going to tell how you can make an amazing website without knowing anything in 10 minutes..!! It is not ready-made designs, but you can do exactly as your dreams and imaginations.
Here is the ultimate solution for you. Surprisingly it is also easy, cheap & infinite possibilities..!!
But, first, checkout some of my amazing web designs below.
See Amazing Website Design Live Example
See Amazing Website
Design Trends
(After reading this guide, you can create the above examples)
I don't want to give more introduction here. Let's straight dive in.
First thing is, you need to make a WordPress Website (Not wordpress.com)
(Never ever go for WordPRess.com. Because WordPress.com included 50+ plugins and 100+ themes, But Self Hosted WordPress (SiteGround WordPress) included 70,000+ plugins and 60,000+ themes. Don't confuse, just click this link -> SiteGround WordPress, It will directly take you the right hosting)
If you don't know how to create a self-hosted WordPress site, then here is the ultimate easiest guide that you must read right now.
How To Make A Website? 3 Different Ways
With Step By Step For Beginners.
Choose The One You Liked
 How To Make A Website? 3 Different Ways Showed With Step By Step For Beginners. Choose The One You Liked
It takes just 10 minutes to make a standard website even you don't anything (If you follow my above guide). After you created the standard website, come back again here & just follow the below steps.
Step – 1: Get This Amazing Plugin
Once you created a self-hosted WordPress website (SiteGround WordPress) , next the possibilities are infinite.
Go to Slider Revolution
Buy it.
Once you bought, go to downloads & you will see like this. Click green download button. You will see 4 different option. Download installable WordPress file only. A zip file will download. Don't unzip it.
Next, go to WordPress dashboard- plugins -add new – upload – choose a file, then select Slider revolution plugin that you just downloaded (don't unzip). Next click install now.
It takes some time to upload & install. Once it is done, click Activate.
Once it is activated, you will see "Slider Revolution" menu on the left side. Click it.
Then register using your license. To get the license, go to slider revolution download page that you just downloaded, that is your codecanyon.net account – downloads. Click download, then you will see the license. Download it.
View downloaded license file. copy "Item Purchase Code".
Paste it on the purchase code field.
Once activated, you can install all its premium addons. Go to Slider revolution menu -addon – install & activate all addons. So that you can enjoy all benefits. Later you can uninstall it.
Step -2: Install These Awwful Templates
Next, go to Slider revolution – click Add slider from templates.
You will see 100's of ready-made amazing slider revolution templates. You can install any one for completely free. Before installing it, you can preview it. Just hover over the template, you will see options to preview or install.
For example, I liked product showcase. So I installed it in one click.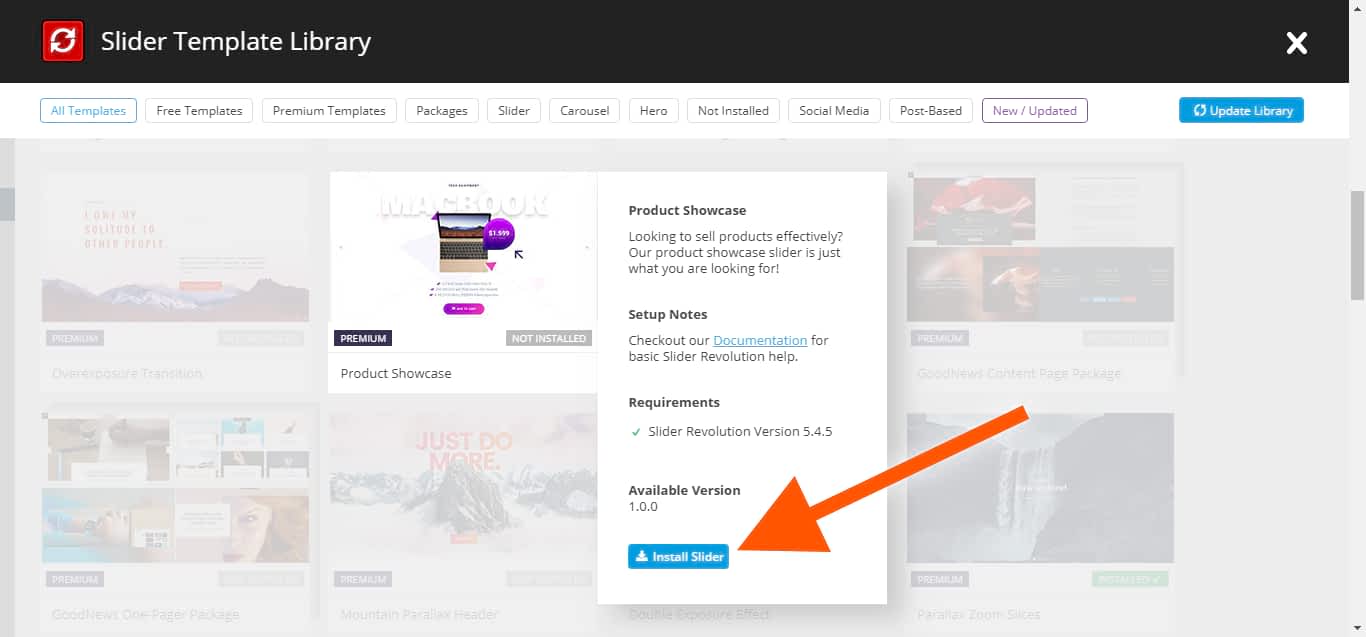 Click install Slider. Then it will ask Local or Online. You need to click online.
It takes some time to install. wait until the process completes.
Step -3: Edit The Awesome Templates Or Create Your Own.!
Now you will see a new template on your dashboard. Click on it to edit the template.
Here is another amazing template example. I used this template for this website's contact page.
Click to install slider.
Then edit the slider or just replace your company.
You can add text, image, audio, video, button, shapes, objects or anything you can import..! You can drag & drop the elements even you can overlap one another..! This is 100% free drag & drop website Slider Builder.
Here is another example.
Animation & a lot of web functions available.
You can set the slider & layers timing here.
See how to Official Slider Revolution video Tutorial – https://www.themepunch.com/faq/slider-revolution-beginner-video-guides-tutorials/
Step -4: Adding Another Boom
There is another amazing plugin called Layer Slider
Go to Layer Slider
Buy it & download, upload to your website plugin & activate just like Slider revolution that I explained above.
After the activation, you are eligible to get the amazing ready-made sliders from their template pack.
Click Template store
You can preview or import any premium slider for free.
You can also get amazing stunning web designs, graphics, functions, audios, videos on here
See Amazing Website Design Live Example
See Amazing Website
Design Trends
Jack is the Co-founder of WebsitebuilderLy, a Software Engineer from Standford University, An entrepreneur with 12 years of Website Creation, Management, Marketing Automation & App Development Experience. Worked for the world's leading companies such as Roblox, HTC, etc.