Is the GoDaddy website builder fit your needs & dreams? This review will help you to make the right decision. Find here whether GoDaddy meets your requirements & imaginations.
Here Our team made general, as well as technical reviews, step by step with easy language. If you are a ROBOT, then this post may be boring for you. Because We prepared this GoDaddy website builder review post for Humans Only. (Just kidding. We mean- We explained with easy terms. You no need to be a web designer to understand this post)

Note:- Don't select a website builder by just checking its rating. Read this post completely. Because every site builder is created with a certain specialty. To know this read the full post. So that you will understand whether the GoDaddy website builder fits you. It may take just 10 minutes. If you don't, you will lose important things that may cause you 1000 hours of time waste.
Related post -> See Best Website Builder Reviews With Head To Head Comparision Chart
Spoiler Alert: If you are more concerned about Page design freedom, then Squarespace is better. For more details see Godaddy site builder vs Squarespace – Which Is Better For Your Needs?
1.
GoDaddy – Is It Really a Good Company?
We always give first importance to trustworthiness. Because you know, there are so many scam companies floating on the internet. But how to know this? You can't believe users' reviews because scam companies can make artificial user reviews. That's why I extracted real data and statistics. Let's see them one by one thing.
How Many People Are Using GoDaddy?
Why do you need to know how many people are using GoDaddy?
You should know how many people are using GoDaddy because of the following advantage.
More users mean more trustworthiness. So you no need to further inquiry about their reputation. (But remember, that should fit your needs and imaginations. Because sometimes your needs may unique, in that case, you should choose the most favorable with your checklists. To know, continue to read. )
If an online service has a good user base, then I can say that the service should have minimum errors. Because they already fixed most of the common problems using their user's crash reports and complaints.
More users mean you will get more resources or tutorials from the web. So you can solve your problems easily.
The customer care team includes experts. You will get a quick and the best answer for your query.
Let's check the current GoDaddy unique visitors and GoDaddy website builder, unique visitors.
Total Goddady visitors – 58 Million But Godaddy Website Builder Visitors – Nearly 2 Million
(GREEN color indicates Good & RED color indicates Warning)
Note: Goddady is famous for domain names & reselling different web products & not for the website builder
1. GoDaddy unique user searches more than 58 Million per month. This number is huge enough for a popular company.
That's why I indicated that number with GREEN Color.
2. But GoDaddy Website Builder (Not Godaddy) unique searches is only 1.8 million. If you compare with other website builders like Wix (64 Million), Godaddy look like a baby. The online era is worldwide and Just a few thousands of searches can get anybody. This is a very low user indication. That's why I indicated that number with RED color
Note:- Don't Take Your Decision Now. Read This Review Completely. It Takes Just 10 Minutes To Read. Don't Hurry Up.
GoDaddy User Growth – Are Its Customers Leaving Or Continuing With Satisfaction?
At present Does, GoDaddy user-base increasing or decreasing? You should know this data also. if a company especially online service companies should have an increased user-base trend. I am not saying declining users is not a good sign, but I am damn sure, If users are leaving a company, then there must be a company which is more superior than the current company.
Godaddy website builder interest on the internet.
Above graph shows GoDaddy website builder searches slightly increasing over time. But NOW GoDaddy interest slightly decreasing.
However, GoDaddy already has a huge customer base. It is really difficult to maintain the same interest with large user-base. But you should consider this as there may be a superior company eating GoDaddy customers.
Visit Best Website Builder Reviews To know which is the top site builder.

GoDaddy Site Builder Customer Satisfaction Last Punch
Pros
Godaddy is a big company.
GoDaddy website builder may not popular, but GoDaddy domains are the world no.1.
GoDaddy has 100s of different services like hosting, domain, office suit reseller, marketing tools etc. A few services are highly reputed.
Every month more than 50 lac people searching for GoDaddy. It may not its website builder, but the other services.
Cons
 At present, GoDaddy's interest is decreasing.
GoDaddy website builder is not using many people. So you may get many errors.
Webmasters are not recommending Godaddy.
GoDaddy is famous for bankruptcy. To balance this, they will get money from their users using business gimmicks.(E.g. varying beginners plans without knowing them or introducing unnecessary things to users)
Its overall reputation is not good.
2.
GoDaddy User Experience – Will Its Website Builder Easy For You? Or Give You Many Problems?
GoDaddy website builder is completely a drag and drop platform. But how is user experience? What about its other settings.? Let's check it.
How Easy Is GoDaddy?
Ease of use is also one of the most important factors that you should consider before buying any services. Most of the website builder are developed with inexperienced people. So you may get very difficult while managing or creating your website. Let's see what about GoDaddy.
Can You able To Setup Yourself Without Any Skill?
Yes. Absolutely you can do everything yourself.
What Will Happen After You Purchased GoDaddy Website builder Plan?
Godaddy is using its own management system. I purchased GoDaddy website builder plans. Here I posted what happened. So that you can get the real sense & the answer to your doubts like how easy is GoDaddy?, Can I able to run your website? etc.
Once you purchased any plan (Personal, Business, Business Plus) You will receive all information to your email. Once you login your account you will see "My Account & product page"
You will see "WEBSITE BUILDER/ INSTANT PAGE" Link. Click on. Next, you will see Green color Launch Button. Click launch to access your website builder.
Once you clicked on Launch, a box will popup. There you will get a chance you own a premium domain name for free..! Choose your website address here. You can also connect domain from third parties if you already purchased from other companies.
If your entered name is not owned someone else, you can click on ok button. It will redirect theme page. You can get 100s of free themes. Themes are categorized. So it is easy to select the perfect theme for you.
After selecting your template, you will see a few fields like your business, email etc. Fill it. Then continue.
That's all. Your website builder will load on your screen. You can edit, delete, publish anything you want.
How Is GoDaddy Control Panel & DashBoard?
GoDaddy is using its own control panel. It is very easy to use. In my account section, You will able to get the following navigation.
Profile
Renewals & Billing
Payment Methods
Order History
Login & Pin
Delegate Access
Domain Defaults
Contact Preferences
GoDaddy Account Setting
You can manage any products from a single page. If you want to manage or edit your website, click On Website Builder, You will see "Options" & "Manage"
You need to click manage to access your website builder to create or edit your website.
Once you clicked on manage, you will see this page. You need to click edit site to make a website.
Once you clicked on edit site you will get GoDaddy Website Builder Editing Platform. See below screenshot. This is the front view of your editing page.
Another view of the editor
Overall GoDaddy is easier than you think. You no need to have any previous experience to make, run and manage your website.
Website Speed – Will GoDaddy Customer's Site & Web Pages Load Faster Than Other Sites?
I selected one of my website which is created by GoDaddy website builder. I tested from San Fransisco, California. Below you can see the result.
Only 74% faster than other websites. Our team considered this as a very poor performance. Because Our Top website builders customer's sites load faster than 90% of all the tested websites with the same page size (1.1 MB).
However, the Overall user experience is good.

GoDaddy Site Builder User Experience Last Punch
Pros: 
Easy Drag and Drop functions
No technical knowledge is needed to build a website with Godaddy
Cons:
The dashboard is easy, but lack many features.
GoDaddy is using their own control panel. It is not the standard one and sometimes you may get difficult to manage your website.
3.
GoDaddy Templates &  Designs – Is Really Its themes Are Good?
GoDaddy Templates and designs are amazing. So many themes are designed beautifully with a professional look. But just looking these things may fool you. You should know all aspects around its themes.
How Much Good Its Templates & Designs?
Theme Customization & flexibility
Theme Mobile View
Theme Responsiveness
GoDaddy Templates & Designs – Are They Good Enough?
You can't see GoDaddy website builder themes without purchasing its plan. Even you can't get any samples before you pay. That's why here I posted a few GoDaddy themes or templates. (However, you can start for free.)
But Just checking it beautiful templates is not enough for you to decide to purchase. You should check its flexibility, Responsiveness and different browsers views etc.
GoDaddy Theme Flexibility And Customizations – Will You Get Full Freedom?
For the Personal plan, you will get 30 themes for free. For business & business plus plans, you will get over 300 free themes.
You can change any theme at any time. But remember, you will lose your previous work if you change your theme. That means you need to upload and write everything from the beginning. When selecting a theme, you will get so many options to sort the themes. If you wanted to market particularly a country, then you will get already build professional beautiful themes related to which country you selected. You can select multiple countries at once.  For example, see below screenshot.
You will get lots of categories to sort the themes. So easily you will get the right template for you. All themes are ready made and you need to edit the field. So you can build your own website within an hour.
You can view any theme mobile view and desktop view on a single page.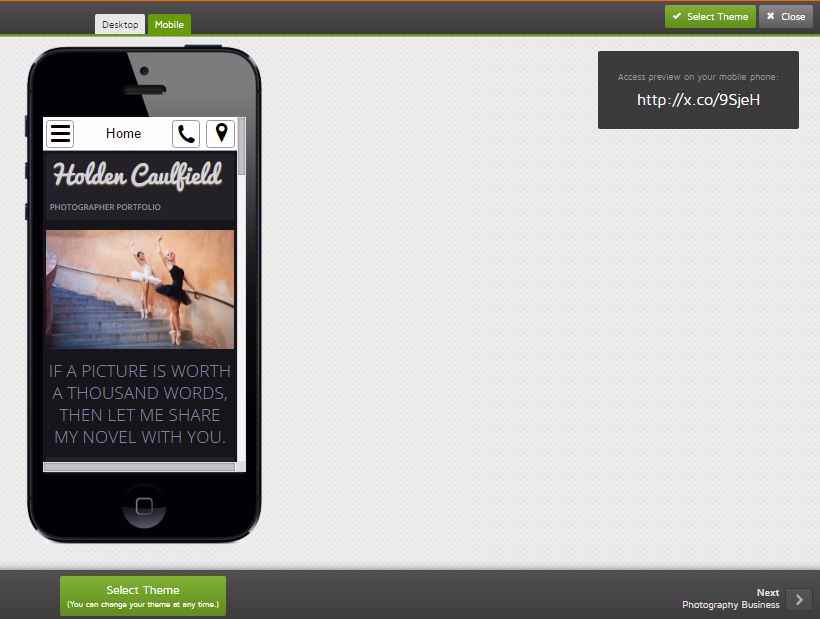 But mobile web address is not working properly. That's why we tested published websites in the next section. continue to read.
While editing your website, you will get a lot of option. From the editor page, you can go through all main functions. See below screenshot.
GoDaddy themes are flexible. You can try GoDaddy.
GoDaddy Themes Mobile Design – Will All Its Templates Looks Good In Desktop As Well As In Phone View?
Responsive means a web page can fit perfectly in any size of screens such as desktop, tablets, mobiles, notepad etc. In any devices, you can view without any problems. A responsive website doesn't need a mobile website. So If a template or design is responsive, you no need to worry about your website for different screen sizes. I selected a random theme from GoDaddy Theme Page. See below
I selected a random theme from GoDaddy Theme Page to know its responsiveness. See below it's Desktop view.
GoDaddy allows you to test its themes responsiveness.  I checked the same website on a mobile display to know how it will look. This is how I saw on mobile screen.
All text, blocks and Photos are also fit perfectly in mobile screen automatically. So we can conclude GoDaddy themes are mobile friendly.
But we found a few errors. The menu is toggled. So all menu links are not visible. Social sharing button located vertically instead of horizontal placement. This will make content push down from the top. This is not good for user experience.
Will GoDaddy Websites Fit For All Browsers With Different Devices?
Checking your websites all pages on all popular devices like Apple products, Samsung products,  HTC, Lumia and all desktop with all popular browsers like Chrome, Firefox, Opera is headache process. You no need to waste your time. we already tested all possibilities.
(Disclaimer: We only tested the following 17 devices –
iPad Mini 2
iPad Air
iPhone 6
iPhone 6 plus
iPhone 5s
iPad 4th
iPad mini
GalaxyS5
Galaxy S4
Galaxy Tab4
Galaxy Note 3
Kindle Fire 2
Razr
Nexus 9 & 7
HTC M8
Xperia Tipo
Windows & Mac Desktop   (Usually we expect all laptops & desktops with all companies results are the same)
with these 5 browsers
Chrome
Firefox
Internet Explorer
Safari
Opera.
This means we covered 96% users. If you found errors other than our list, we are not responsible)
GoDaddy themes are not fully responsive. Here are some results you can see.
GoDaddy did not pass all our tests. In some cases, GoDaddy themes are not viewable in HTC mobile.
GoDaddy themes are viewable all our tested devices other than HTC. By Technically GoDaddy Themes are not developed with fully responsive codes. However,  modern devices and browsers make fit and viewable. So, most of the cases, it looks like a responsive page.

GoDaddy Site Builder Template & Design Last Punch
Pros:
Professionally designed ready-made themes.
Local culture, tradition and trend based ready-made templates available for 43 different countries.
Cons:
You can't change themes easily.
If you change the theme, you will lose all your previously uploaded contents including posts, images, and everything.
Templates are not well coded on back-end side. It may cause unexpected errors
Theme responsiveness is not good enough. So Sometimes, In mobile screen, Your website may not viewable completely.
4.
GoDaddy Website Builder Features & Functions – Can You Really Able To Make Anything You Want?
Features and functions are very important. You should check before you purchase any website builder. Because web design magic will happen from features and functions only. If you are the real
Is It Included all Essential Features?
GoDaddy editor included following 18 features.
New Page
Text
Image
slideshow
Photo Gallery
Navigation
Share
Facebook
Twitter
Google Map
Form
Blog/RSS
Audio Player
YouTube
Button
Shape
Line
HTML Code
You need to create websites using only above 18 features.  If you want to make a simple website, GoDaddy website builder is for you.
In GoDaddy official website or any of its related blogs, you will not get enough details.
GoDaddy Website Builder Apps – Is It Really Make You Superman/Woman?
Every website builder shines in-app features. But what about GoDaddy. Are its apps are really useful for you? Or Is GoDaddy just putting some third party app to show their customers and make them fool?
Email Marketing
It will help you to collect your website visitors email by sign up process. It is ready made sign up form. You can drag and drop anywhere in your web pages. But I personally tell you, Godaddy email marketing form is the worst application I have ever found. You can't make any changes in that form. Just you need to put your web pages. I bet you, you will hate that form if you want to try.
Sell Products And Services
You can sell your products or services using this app. But using this app, you can't make an online store. This app is for sell something on your website. I explained about ECommerce feature the next section GoDaddy Online Store Review. You can find a complete detail of how it works in that section . To know Continue to read.
How to use this app?
For example, you are running a blog and you want to sell your books, ebooks or something like that or If you are running business services and you need a quick payment function, then only use this app. If you want to start an online store, then you need to buy Godaddy online store plan and not website builder plan.
How will it work?
It is very simple app. See its screenshot
Once you selected the payment method, you will see this box. You can set your prices, currency etc.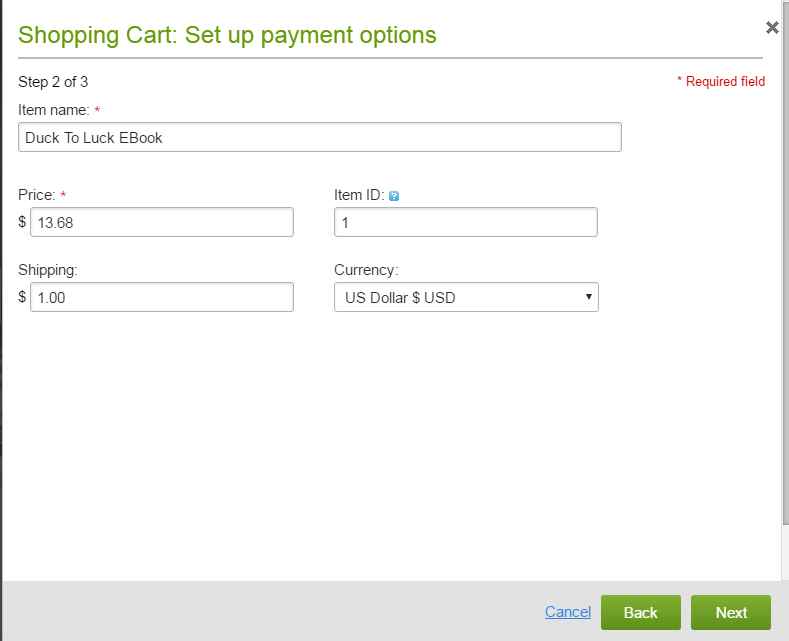 After that, you need to give your PayPal email. The only PayPal option is there. You can't get money without a paypal account. this is one of the drawbacks.
This is a screenshot of user payment process.
Online Rating And Reviews
To enable this app, You need to create an account in biz.yelp.com.  The only basic feature you can get free. If you want more, then you need to pay again for that app. It is a third party app. So if you want to manage, you can't make any changes from your website builder. We got a very poor result for this app. Overall app features are not good.

GoDaddy Site Builder Features Last Punch
Pros:
All features are easy to use.
Cons:
No flexibility.
Very poor color combinations for email forms and other important features And There is No Option To Change Colors. (In any web pages colors plays a very important role in users interactions. So this is one of the biggest drawbacks.)
Only 16 features are available as I mentioned above.
Only PayPal option is there. If you want more payment methods, you need to go to Godaddy Online Store. But that is too costly and you will not get website builder. This is completely confusing plans.
5.
GoDaddy Online Store Review | Will Its eCommerce Fit for You?
GoDaddy introduced separate plans for online stores. In GoDaddy website builder you can sell using PayPal. I already explained how to sell you items. But you can't start an online store using its site builder. If you want complete features of eCommerce, you should buy its online store plan. In this post, we only reviewed about GoDaddy Website Builder. If you want to know everything about GoDaddy Online store, You should read this post – GoDaddy Online Store Review | Will Its eCommerce Fit For You?
6.
GoDaddy Site Builder Web Hosting Review
Website Hosting means uploading your website to a server. Server means a data storage device. Every website builder will host your website automatically as soon as you changed or published your site.
Domains 
GoDaddy claimed itself as world's largest domain name provider. You will get cheap domain names. But remember, next year of your purchase, you need to pay higher prices than other domain providing companies. If you want to transfer your domain to another company, GoDaddy makes you hard to leave you. You will get one free domain name with any hosting plan.
 Back-Ups
You should need back-ups of your website. If you make any mistakes, you can restore your website to your previous back up. It is just like the time machine. Restoring your website means, time traveling of your website. So it will remove all your mistakes automatically and appear exactly how is your website when your last backup process.
In GoDaddy, You can easily restore your website.
Emails
GoDaddy webmail is very popular. You can use Professional emails and also you can use GoDaddy Microsoft office for your business.
A separate login site is there. You can access your email securely. In our analysis, GoDaddy web mail is secure enough for you.
Security
We tested entire GoDaddy service securities and analyzed its vulnerability. Most of the website builder does not provide a good antivirus for their customers.
See result.
GoDaddy Website Security Test Result shows some medium and low risk.
From the above result, you can conclude GoDaddy website security is not so good, but not bad.
Website Speed
Your website speed depends on upon several factors. Web hosting is one of the major factors. If you hosted your website with good quality servers, your website pages will load faster. In the 1st section, I already discussed how much % your website will faster than others website if you created your site with GoDaddy. So I will not explain much more about this topic.
GoDaddy SEO (Search Engine Optimization) – Will It Index Your Website On Google Effectively?
It is very important. GoDaddy has a smart sitemap tool, this will boost your google index very fast. You no need to submit your website to search engines. But here a lot of risks may clash you. If your website not gets indexed in Google, you should contact GoDaddy customer care.  Godaddy will give you the power to add a title, a caption, and descriptions for all types of media. Godaddy is not behind to use all type of SEO techniques. You can organize your page or post content using heading tags and different formats and frames.

GoDaddy Web Hosting Last Punch
Pros:
Backup and restore tasks are very easy.
Cons:
They made difficult to transfer your website or domain to another web hosting company if you are not satisfied with GoDaddy.
Website speed is not much faster like other website builders
GoDaddy firewall is not good enough to protect your site.
You need to pay more money for your domain name from the 2end year.
7.
GoDaddy Support
Godaddy has a customer care numbers.
Below number is for global. You can use this number for help 24X7.

Godaddy customer care phone number for Global
USA
Engish : +1 480 505 8877
Spanish : +1 480 463 8300
United Kingdom
Birmingham : +44 121 345 8279
Glasgow : +44 141 555 0201
London : +44 20 7084 1810
UK countrywide – 0843 459 6954
India
For the Hindi Language: +91 40 49187600
For the Marathi Language: +91 40 49187600
For the Tamil Language: +91 40 49187600
India Countrywide : 1800-121-0111
Canada : 866-938-1119
Australia
Singapore : +65 6349 4240
If you want all countries customer care numbers
visit here
For Tutorials, Community support, Getting Started Quick Guides, Forums, Announcement visit below link.
You can also use chat option to get support.

GoDaddy Support Last Punch
Pros :
Country-wise personalized customer support.
GoDaddy already has a large number of users, So users are posting so many problems. And in GoDaddy community forum almost all problems are solved. You can find your solution easily
Cons :
You need to wait at least 4 minutes for chat support.
They have a large number of users. So you may neglect if you are a beginner.
From users reviews, Most of the GoDaddy Customer care people are not experts. They just speak nice.
8.
GoDaddy Pricing – Is It Worth For You?
For all plans 1 free domain name and busness email are included.
Personal plan
$5.99/Month
Only 50 personal themes
1GB Storage
150GB bandwidth
No Mobile site
No SEO
No On-Click Social Media Manager
No Free SSL Certificate
Business plan
$9.99/Month
300 business & personal themes
10GB Storage
500GB bandwidth
Mobile site
No SEO
No On-Click Social Media Manager
No Free SSL Certificate
Business Plus Plan
$14.99/Month
300 business & personal themes
50GB Storage
1000GB bandwidth
Mobile site
SEO
On-Click Social Media Manager
Free SSL Certificate (1st year)
Final Thoughts
Conclusion: I don't recommend Godaddy website builder. It is not easier than Wix or Weebly Nor better than most of the website builders. Godaddy is famous for domain names & reselling web products & not for Website Builders. In our detailed review, we never impressed with it. It is one of the worst Website builders.  If you want to make a serious website then I recommend SiteGround-WordPress, Wix or Weebly never GoDaddy. Even if you want to make a quick website or just temporary website Wix & Weebly can help you much better & easier than GoDaddy website builder.
Jack is the Co-founder of WebsitebuilderLy, a Software Engineer from Standford University, An entrepreneur with 12 years of Website Creation, Management, Marketing Automation & App Development Experience. Worked for the world's leading companies such as Roblox, HTC, etc.