Email marketing is awesome and continues to be that way, with the payoff getting better with each year that passes.
The stats look great and show that email marketing has the highest ROI of all the marketing channels.
Numbers vary from one source to another, but in general, email marketing brings anywhere from $38 to about $42 for every dollar spent according to snov.io.
How does your email marketing strategy fit? Are you above or below the average?
Here's food for thought:
You can do much better than your average Joe, easily.
Generic email marketing strategies can only get you so far, so we decided to share something different today. The tactics described here might not sound like much, but you don't need to reinvent the wheel to succeed. 
Their beauty lies in simplicity: using old concepts but in a new and improved way.
Stay tuned to see what we had in mind, with some kickass tips and examples. 😎
#1 Make "Ugly" Automation a Thing of the Past
What do we mean by "ugly automation"?
Well, this:
Granted, we rarely see failures this serious, but most attempts to personalize mass emails are mediocre.
Starting from basic to advanced, here are some email automation tips for implementing today:
Use impactful words such as "you" or include their first names.

Relaxed, natural language works better — but be aware of sounding fake and cringy by sprinkling too much slang and emojis. 

Images and gifs paint a nicer picture of your proposal. However, they add extra weight to emails, so make sure to compress them and make them as light as possible.

About 68% of marketing emails are opened on mobile — and yet,

1 in 5 email campaigns is not optimized for mobile!

Write concise copy, use space as efficiently as possible, and leave enough room so recipients can click the CTAs with ease.

Categorize the recipient groups precisely. Luckily, all of the above is easily manageable with a single email marketing tool, including perfect timing. For example, GetResponses

ecommerce email marketing

features  are scalable enough no matter the eCommerce size and cover the automation from head to toe.
#2 Use Psychology and Fun!
Some Jedi Mind Tricks will not harm anybody — try with:
Scarcity;

Rush;

Gamification;

Exclusivity;

Personalization.
Using scarcity and rush to increase sales is a well-known tactic. Most savvy online shoppers know all too well about these and roll their eyes whenever marketers play this game. But, there are ways to make scarcity tactics look fresh and brand new.
Imagine you're creating a campaign to grow your email list with higher-quality leads (people who would purchase something from you anyway).
Let's go through this example one step at a time. 
Step 1: Create a super engaging subject line.
According to CampaignMonitor, email subject lines should only have around 41 characters or seven words total. It seems short, but it's all you need to trigger recipients' curiosity. 
The following email subject lines are personal, exclusive, last for a limited time, and the last one looks fun:
Anna, You're Invited To Our Private Sale 💌
Members-only Flash Sale: 20% Off Site-wide!
Black Friday Discount Code – Try Your Luck 🍀
See? It's not that big of a deal!
The great thing is, inbox lets people see a couple more words beyond the email subject line — more space to use to your advantage.
With an Inverted pyramid writing style, place the most enticing, important info about your sale in the front, and it will show before they open the email.
Step 2: Present them with an irresistible offer.
Tasteful and effective design goes without saying — let's talk substance.
Subject line No1 belongs to an email promising a highly exclusive online event for a limited number of people: the first 100 subscribers, for example. Similarly, subject line No2 promises a discount to the website members who subscribe to receive exclusive content.
Subject line No3 invites people to play a game: spin-the-wheel pop-up may grant them a 5, 10, or 15% discount. Winners are required to leave an email so they can receive discount codes.
Step 3: Watch the conversions grow.
In this case, the goal was to grow the email list with subscription-based tactics and discounts. You can use these tips to create landing pages that sell instantly, but an email list rich in qualified leads is a powerful sales tool.
Our next tactic involves existing customers and harnessing the power of customer retention. Remember: repeat purchase is cheaper and easier to get than new customers.
#3 Make Receipt Follow-ups Work for You
Post-purchase emails with receipts have significant open rates: BigCommerce claims these go up to 70%.
Receipt emails are perfectly made for highly personalized, targeted cross-sells. Whatever you decide to recommend has to be a perfect addition to the purchase, to make a bread-and-butter kind of deal.
Dipping into store statistics is the way to go. 
Learn what people usually buy together and propose the same pairing. Another good idea is to suggest a good deal for a larger quantity for items purchased in bulk.
Don't make the mistake and overlook the customer journey. The most obvious fail would be to let the automation go completely random and propose, let's say, another pair of sneakers to the customer who just bought a pair.
#4 Reward Your Regulars — And They'll Reward You
Repeat customers are less likely to hesitate and bounce when shopping. They are familiar with the way you work and will recommend your product/service when the opportunity arises. 
In a nutshell, they pay off big time.
If you're really into your customers and dedicated to making their lives easier, turning them into loyal ones won't be an issue. After providing them with good customer service and even better products, sending some thoughtful emails now and then acts as a cherry on top.
Birthday gifts first come to mind; some businesses offer discounts (or even freebies) to their returning customers once a year to celebrate important dates.
Need something more creative?

Take stores selling baby clothes and equipment as an example. 
Customers buying a crib send a clear signal they are about to become parents, probably for the first time. Parenting is tough, so you can put a smile on their face and help them with an email containing:
Parenting resources for new moms and dads;

Gift cards;

Discount/redeeming codes for shopping.
Even if you only send a heart-felt note congratulating them on the baby, it will get noticed.
Going that extra mile to nurture relationships is the best thing you can do to build a stable customer base, more reliable than a constant hunt for new buyers.
#5 Be Different, Do the Unexpected
One year, amidst the Black Friday online shopping hysteria, Deciem did something wildly different — nothing.
On November 29. 2019, the parent company behind the skincare brand The Ordinary shut down all stand-alone and online stores selling The Ordinary products. However, during the whole of November, products were 23% discounted. The purpose was to battle consumerism and remind customers to shop skincare mindfully and avoid the spending frenzy.
But, let's be honest. This clever stunt brought immense benefits to The Ordinary; in addition to mass praise from the general public, the company earned about $330 million in 2019. alone. 
From this example, we can learn that, sometimes, swimming against the current pays off immensely. 
Use this way of thinking to shape your email marketing tactics
What The Ordinary did with "anti-Black Friday" applies to email marketing campaigns as well. We have followed this trail of thought, brainstormed a bit, and soon came up with two ideas:
Valentine's day for singles

— A campaign celebrating self-love during February, the month known for putting couples on a pedestal (and coaxing them to spend $$$ on one another). An email titled

"This Valentine's day, love yourself first"

is sure to stand out among the money-off offers that hardly differ from each other.
Pet-owners getting ready for holidays

— Pet stores can start their campaigns a week or two before Thanksgiving and other noisy celebrations. They can send emails with tips on calming the pets and include links to pet apparel that muffles the firework/ festival noise (known as Happy Hoodies).
Ditch the seasonal items, divert attention to causes that matter all year long, and think of those people overlooked and left behind. On the "World Day of (insert marketing gimmick of choice)", go against the tide.
Final Thoughts
Here are our findings summarized:
Automate

the email sequences and invest some time into

high-quality personalization

; this is a safe bet that your emails' open rate will grow.
Feel free to do what others do,

but do it better.

Cheap psychological tricks won't do the job anymore. Honest communication and transparency are the best way to stand out, both in email marketing and broadly speaking.
Make use out of

high open-rates receipt follow-ups have, and use them as an additional sales channel

. This is a perfect spot for personalized cross-sells and offers that will pay off to customers (think bulk items and everyday items).
Make your regulars happy!

Repeat customers are easier to please and provide high ROI.

Create special campaigns for loyal customers to show your gratitude and make a meaningful connection many stores lose in the rush to sell more stuff, to more people.
Surprise the audience with something bold.

It's cool to play it safe, but shaking up the industry is so much fun. 🌀




Be careful with controversial campaigns though, so your efforts to stand out don't backfire.
It doesn't take much effort to woo the customers with well-made emails.
What they say about honesty and relationship-building is true, as a tactic and a way to handle Ecommerce with lasting success and integrity.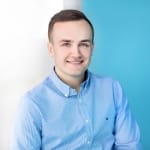 Michal Leszczynski is immersed in developing, implementing, and coordinating all manner of content marketing projects as the Head of Content Marketing and Partnerships at GetResponse. He has 9-plus years of expertise in online marketing with a Master of Science Degree in Strategic Marketing and Consulting from the University of Birmingham (UK).