Ecwid is an emerging eCommerce platform that has rapidly grown and is now used by small to large businesses. it is easy to set up and use and requires no high-level skills to operate and manage.
Ecwid is a cloud-based e-commerce platform that enables individuals and businesses to set up and manage online stores easily. One of the advantages of Ecwid is its ability to integrate with existing websites and social media platforms, making it a flexible solution for businesses of all sizes.
Another advantage of Ecwid is its user-friendly interface. The platform is easy to set up, and even those without technical expertise can create an online store in minutes. Additionally, Ecwid provides extensive documentation and customer support, which can help businesses troubleshoot issues or learn how to use specific features.
Ease of Use
Ecwid is an easy-to-set-up and use platform that allows users to quickly create websites. The platform offers various methods to create a website quickly, making it an efficient solution for businesses.
With Ecwid, users can create websites within one hour of signup for the platform. Ecwid's intuitive dashboard provides easy access to all store-related settings, making it simple for users to manage their online stores. Ecwid can be used as an instant site in various ways, offering businesses the flexibility to create and manage their online presence with ease.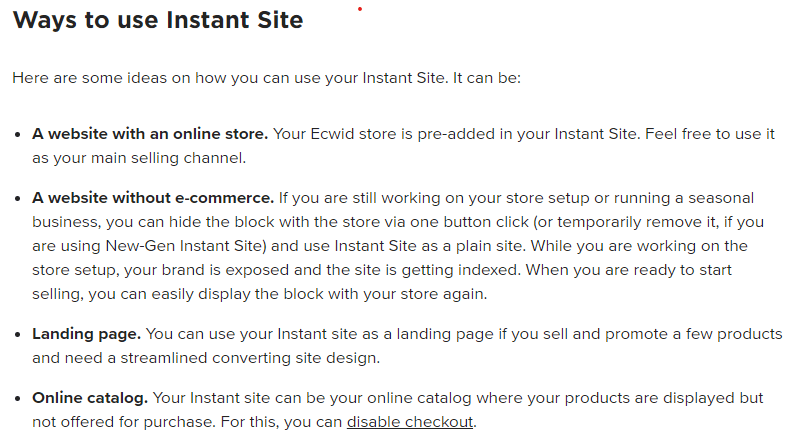 Pricing & Plans
Ecwid has four pricing plans. There is a 25% discount associated with annual plans.
| | |
| --- | --- |
| Monthly Subscription | Annual Subscription |
| Free– $0/mo | Free– $0/mo |
| Venture– $19/mo | Venture– $14.08/mo |
| Business– $39/mo | Business– $29.08/mo |
| Unlimited– $99/mo | Unlimited– $82.50/mo |
Ecwid Pricing
There can be various additional charges associated in the form of third-party applications.
Themes & Customization
Ecwid is a platform that provides over 50 themes, which can be previewed or tested through a demo site. These themes are pre-designed that can be customized to create unique branded stores. The templates are built to suit specific types of businesses.
Businesses can customize the themes to match their design requirements, including colors, fonts, styles, etc. Users can upload images, videos, backgrounds, logos, and favicons to their website. Additionally, users can add custom CSS to manually apply further customization to the appearance of the store.
Ecwid themes
To make designing the website simple. Ecwid offers a built-in predesigned inbuilt section that can be customized a bit to match branding. Additionally, Ecwid provides a separate design setting that allows users to change the product layout, Product Image size, Product categories, Navigation settings, and more.
Ecwid theme editor
eCommerce features
Products
eCwid allows users to sell both physical and digital products as well as recurring subscriptions. Users can create various product categories and utilize product options such as dropdowns, Radio buttons, Checkboxes, Text areas, and File Uploaders.
Payment options
eCwid provides users with more than 70+ payment options, including the most popular payment gateways such as PayPal, Stripe, Square, etc. Users can filter payment processors by country. Additionally, users can set up manual payment options like Cash, bank deposits, invoices, etc.
Shipping
eCwid shipping option allows offering both international and local shipping, as well as picking. Shipping methods are organized by country and can be easily set up with popular logistic companies such as FedEx, DHL, USPS, and UPS.
Users can also set up various shipping options, including free shipping, Conditional free shipping, flat rates, and Custom rates by weight or dimension.
Taxes
There are two ways eCwid users can set up taxes either manually or automatically. If you enable automatic tax setting eCwid will start collecting taxes automatically based on customer locations and products. If you choose to collect tax manually, you can set up various tax profiles based on the locations.
Product setting
There are various product-related features provided by eCwid one of them being Product filters, Labeling of products, Creating custom checkout fields, Stock Availability, etc.
Marketing
——————–Email Marketing———
eCwid has an email automation feature that enables users to send emails automatically. Users can set up email campaigns for various purposes such as sending reminders for Abandoned carts, Order confirmations with related products, Customer loyalty appreciation, Feedback, Special offers on occasion, etc.
———————Discounts & Coupons———-
eCwid lets users run various discounts & coupons for their customers. Users can set up a discount code and promote it on website banners, product pages, public pages, or social media pages. They can also choose an automatic discount setting to offer discounts for certain products and groups of customers. In addition, eCwid users can offer gift cards to recover loyal customers.
———————MultiSales Channel——————
Multichannel selling allows merchants to expand their reach and sell their products on major Marketplace and Social media channels. eCwid offers integration with varioud eCommerce channels such as Amazon, eBay, and Google Shopping. as well as Social media channels including Facebook, Instagram, TikTok, etc.
———————-Ad Campaigns————-
eCwid users can be able to run and manage Facebook and google ads right from their dashboards.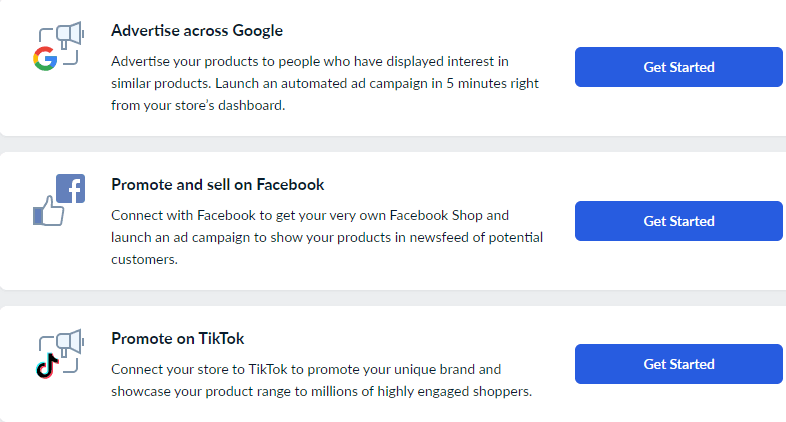 SEO & Blogging
eCwid has a decent SEO feature that enables users to optimize their products and categories for search engines, There is a separate tab provided by eCwid to perform SEO on products and categories., where users can edit titles and descriptions, optimize URLs, alt-text, and more. Additionally, Users can add meta tags to their category pages.
eCwid users can also access sitemaps and robots. txt, to index their site on search engines. They can also offer custom redirects to the pages.
While ecwid does not offer inbuilt blogging features, users can benefit from embedding eCwid in some of the top website builders such as WordPress, Weebly, Wix, and more.
Apps & Integration
Ecwid apps
Ecwid has a robust App Market that offers a wide range of apps and integrations to enhance the functionality of your online store. There are over 200+ applications available for integration. Users can browse the App Market on the Ecwid website to see the full list of available apps and integrations. Some of the applications in the Ecwid App market may be paid, while others may be available for free.
Ecwid Apps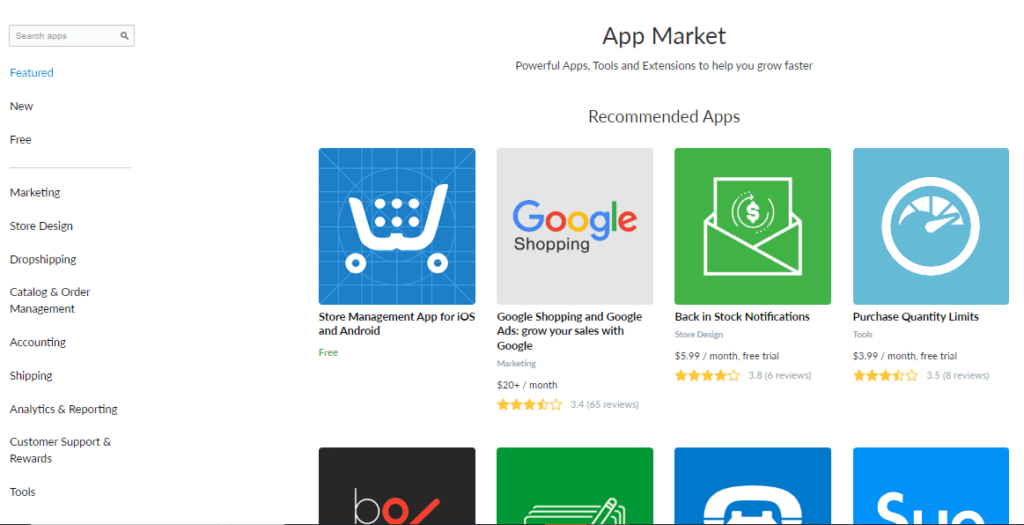 Ecwid analytics
eCwid has a user-friendly dashboard for displaying store analytics. The analytics section provides statistics on various metrics, such as number of visitors, sales, revenue, etc.
While eCwid's built-in analytics dashboard provides basic data on store performance, users can integrate with Google Analytics to track website traffic and sales. Google Analytics offers more in-depth insights into how the online store is performing, providin users with valuable informtion on where they can make improvements.
Support & Resources
Ecwid platform provides good support and offers plenty of resources for its users. Support is available through live chat, email, phone, etc. with the level of support depending on the plan you choose. Premium users also receive priority support.
Ecwid support by plans
Ecwid Review: Pros & Cons
Ecwid Pros
Ecwid Cons
The Platform is flexible and allows creating
instant sites.
Ecwid theme customization level is basic
Plenty of themes and third-party applications
Ecwid doesn't have an inbuilt blogging feature
The Platform is flexible and allows creating
instant sites.
Ecwid has Good Support and resources.
FAQ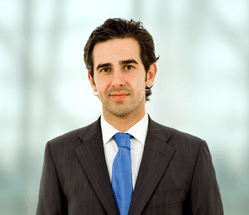 Declan Kingston mainly works around strong Data to create powerful visuals, complex graphs to make the right decision for companies. He has been working in this field for over 8 years, has a strong knowledge of eCommerce platforms and website builders. He has worked with Ethereum and Looker Data Sciences, Inc. (now part of Google Cloud).