As we all know WordPress is the widely used and accepted CMS platform to create any kind of website. It provides an easy way to add widgets to your page with a built-in page builder, comparatively, a built-in page builder will not provide the ease and outcome, what the builder will expect.
Each of us wants a visual affiliate design that keeps the user experience and user interface attractive. This can be achieved by elegant designs. To create those elegant designs we need powerful page builders. Page builders are extended functions or plugins of theme, that helps to design the WordPress pages with less time. No one wants to waste their time in writing hundreds and thousands of lines of code, no one is interested in making things difficult. Pagebuilder keeps you updated with smart activities like Drag & Drop which makes the work easy and you're free to structure your own design.
Below is the list of WordPress page builder which is compared and choose as best among the collections. Some of those are paid and some have pro features. This article provides you a clear picture of the best WordPress page builder which you can choose for your website.
Thrive Architecture is a popular and powerful option for your WordPress page builder plugin. This is the extended version of Thrive content builder. Thrive Architecture is a part of thrive suite where you can create beautiful and impressive structures on your WordPress site with minimal time.
Thrive, a Visual page builder has plenty of default templates and it resembles Elementor. This Drag and Drop PAge builder is easily accessible. Thrive come with a setting option which includes Global settings, Landing page settings, and advanced setting.
Thrive includes new features like Page Event manager, in the advanced setting. which is a lightbox where you can select an event and you can trigger that with a timer. You also have an exit intent option for mobile devices. Thrive has a notification option where it reminds you to save your work, you are allowed to enable or disable that feature.
Thrive provides More options and settings, have a look at the above screenshot on the left-hand side you have the option to customize your button, and on the right-hand side, you have elements. this keeps the builder Hassel-free he never gets confused. The unique feature of this page builder is breadcrumbs on the top left. this shows where exactly your working.
Most of the Thrive features comes with dropdown option selections which creates a flexible environment for the developer. This includes highly features elements this helps to generate a beautiful website without difficulty, This building block comes with functionality where your just drag and drop help out to create fully pledged sections.
Price: Quarterly Access: $30/month and Yearly Access comes with $19/month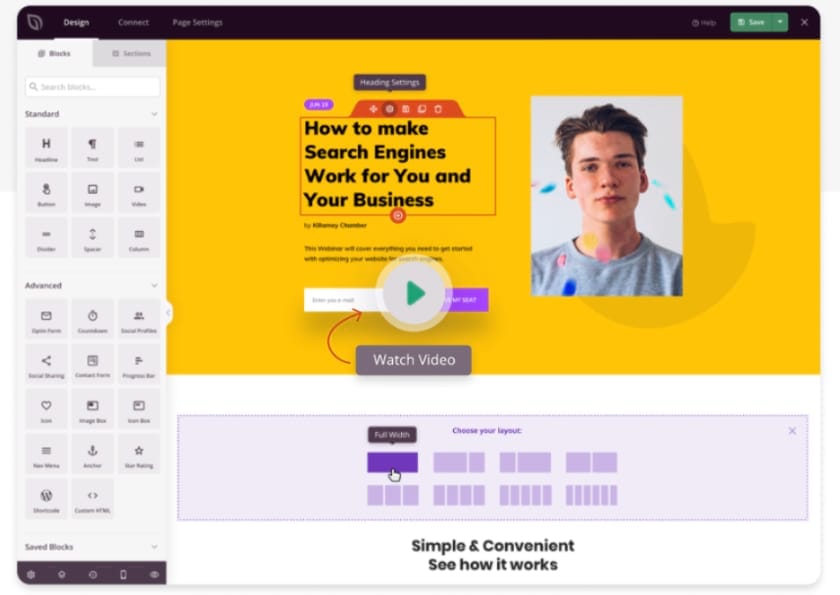 Seedprod is one of the most popular and highly-rated WordPress plugins that come with a free and pro version. This is termed as No1 Landing page builder of WordPress. These plugin features are the most powerful and easy to use. This drag and drop page builder works with all the WordPress template along with many landing page blocks and templates.
The premium version of this WordPress plugins has hundreds of beautiful templates, where you can choose and just customize the front end, with easy-to-use drag and drop. Unlike default WordPress Pagebuilder Seedprod keeps the pages fastest it helps to rank in Search engine optimization.
SeedProd is used by around 1Million users because of its smart and reusable design system. You are allowed to work on your site in private, where users can see the maintenance mode page or the coming soon page.
Along with the maintenance and coming soon page it also enables the user to create a sales page, lead page, Squeeze page, thank you page, webinar page, login page, 404 pages, and much more.
SeedProd is the fastest page builder solution for WordPress, with a highly customizable editor. The Premium version of this builder comes with basic, plus, pro, elite for more information click here.
Pricing: Starts from $39.50
Beaver Builder is a fast and best page builder for creating excellent and creative pages which are more than simple. It has both premium and free versions, where premium versions can be selected according to the need. The Premium version comes with 3 different category that is standard, pro, and agency.
This is a robust page builder where you're absolutely going to love the features. You are allowed with notification. With on click of + sing you can have the list of widgets that you can add to your page. it provides full control over design elements where you can save rows, columns, and modules, that can be used further in the site without recreating it.
Beaver Builder has modules that can be added to the site, and plenty of templates to choose along with an open API, and an import/export feature.
Beaver Builder is flexible with most of the WordPress themes with control over the design and content. This is the WYSIWYG editor, even if you stop using the plugin, it won't risk you.
The Agency Plan provides white-labeling which allows you to change all the instances in the admin area. This version also provides Multisite networking where the super admin is allowed to configure page builders in one place and override them according to the need.
Pricing: Starting from $99 for unlimited sites
Visual Composer is a WordPress page builder developed by the creators of WPBakery. This is simple to use more than that it has some variety of advanced features. It is a user-friendly editor with free and pro versions. Like Elementor, Visual composer provides limited free features compared to the pro version.
Visual composer front end is WYSIWYG whereas backend is grid-based which depicts the layout like photoshop. Developers are allowed to add custom code globally or locally according to the need. Like all page builders, Visual composer also comes with a drag and drop feature with a visual composer hub where the hub contains 100+ useful templates of all kinds.
With the premium version, you can design the whole site, Add gif animations from the GIPHY from editor, header and footer template, maintenance mode, popup builder, woo-commerce support, element lock, etc…
This is a 3 in 1 editor where you can see front end, backend, and tree structure, and allows you to hide elements and save them for later.
Price: Pro version starts at $49.
Elementor is the all-in-one page builder solution and this is the leading WordPress page builder. This provides pixel-perfect and mobile-friendly page editing. Elementor is originally launched in the year 2016, in a short span this page builder acquired most of the WordPress site. according to wordpress.org Elementor has 5+ million activations till today.
This is the top-rated and highly accepted live page builder for WordPress. Elementor has all the features, options, the setting which comes on the left side of the screen, easy drag and drop and you can include templates with few clicks.
Elementor comes with 2 versions one is free where you no need to pay any penny, if you want some extra features or elements to be included on your page you can go with Elementor pro. The free version of elementor includes 28 free widgets like text, buttons, icons, maps, etc in addition to that you're allowed to use WordPress widgets. And also provides ~40 templates.
Pro version provides ~30 elements or widgets which are basically locked once you get a license those widgets will be activated. That means with the pro feature Elemetor provides ~58 widgets along with Core WordPress Widgets. Along with widgets it also provides loads of free templates.
The Premium version of Elementor that is Elementor Pro is a level higher than the normal page builder. This provides notable features like theme builder and popup builder. In Theme builder you are allowed to design the entire theme with an elementor interface, you can include header, footer, custom post type templates, and you can dynamically insert content from custom fields. you can design popups for your site with a popup builder.
Price: Elementor pro comes with a different pricing structure according to the need of the website builder visit the page for more information.
Divi is a powerful premium WordPress page builder, this is a highly rated and most popular theme of WordPress. This Provides the ultimate user experience for the one who structures the website with Divi builder. Divi is a theme that includes endless layouts.
It has around 1500 premade layouts that are a ~204pack layout. You can choose your layout according to the category, it has 13 categories some of them are Art, Food & Drink, lifestyle, Online Store, etc…
Divi has the largest libraries of widgets that are ~46 content modules, builder is allowed to Duplicate, disable, and lock the section or elements. This builder supports editing using both the visual frontend interface as well as the backend interface.
The unique feature of this theme is the settings and options come as popup rather than Sidebar and all the others as floating buttons. if you are comfortable you can fix the popup as a sidebar. This provides full control over styling with 3 tabs on all options where you are allowed to configure settings, control responsiveness, and much more.
Divi's inbuilt bucket testing feature makes it easy to split tests. It allows a special kind of custom CSS to add like the main element or before/after the main element. If you have little CSS knowledge then this is very useful for you to enhance the design of the website.
Like most page builders, Divi is also a Visual Drag and Drop builder termed as WYSIWYG editor (what you see is what you get). Editors can edit the page from the WordPress toolbar using Edit with Divi option once you start editing you can have a real-time preview so you can save time in saving the page by clicking for preview.
Price: $89/year
Themify is one of the themes which provides a built-in page builder that is Themify builder. If you want to add Themify builder to your existing theme then you have to add this as a plugin. It provides ready-to-use modules that can be added to your site and includes 40+ pre-designed layouts for all areas.
This has a little old look and simple to use but provides all the features of an excellent page builder.
It has Undo / Redo option and it holds all the features of paid WordPress page builder in its free version. The pro version includes add-ons and animation effects while it's affordable. Like all other builders, this also provides the option to add custom CSS along with an option to hide elements based on the device.
Pricing: Starts from $59 check out here for more details.
Oxygen stands out of the box compared to other page builders. Yes, this page builder or app is ultimate to design your WordPress as well as your woo-commerce site. Oxygen works with a separate sandbox module. This provides a clear and neet editor by cutting off most of the main tabs and bars which we typically see on WordPress while designing.
It provides an easy and fast page-building experience as the collection of visual builders of oxygen includes Responsive Control, Flexbox Layout Engine, Animations, Custom Fonts, Icons, Filters, etc…
You can create your awesome woo-commerce pages like product page, shop page, cart page, account page, and many more. This cleans the cache and code output to keep your pages fast to reach visitors. It also provides Gutenberg integration which never harms other things.
Oxygen allows dynamic data and you are allowed to show or hide the content based on that using conditional logic. you can add global colors to your content or classes which helps to reduce the time of reaching every element to change the color.
Price: Basic version comes with $99 for more details click here
Page Builder Sandwich is a free plugin that can upgrade with premium, this is a page builder plugin you can find in wordpress.org plugins. This is an extremely user-friendly easy to use plugin to create your awesome page with less time.
This works like ms Word or any other front-end visual builder it gives a live editing frontend option so the designer no need to worry about the backend. Page builder plugin has simple drag and drops elements as shown below.
Page builder sandwich plugin comes with the following features like Count Up Numbers, Countdown, Icon Tooltips, Pricing Tables, Tint Backgrounds, Shortcode Mapping, Stylish Google Maps, etc…
Price: Starting with $39 Check here for more details
WP Page Builder is a plugin that comes with a Free and premium version. The free version of the plugin you can find in Wordpress.org, then you can upgrade this. WP Page builder is bt Themeum which is completely front-end based with N number of design options.
The page builder interface of WP Page builder is fully loaded with elements like add-ons, layout, block, tools. You get all this option on the left-hand side and a visual preview on the right-hand side. Like Divi this enables to give space (margin/padding) with drag and drop, this is helpful in live preview with spaces.
Along with the above features, it also provides many templates for the respective business, with a premium version you will find wast amazing preloaded page layouts and blocks and many more to come.
Price: Starts from $39
Brizy is the new page builder for WordPress, built on React which is the open-source javascript library. You have all freedom to design your website from scratch, or you can always welcome to design with Brizy pre-made blocks, pages, and popups.
Brizy includes more free tools, for which you have to pay in other plugins. It has features like Undo / Redo, resize a column, image focusing, global styling helps to create the design with less time. The premium version is a bit costly compared to other page builder plugins, but it's for an unlimited site.
Pricing: starts with $49 for 3 sites it has offers for unlimited sites, please check here
SiteOrigin page builder is a grid-based page builder with 1 million installations, hence its popular page builder. This page builder uses a toolbar as the main arrow, which is used for ages. As toolbar is very familiar to use this page builder designed with them.
This provides a backend editor and front-end editor, added with live editor mode. This has a simple drag and drop which works with all the themes. It also provides the option to clone or insert a prebuilt layout with revision history where you can undo the changes.
Price: premium bundle starts with $29
Overall the page builders mentioned above are stands with below main features
| Pagebuilder | Price(starts) | Version | Points | Support |
| --- | --- | --- | --- | --- |
| Thrive | $30 | Paid | 5 | Yes |
| SeedProd | $39.50 | Paid | 4.5 | Yes |
| Beaver Builder | $99 | Free & Paid | 4.5 | No |
| Visual Composer Website Builder | $49 | Free & Paid | 4 | Yes |
| Elementor | $49 | Free & Paid | 5 | Yes |
| Divi | $89 | Paid | 5 | Yes |
| Themify Builder | $59 | Free & Paid | 3.5 | Yes |
| Oxygen | $99 | Paid | 5 | Yes |
| Page Builder Sandwich | $39 | Free & Paid | 3.5 | No |
| WP Page Builder | $39 | Free & Paid | 4 | Yes |
| Brizy | $49 | Free & Paid | 4 | Yes |
| SiteOrigin Page Builder | $29 | Free & Paid | 3 | Yes |
Jack is the Co-founder of WebsitebuilderLy, a Software Engineer from Standford University, An entrepreneur with 12 years of Website Creation, Management, Marketing Automation & App Development Experience. Worked for the world's leading companies such as Roblox, HTC, etc.