Online communication and interaction are rising exponentially.  Forums are the stage for conversation or exchange of thoughts. This helps in bringing the audience together and creates a platform to connect with each other where they can give feedback /share experiences. In turn, this encourages people to engage in some activity.
This is the perfect time to make your own forum website, get traffic and generate revenue.
You don't have to be a programmer to build a discussion website. You can get ready made clone scripts, easy software or plugins. Creating a website is easy, but making income out of the website is depends on your marketing strategies.
I highly recommend to read this post =>How to create a forum website? No Skill Required & different methods explained (10 minute website launch!)
When you go on searching for forum software you may get so many options but only a few stand as best. here are those few best software to build your online community which is reliable.
Below is the list of Best forum software to create your online community site.
Wix Forum helps you to create your online community without scratching your head into coding. You can have your community ready with simple Drag and Drop. Wix is a trendy platform where you can get solutions for all your website creation likewise your community website too. This provides plenty of templates to choose from, or it will create a customized template for you according to your need, either way, your all free to customize the template.
Wix provides multiple styles to portray your forum, that keeps the front end realistic as well as elegant. you can choose cards or classic layouts which are further customizable and responsive on all devices. when your creating a community you always want it to be lively, this can be achieved by post, comments, like, share, and follow. Wix forum provides you all the mentioned which you would love to have on your site. This also provides personal profile pages where the rest of the members can follow them and see their posts.
We have massive forum software solutions which are costless, but Wix is the best. which is not self-hosted, you don't have to pay for hosting, or for fixing technical errors. If you wish to create your forum inside your main website that is also possible with Wix.
Features
Elegant design templates
Responsive on all resolutions
Powerful social features
Personal profile page and member pages
Decide and set permission
Push notifications and Emails
Manage your Forum as forum admin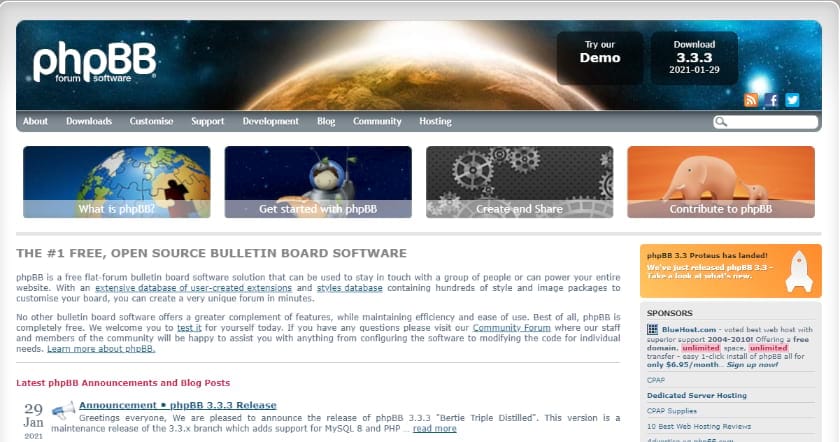 I highly recommend to read this post =>How to create a forum website? No Skill Required &Quick install (10 minute website launch!)
PhpBB is free open-source software written in PHP. This is the well-known and oldest community forum software which is upgraded with the latest industry trends and licensed under GNU GPL. Inturn is a bulletin board software where you can customize your own, unique and user-friendly forum easily. It is a self-hosted forum with built-in security and anti-spam protection.
Like other forums software tools, phpBB is also a flexible forum that enables the creation of boards. This tool has a strong ability to handle N number of users. This provides extended extensions and more theme options for your frontend and user experience. Users will get more verities of designs to choose from, for their posts and profile pages.
phpBB has all the basic features of the forum such as support, posting, responsive design, user preference, private message system. Along with this, it has SEO built-in, a management panel, and provides multiple hierarchy options.
Features
Flexible theme changing option
Builtin SEO
Private messaging with permission
Customizable profile pages from the user end
User-specific ranks
Live notifications, instant messaging, and email
Search option with a powerful plugin system
Advanced caching system to increase performance
Upload your attachment
MyBB is a fully customizable open-source forum where the user is allowed to create a forum of their own. This shares many features from phpBB, comparatively, this does not offer many extended features but it has the upper hand of design layout over phpBB. It posses a trendy look, elegant and modern frontend features that attract users.
MyBB provides all basic features, and additional plugins even though the list falls short. It has a long-running community that translated MyBB into over 30 different languages. If the user wants extended functionalities to be added like gamification, CDN capability, etc.. this allows doing so.
Features
Provides Rad community
Offers advanced plugin system
This keeps your user engaged
Private conversation with registered users
Forum moderation feature
Administrative control
Built-in template and theme editing options
WordPress is the most used Multipurpose CMS platform to create websites. This features all types of supported themes and plugins which in turn give a complete pack of a fully functional website. WordPress provides wide verities of themes and plugins forums and bbPress is top among them.
bbPress is software created by creators of WordPress which enables the functionality of the forum. This provides an elegant, timeless discussion board. This has a simple setup with full integration and provides a multisite forum. bbPress is a simple and powerful plugin if used with WordPress forum themes you can achieve an excellent social conversation board.
WordPress and bbPress are the best combinations for online community websites, with minimal coding or no coding efforts. Which provides a wide range of themes and addons that makes a powerful and interactive website. Below is the list of top-rated themes which are helpful in creating the forum sites.
Features
Provides all the basic features of the forum
comments, posts, interactive sessions
Easy to create
SEO optimization from WordPress
Admin panel control
Customizable User profiles
Disputo is a highly rated WordPress theme made for the bbPress forum plugin. This theme when combined with bbPress will splash a stylish and beautiful online forum with fully packed features. bbPress is a free plugin for WordPress but if you need extended features then you have to go for paid add-ons. The Disputo theme itself loaded with its own set of forum features, you can easily enable the extras like ads manager which helps in your revenue graph.
Disputo has Facebook comment integration which encourages interaction. It also has social media login like Google, Facebook, Twitter, or Instagram just in a few touch which makes users log in easily without signing up to the forum.
This also provides forum-related features such as like, dislike, comment, private messaging, customization, and much more. This makes the work simple where you can easily download the demo content and reframe it as your vision. Disputo theme is integrated with Drag-and-drop page builder which in turn gives more control on the design.
The Disputo theme not only supports bbPress, but it also goes beyond. This WordPress theme supports woo-commerce with ads management, MailChimp integration, and frontend post submission. It supports live search and Youtube TV(this is a widget used to showcase the top videos from selected youtube channels).
Features
Verified User
Solved topics and best answers according to the ratings
Gives the ability to the user to report against inappropriate content
Woocommece integration
Built-in Facebook comments
Members can add signature
Custom roles and badges for members and users
Cross-browser compatibility
Supports RTL Language
Vanilla Forums is open-source and cloud-based community forum software written in PHP. This just not provides customer support it is a top-rated customer service forum. It's free software and customizable discussion forums. this open source project got released in the year 2006, and cloud-based released in 2010 since then this software undergone many changes.
Vanilla cloud is based on Garden which is a PHP framework but can also be used as an MVC framework that is a complete re-write of vanilla. Vanilla FOSS(free open-source software) is a multi-lingual and extendable forum system that is designed to provide the core functionality of the forum, but the vanilla cloud has additional features like emoticons plugins.
Features
Provides ultimate customer service
Single sign-on feature
It matches for both web and app
Social media login is available
Embeddable forums and the user can import from another forum as well
Members can add signature
Emoticons added as extensions(plugins)
WYSIWYG Editor also added as a plugin
Community forum platform to submit ideas and to exchange thoughts.
Website toolbox is #1 Ranked Forum Provider. Not all forums need to be a basic right. create your customizable online forum with Website Toolbox which is a cloud-based forum and allows you to add a powerful, maintenance-free forum. This Tool provides the simplest way to create a community forum on the cloud hence that will not slow down your site and it does not require a database, code, software, or server.
Like other software tools, this is also fully customizable and has robust security control. You can improve your revenue with fees or ads. This has 20 years of experience in running the forums. As it's simple and easy everyone from small organizations to large enterprise forums can easily use Website Toolbox. This can be embedded with most of the platforms like WordPress, Joomla, Wix, Weebly, Squarespace, and much more.
Website Toolbox improves your monetization via subscription fees, donations, sponsors, and ads. This provides a secured forum with AI moderation, Anti-spam protection, public and private Forums. The pricing starts at $39.00 per month but offers a free trial.
Features
Easy steps to create Forum
Can Embed in many platforms
Simple Customization
Provides SEO optimization
Mobile Friendly
Instant messaging, and share photos, files, videos, images, etc…
Chat Room and the user can create polls
Can Set user Permission
Can import or export the data
The tribe is best rated cloud-based community platform that is designed for online communities. The tribe includes the elements like embedding widgets, easy customization, trendy design, comprehensive API, moderation tools, gamification, integration with popular tools, and much more.
It provides a feature to the community manager where he can customize the header and footer. It also enables the user to start their conversation in their community and additional features like organizing the event, asking and solving the questions, polling, commenting on discussion, and share content.
The tribe has both a free plan and paid where you'll get functionality for multiple languages, along with support. This solution can integrate with multiple tools.
Features
Easy to use
Best customer support
Most trusted
can add social components to any part of your application
widget-driven and API-powered platform
Xenforum is a commercial forum software for your store, this helps to uplift the business. When a customer purchases your product and when they loved that they are intended to share the product details or about the product with likely minded people which creates an online community inturn encourages your business growth. you can create forums for notifications, FAQs, Product related queries, and customer care.
Features
Like posts
User profiles
Inserting images into posts
Rating the products
Notifications
Shopicial is a social forum for an e-commerce platform that is a product of the Xenforum team. Online community discussion keeps customers feel free to express their thoughts and experience. This Shopicial helps to create a private social network that makes your brand more professional and insightful.
Features
Create your posts
Managing posts from the front end
User profiles
Notifications
Admin has powers to customize
Jack is the Co-founder of WebsitebuilderLy, a Software Engineer from Standford University, An entrepreneur with 12 years of Website Creation, Management, Marketing Automation & App Development Experience. Worked for the world's leading companies such as Roblox, HTC, etc.