Scheduling Appointments and Booking Software always ensure a smoother flow of business irrespective of a small or big organization. Most of the salespeople spend around 20% of their day writing emails and scheduling appointments, this requires more manpower, and takes too much time. It always delays the speed of business.
Appointment software is beneficial with Clinics, Healthcare, Salon, Education institute, accountant firm, Hotels, and service rendering businesses. This kind of software helps businesses as well as users. This allows online self-scheduling, online booking sitting at your place, Automated E-mails and messages, safe and secured online payments.
So are you looking for something where you could schedule appointments and book meetings with less human power? we will provide you strongest software to create your website or run your business without wasting much time on appointments and emails.
10 Best Appointment Scheduling and Booking Software
Setmore is a cloud-based free appointment scheduling software or app. This has a high rating across most review sites. This is an easy-to-use tool with a drag-and-drop function. It is a powerful appointment scheduling software, provides loads of features.
Setmore comes with a free and paid version. If you are a small startup then free software holds good for you. if you are a comparatively grown organization you can go with premium and pro versions in addition to advanced features.
Premium and Pro versions are reasonable because of the extra features provided like, Recurring appointments, Text message notifications, Square and Strip integration, with endless support for the team.
Key features include:
Manage your appointments online with an All-in-one calendar
24/7 online booking
Advertise the booking page on social media like Facebook, Instagram, and Slack
Remainders with E-mail and texts.
Staff Schedule with multiple customers
Accept online payments
Video calling and, social streaming
SimplyBook is an online booking system that is the one-stop solution for a service-based business-like, Sports & fitness, beauty, and wellness, education, events & entertainment, personal meeting, medical and healthcare services.
SimplyBook can be easily integrated into your existing website, or else you are free to create your own custom booking page within the SimplyBook platform. You can get smart With SimplyBook by client and admin app. SimplyBook Platform provides you beautiful templates, which are customizable and can be chosen according to your business and brand need.
The popular feature of SimplyBook includes Online payments with upfront payments, 2 way synchronized google calendar, 2 way synchronized outlook calendar, and many more…
Key Features included
You are allowed to personalize your booking website with the website builder
Product sales and services add-ons
Calendar
Zapier
You will get your personal assistant iBOB
Video meetings
Reservation with google
Social integration
Appointy is one of the top-rated online scheduling software. This has the ability to serve all the services-based businesses by enabling the users to schedule appointments, activities, etc. Appointy has schedules for Appointments and recourses, classes workshops & events, tours rides & activities.
It has 14 days free trial with 3 more paid versions, stands out for Growth, Professional, and Enterprise with affordable rates like $19.99/month, $49.99/month, and $79.99/month respectively which is billed annually. Paid version comes full of benefits and extremely loaded features for your booking site.
Key Features includes:
Robust
Integration with social media accounts
integrations with websites
increase productivity by managing multiple staff of different locations.
Gift cards, deals, and discounts
Prepayments with payment gateways
Customizable reminders
completely secured data
Hubspot is a Robust Meeting scheduler. This sync with your google calendar or office 365 calendar to set your availability. The simple scheduling happens like this, the client will book time with you and that time is blocked for you to attend respect client, and an email notification is sent to the client as confirmation regarding the booking.
As the name says Hubspot this is a spot for hub means collection. You are allowed to schedule meeting for more than one person. You are allowed to send group meeting links to schedule time with a group of people of your organization.
Key features included:
This is an all-in-one sales software
Live chat with clients
Bi-directional sync
Prioritize your clients
Allowed share high-level business metrics
Hubspot CRM
Vast option in premium please checkout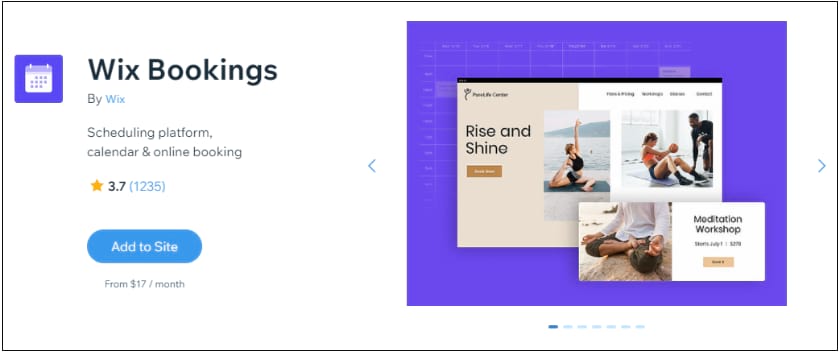 Wix is the fastest and vast growing website builder. This provides a scheduling feature with Wix App, which is Wix Booking. This tool helps to schedule, manage your business which in turn upgrades your business.
Wix Bookings comes with features like Group sessions & appointment scheduler, sell services, calendar management, secure payments, Membership & packages, Staff management, Reporting & Analytics, and customizable mobile apps.
Pricing has 3 units Business VIP, Business Unlimited, Business Basic with features extended. The premium plan starts at $17. Business VIP costs around $500/month with extremely filled features like 50GB storage space and unlimited video chatting hours. whereas Business Unlimited costs $300/month and Business Basic is $225/month. Click here for more information.
Key Feature includes:
Easy to manage calendar, bookings with Wix Mobile App.
0ne-on-one appointments, workshops, calls, etc…
Online Sessions with Zoom
Online and Offline payments
Membership and packages
Analytics tracking
Customizable Wix App
Acuity is a cohesive, simple, user-friendly scheduling system for running any kind of your service business end-to-end. This is your assistant which keeps you online 24/7, where the client can view your availability anywhere at any time.
Acuity Provides self-schedule appointments for the user, where they can book or cancel & reschedule. They will get Automatic reminders to keep the user aware of what exactly they are doing. The user has to fill the form before he makes any appointments hence you will be having your user data.
Emerging, Growing, and Powerhouse is the paid version of Acuity. you can pay monthly or annually, as it starts with $15 for more information visit the pricing page
Key features included:
Self-schedule appointments
Calendar sync
Zoom and Google meeting
Sync with outlook, office, google calendar
coupons and vouchers for discounts
Integrated with third-party apps like Stripe, Zapier, Paypal, Google Analytics, and many more.
Sesami is a Shopify app for selling Booking appointments, which is integrated with Google calendar. This Booking app sells appointments, which optimize efficiency and maximizes revenue. It is easy to use app that where your customers to book and pays for appointments from your website.
Sesami is an embedded app best for Shopify Web admin, iOS/Android apps. This sends a notification with the most intuitive Shopify calendar 2-way sync with the .ics file. This works with Zoom links embedded into confirmation emails.
Sesami supports the worldwide time-zone.
Sesami provides a free booking app that has an active Shopify merchant account. and can be upgraded with small, medium, and pro plans of $19, $29, and $129 respectively. For more details please visit the pricing page.
Key Feature includes:
Unlimited appointments
Multi-language support
Easy rescheduling and cancellation
Custom onboarding support, group appointment (paid)
Provides full commerce solution
Amelia is an Event & Appointment booking calendar plugin available in WordPress. This provides a fully-featured automated booking facility to your WordPress website. This was built with modern and updated technology on both the front-end and back-end, for a great user experience.
Amelia works on a Single-page-app approach similar to angular, where pages will not reload every time. All Elements of Amelia were designed for device compatibility in mind hence its highly responsive.
Amelia provides an ocean of features like SMS notification, woo-commerce integration, Allowed for recurring scheduled appointments, Zoom integration, sync with google and outlook calendar, Managing multiple employees of multiple locations, and many more.
Amelia lite is a Free plugin, and this also has paid version with 3 different categories like basic, pro, and developer. with ₹4,359, ₹8,054, and ₹18,398.83 respectively excluding GST. For more information about pricing please visit the site.
Key Feature includes:
Best Support team
You're allowed to configure non-recurring day schedules
Customize booking forms according to your business
Create an elegant service catalog
Easy management of multiple employees
Automated E-mail and SMS notification
Customizable currency, date & time, number
Buffer time
Paypal and Stripe integration
Booking Core is the software to add a booking system to your website, it is designed on the laravel framework. This most useful for travel and tour industries which perform Operations like tours, Rooms booking, Villa and resort rentals, and reservation suites.
This is a lightweight PHP product with elegant UI and UX designs. this is a mobile-friendly product that can be used on all types of devices. Booking core provides the ultimate booking service system with filter options. This has a friendly admin panel, which shows the statistical report of your business.
Payment ready, SEO Friendly system and also provides free installation service. The regular license starts at $89 and the extended license stands at $499. Booking Core is featured on CodeCanyon and it provides pre-made templates for your tour and travel booking system.
Key features included:
Role-based customization option
Booking marketplace
Customizable pricing rule
Template and menu builder
Retina ready graphics and themes
Outstanding speed = Laravel
optimized code and lazy load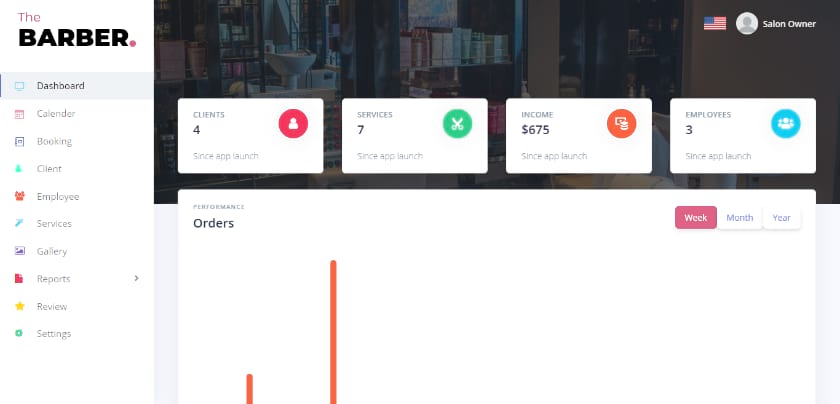 The glamour industry is the richest, and the backbone for that industry is on-demand and versatile beauty stops. Barber is a booking and reservation software for those beauty stops like the salon, spa, and barbershop.
Barber is 5 stars rated Multi Salon, Spa, Barber Appointment Booking System, where you are allowed to handle multiple services at a time. It has 4 different panels namely, Super Admin, Salon Owner Panel, User App, Salon owner App. Super admin has all superpowers to control multi salon.
This provides unique features using GPS to find out nearest salon or spa, It also handles booking management with payment integration. Price seems to be a little heavy on the wallet, but the feature provided will never let you argue on the price. The regular license comes at $289 and an Extended license is $859.
Key features included:
Enabled instant notification over mobile notifications
Explore with category
User verification
Strong and secured Super-admin panel
Provides ultimate custom support
Product preview
Device friendly
| Features | Setmore | Simplybook | Appointy | Hubspot | Wix Booking | Acuity | Sesami | Amelia |
| --- | --- | --- | --- | --- | --- | --- | --- | --- |
| Users/Providers | Setmore users plan | Simplybook user plan | Appointy user plan | Hubspot user plan | Unlimited | Acuity user plan | Sesami user plan | |
| Appointments | | Simplybook appointment plan | Appointy appointment plan | Not Defined | | | | |
| Email reminders | Setmore E-mail | | | | | | | |
| SMS reminders | Setmore SMS plan | | | | | Acuity SMS plan | | |
| Zoom integration | Setmore Zoom plan | | | Hub Zoom plan | | Acuity Zoom plan | | |
| Calendar 2 way sync | Setmore Sync | | Appointy Sync | | | Acuity Sync | | |
| Coupons & Gift Cards | | Simplybook coupons | Appointy Coupons | | | Acuity Coupons | | |
| Multiple language support | | | | | | | | |
| Group Sessions | | | | Available with all paid version | | | | |
| Live Chat | | | with all paid plans | | | | | |
| Mobile App | | | | | | | | |
| Reporting | | | | | | Acuity Reporting | | |
| Customizable design | | | Appointy Customizable design | starts with $270/mo plan | | | | |
| Link / Brand Removal | | Simplybook Brand removal | Appointy Brand removal | Available on $900/mo plan | | Acuity Brand removal | Sesami Brand removal | |
| Social media integrations | | | | | | | | |
| sales/CRM | | Simplybook CRM plan | | | | Acuity CRM plan | | |
| Payments | | | | | | Acuity online payment | | |
| App Support | | | | | | | | |
| Pipedrive integration | | | | | | | | |
| Zapier | | | | | | | | |
| Custom API & CSS | | | Available on $79.99 plan | | | | | |
| Multiple time zones | | Based on client zone | Available on $79.99 plan | | | | | |
| Accounting features | | | | | | | | |
Jack is the Co-founder of WebsitebuilderLy, a Software Engineer from Standford University, An entrepreneur with 12 years of Website Creation, Management, Marketing Automation & App Development Experience. Worked for the world's leading companies such as Roblox, HTC, etc.