Airtable and Google Sheets might look similar in their user interface, and managing data but both of them are different. Both tools offer a range of features for organizing, analyzing, and visualizing data. Both of them have different strengths and weaknesses that can make one more suitable than the other depending on the need. The post will provide an overview of Airtable and google sheets their features pricing, features, etc.
Airtable is not only a spreadsheet but also a database that allows users to store data, manage, and collaborate in the workspace. Airtable is a relational database where users can create Blank databases or edit prebuilt templates or establish connections with multiple databases. Whereas Google sheet is a spreadsheet where users can work on rows and columns to input and manipulate data, perform calculations, and create charts and graphs.
Airtable Pros & Cons
| | |
| --- | --- |
| Airtable Pros | Airtable Cons |
| Airtable is great for solving complex problems. | Airtable has some advanced features that are only available on paid plans. |
| It has built-in automation and various extensions. | There are limitations on the number of records per base, collaborations, etc based on plans |
| | The Platform might be overwhelming for beginners. |
Google Sheets Pros & Cons
| | |
| --- | --- |
| Google Sheets Pros | Google Sheets Cons |
| Google Sheets is accessible to anyone with a Google account, making it a convenient & traditional option for collaboration. | Google Sheets is not ideal for processing large amounts of data, Maximum cell limit is 5 million since it runs on the browser. (Airtable has 1 million record base means it can be 20 million or 30 million cells and for the enterprise plan, it can be even more. Also, Airtable will not slow or hang for larger data, because it is specifically built for large datasets, while Google Sheets built for day-to-day small tasks) |
| For simple tasks, Google Sheets are easier than Airtable. (But for advanced it will be more difficult than Airtable) | The Table linking in Google Sheets is not as seamless as Airtable. It requires formulas. & many operations require formulas while in Airtable without any code beginner can use and do many things |
| | Google Sheets is not suitable for building dashboards. Also, it lacks collaborations with granular permission. |
Airtable vs Google Sheets: FAQs
Ease of Use
Google Sheets is easier compared to Airtable for simple tasks. Google Sheets is simpler, especially If you have previous work experience with Microsoft Excel. It is essentially an online version of Excel with enhanced features. Google Sheets are easy to use and also have a user-friendly interface with various options.
Airtable is not as easy to get started, but it is easier for complex tasks than Google Sheets. It is a combination of tables, workflows, and interfaces that reside inside a database. Users need to first create a database. Airtable has been built in such a way that it can facilitate managing complex tables, workflows, etc.
Plans & Pricing
Airtable has 4 plans that also include a free plan which covers individual to large enterprise businesses. Along with the free plan they offer a 14-day free trial before subscribing to one of its paid plans.
Free – $0
Plus – $10/month, billed annually($12/month)
Pro – $20/month, billed annually($24/month)
Enterprise – (custom pricing)
Free: The free plan provides unlimitable databases but each of the databases has restrictions up to 1200 records. Upon this, the user needs to switch to the Plus plan. The user can share the database with up to 5 creators, also users can attach a maximum of 2GB to a base.
Plus: The Plus plan consists of all the features of the free plan. In addition to that it offers a few more features and also offers advanced blocks, custom branding, etc. The plan allows up to 5,000 records per database and a maximum of 5 GB of attachments.
Pro: The Pro plan consists of all the features of the Plus plan and is designed for big teams and organizations that require an external application to power most of their work. This plan provides extra features such as grant & timeline views, Personal & locked views, etc.
Enterprise: This plan is for big enterprises or larger organizations with complex needs. The Enterprise plan includes all features of the pro plans and pricing depends on the volume of business. The plan has no fixed pricing and it needs to be enquired about by the Airtable team. Users can get unlimited workspaces for an organization, extensions, and up to 250000 records per database with a maximum of 1000GB attachments.
Airtble Pricing
The pricing of the subscription can vary in some instances, I will try to illustrate this with an example. If you have a team of 5 and team members are constantly collaborating with each other when you upgrade this to the Plus plan each of the team members will need to pay $10/month which would be 5 * $10 = $60/month.
Google Sheets pricing
Google Sheets is a cloud-based application and it is accessible to anyone with a Google account. There is no exclusive plan for google sheets. All the Google applications such as google drive, docs, photos, etc all come under Google services that have storage limits of 15 GB. If a user requires more than the storage limit they may need to upgrade to a paid plan.
Layout & design
Layouts
Airtable is a versatile platform that allows users to create workspaces and databases tailored to their needs. Users can name their database and set up instructions for users. In each database, users can manage various tables, workflows, dashboards, Interfaces, etc. Airtable provides various templates and has a marketplace where users can access various extensions
Airtable Workspace
Google Sheets has a spreadsheet layout that consists of rows and columns which is very much similar to Microsoft Excel. There are various tools provided by Google Sheets that can help users perform mathematic calculations, manipulate strings, and create dashboards, graphs, and charts.
Google Sheet dashboard
Templates
Airtable has provided various pre-designed templates. These templates have been categorized by businesses, event planning, marketing, real estate, etc. Users can be able to add these templates to their databases. All of these themes are free and also carry samples of functionalities that can be done on these websites.
Airtable Templates
Google Sheets also has provided plenty of built-in themes. The themes are basic but they are categorized by the Personal, Work, Education, Project Management, etc.
Google Sheets Templates
Operations
Formula
Both Airtable and Google Sheets allow users to apply formulas to their data. In Google Sheets, applying formulas is straightforward simply put the "=" operator in the cell of the sheet and start typing the formula. In airable, the user can click on the field and search for the formula option to write a formula for a given column. Both platforms provide a wide range of formulas and functions. Airtable's ability to link formulas with custom fields and linked tables provides users with more flexibility and advanced calculations compared to Google Sheets.
Google Sheets formula
Airtable Formula
Junction Table
Airtable provides flexible and powerful features for managing data, including the ability to create links between records across different tables. In comparison to that Google Sheets does offer some formulas like Vlooup, Hlookup, etc. Airtable's visual interface makes it easier to establish relationships between different tables and records. For establishing complex databases Airtable can be a better option than Google Sheets.
Collaborations
Google Sheets and Airtable offer real-time collaboration and data-sharing capabilities. AIrtable offers excellent collaboration settings such as permission settings, collaborative interfaces, junction tables, etc. making it easy for teams to work together. Whereas Google Sheets are best for integrating with Google apps such as Google Drive, sheets, calendar, etc
Dashboard & Interface
Airtable Interface provides users with an easy to use drag & drop functionality, allowing them to create custom dashboards, charts, graphs, grids, forms, etc. The interface includes built-in layouts that can be customized to meet individual requirements. Users can drag & drop elements such as text, divider, calendar, buttons, etc. They can customize the appearance of the layouts by choosing various colors, styles, etc
Airtable dashboard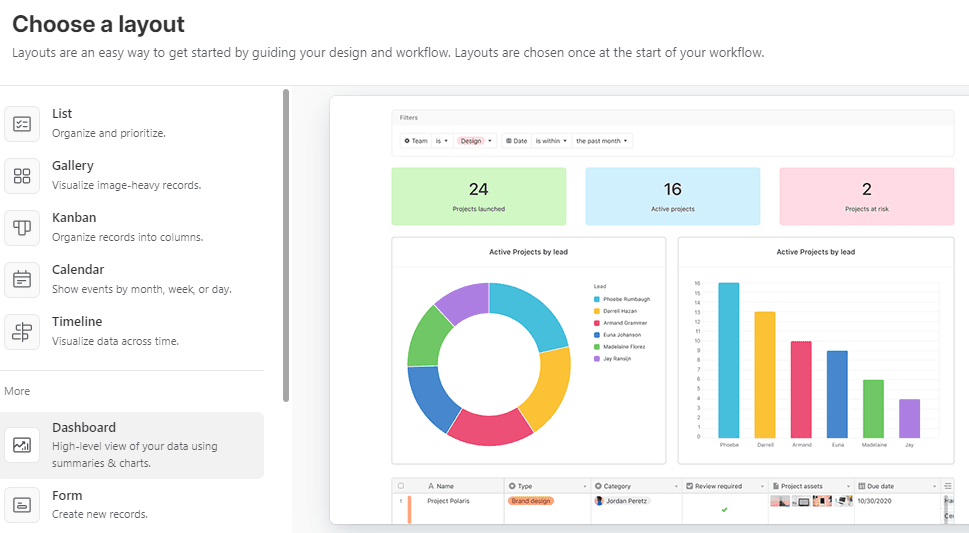 Google Sheets offers a variety of options for users to create charts, dashboards, pivot tables, etc Users can easily insert charts and pivot tables using data from columns in their Google Sheets document. Additionally, users can customize the appearance of their charts and dashboards by changing the colors, styles, and other design elements.
Google Sheets dashboard
Automation & Integrations
Automation
Airtable allows users to create various automation using built-in automation features. Users can set up trigger actions to automate tasks when some sort of event occurs. For example, when a new email is added to the database, an email can be automatically sent to the users. This automation can be integrated with various platforms, Including forms, calendars, sheets, etc making it easy for users to streamline their workflows. In addition, users can test their automation before deploying them.
Airtable Automation
Google Sheets Automation
Google Sheets doesn't have built-in automation features, but users can create workflows by using the Google Sheets add-on. These add-ons are available in the google workspace marketplaces and can be either free or paid. To use them users need to install them on their Google Sheets account. Google Sheets users can use built-in macro features to automate manual processes. However, In Airtable user needs to do that by writing scripting blocks.
Integrations
Airtable platform offers multiple Integrations that users can use to extend the functionality of their workspace. These integrations include both extensions created by Airtable and third-party integrations. Airtable's built-in extensions are included with all plans and users to add powerful features to their workspaces without any additional costs. All these extensions are available at the Airtable marketplace. However, If the user wants to access available extensions and Integrations, they need to be on the Enterprise plan.
Airtable Integrations
Google Sheets offers integration through add-ons which can be found in the google workspace marketplaces. The google workspace has a variety of addon some of which were built by Google and third-party developers. Users can filter the extensions by ratings, pricing, and Integration with other Google apps like Drive, maps, calendar, etc.
Google Sheets Integration
Support and Resources
Airtable provides support only through email. To get help from Airtable support staff first user needs to interact with their chatbot. If the chatbot isn't able to provide the support the user is looking for, they can request to get to connect with the support team.
In addition, to email support and the chatbot, Airtable offers various other forms of support. The Airtable community provides support through blogs, guides, youtube tutorials, etc.
Airtable Support
Google Sheets support through various channels such as chat, email, and phone support. Users can visit the Google Sheets help center to access a variety of resources and information about their products and features. In addition to the email, chat, and phone options, it has various blogs, guides, tutorials, and community forms to solve the queries
Google Sheets support
Conclusion
If you need more advanced features such as advanced sorting, databases, performance, record-level locking, multi-level permissions, better data validation options, then use Airtable, otherwise use Google Sheets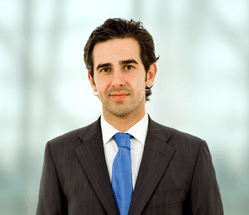 Declan Kingston mainly works around strong Data to create powerful visuals, complex graphs to make the right decision for companies. He has been working in this field for over 8 years, has a strong knowledge of eCommerce platforms and website builders. He has worked with Ethereum and Looker Data Sciences, Inc. (now part of Google Cloud).